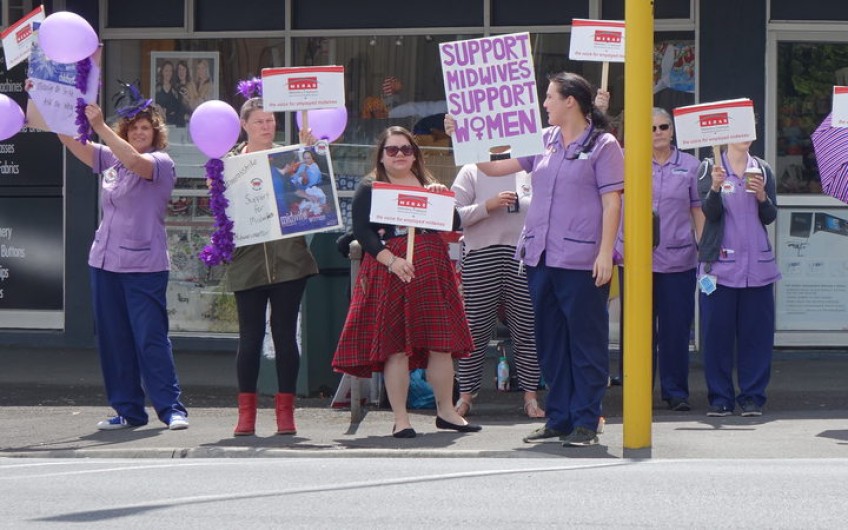 Stalled midwife talks may trigger mass resignations - union
Dec 14, 2018
---
The midwives' union has accused four government ministers of interfering in its pay negotiations with district health boards.
The Midwifes' Union, MERAS says a proposal by their employers, the district health boards (DHBs), was vetoed by an oversight group comprising the ministers of finance, health, workplace relations and state services.
Nearly 1200 midwives recently ended two weeks of rolling two-hour stoppages in pursuit of better pay and conditions.
Union negotiator, Jill Ovens, says now they're voting on whether to strike again.
She told Morning Report the DHBs called union negotiators to a meeting last Friday to table a new offer.
But when they arrived, they were told the proposal had been vetoed by the Ministerial Oversight Group consisting of Grant Robertson, David Clark, Iain Lees-Galloway and Chris Hipkins.
The DHB negotiators told the union the ministerial oversight group had not put it on the agenda, suggesting they had a meeting but chose not to put it on the agenda, Ms Ovens said.
The union is now balloting members on whether to step up industrial action.
She said the threat of mass resignations is not an empty one and midwifes are really angry.
Hospital midwives could be making huge money in Australia or in private birthing units outside of the DHBs, she said.
But a spokesperson for the DHBs, Jim Green, told a Morning Report producer no such meeting of the Ministerial Oversight Group took place.
"Somebody is not telling us the truth," she said.
"I've had 14 years of bargaining in the health sector and before that I was in the education sector and I've never heard of deals going to the ministers to be approved or otherwise."
Finance Minister Grant Robertson told Morning Report the meeting just didn't take place.
"I don't know where Jill got that information from but it's simply not true."


---