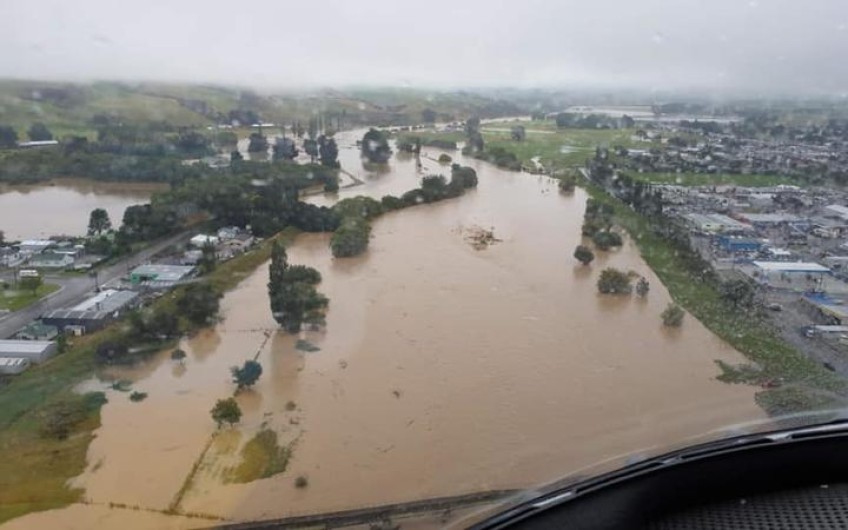 Southland flooding: Residents in low-lying areas told to evacuate
Feb 05, 2020
---
Residents of low-lying areas of Gore and Mataura are being evacuated as river levels rise and people in a third Southland town, Wyndham, are being told they will have to leave.
Teams of police went door to door this morning to ensure people were leaving. Large swathes of farmland were under water and state highways in the area are closed.
Power is off to east Gore, and the main bridge over the Mataura River in Gore is closed to all but emergency services, Civil Defence said.
Police were also helping evacuate people in Mataura.
At 5.30am the Mataura River was 4.3m above normal levels at Gore and 6.5m above normal just south of Mataura. Large swathes of farmland were under water and many roads are impassable.
Southland civil defence officials told people in low-lying areas of the towns to leave their homes and go to friends and family on higher ground or to community hubs set up for evacuees in both towns. The community centres in Gore filled up this morning and residents were being sent to Gore High School.
Wyndham was likely to flood this afternoon and residents should go towards higher ground at Mokoreta, officials said.
Riversdale residents were put on standby to leave their homes if required.
Anyone who needs help should call 111.
Southland Civil Defence Emergency Management Group chair Neville Cook said it could be several days before rivers in the area returned to normal, so people should take medication, a change of clothes and personal items. Pets can be taken to the Waimumu Field Days site.
"Please don't try and drive in the flooded areas because we suspect in some areas roads will be washed out and the water will be contaminated.
"Fortunately we've had time to plan this, everything is in hand now. The police and the armed services and fire and various other groups are assisting with the evacuation."
Floodwaters were due to peak about 8.30am in the Gore area and at 10.30 at Mataura, Cook said. "These peaks may last for a while - it's not going to be a five-minute thing."
"Trees that normally dot the riverbanks ... are now several metres at the moment" - RNZ reporter Tim Brown by the Mataura River, Gore duration 1′ :40″ from Morning Report Add to playlistPlaylist Download as Ogg Download as MP3 Play Ogg in browser Play MP3 in browser
Gore Mayor Tracy Hicks said some houses were being sandbagged in anticipation of flooding. "I've lived here for a long time and I can't recall constant rain like we've had in the last three days," she said yesterday.
Clutha District
Clutha District mayor Bryan Cadogan said the Clutha River breached at Invertiel, which meant there was no safe passage to the Catlins, and the turnoff had been closed.
He said at least 40 people spent the night at an emergency shelter at the Balclutha recreation centre. Many were South Otago fans of Elton John returning home after his concert in Dunedin.
Three state highways and almost 50 local roads in the Clutha District are closed.
The local council said people had been ignoring closure signs and driving through the floodwaters and warned any damage to cars from driving on closed roads would not be covered by insurance.
A state of emergency was declared in Southland yesterday afternoon.
Schools, roads closed
Main routes around Gore and Matauara are closed: State Highway 96 Winton to Mataura (between Brown Road and SH1), SH1 from Mataura to Gore and from to Clinton, SH90 McNab to Tapanui (from SH1 intersection to Station Road), SH93 from Clinton to Mataura and SH94 Gore to Mandeville (Waimea Highway).
Elsewhere, SH6 Fox Glacier to Haast is closed, and the Milford Road will stay shut until at least next week because of unstable slips, following days of torrential rain, the Transport Agency said. Details of highway closures are on the NZTA website.
Some schools in Southland will be closed today, including Gore High School and Menzies College in Wyndham, and Garston School on SH6 south of Queenstown. Others will have a delayed start and parents are told to check with their school.
SH6 from Kingston to Lumsden is also closed due to two slips north of Kingston. Laura Douglas from the Kingston, at the bottom of Lake Wakatipu, said she had never seen flooding this bad.
Yesterday she used her truck to take three carloads of tourists from the waterlogged towns of Athol and Garston to Kingston so they could get the ferry to Queenstown. She said the town was without power and roads in the area would remain closed till late this afternoon.
Milford Sound evacuations
Hundreds of people trapped by flooding and slips in Milford Sound overnight are being evacuated by helicopters to Te Anau this morning.
Emergency Management Southland controller Angus McKay said the rescue of the 495 trampers, local residents and staff began at first light. They had stayed at Mitre Peak lodge last night.
The road to Queenstown is blocked and likely to remain so all day, so evacuees may be flown to Queenstoen from Te Anau Airport.


---