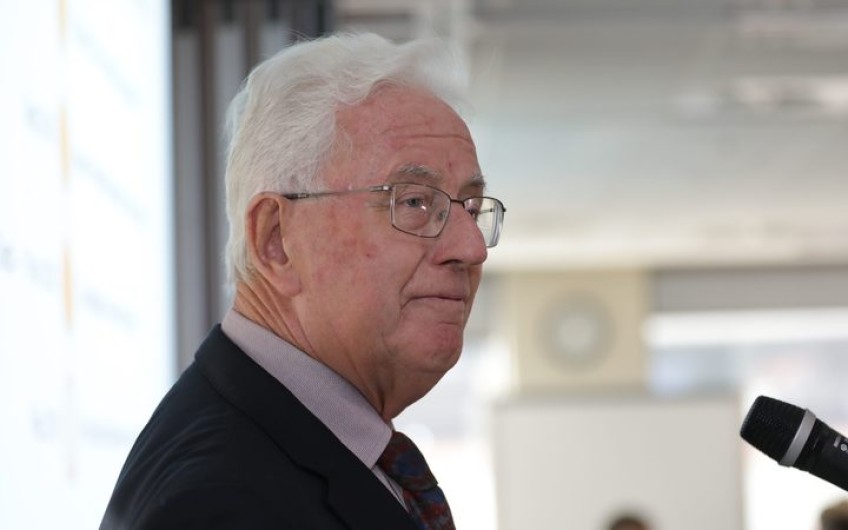 Sir Michael Cullen remembered as one of NZ's most influential figures
Aug 20, 2021
---
The death of Sir Michael Cullen has brought an outpouring of tributes, laments and remembrances from friends, colleagues and politicians of all stripes.
Sir Michael left politics in 2009 after a 30-year career, having been a Labour finance minister for nine years, deputy prime minister for six and a close confidant to Helen Clark.
He revealed a stage-four lung cancer diagnosis in March last year and stepped away from public service roles, having been told he may only have months to live.
A public memorial service will be held at Tāneatua in due course, and a private family funeral service will take place as soon as it can occur, with gatherings for funerals not permitted under alert level 4 restrictions.
Prime Minister Jacinda Ardern and Finance Minister Grant Robertson said in a statement the government was mourning Sir Michael's death.
"New Zealand is so much the richer, in every sense of the word, for Michael's life. He gave his life to making this place better for everyone," Ardern said.
"He was a great friend to me and to many of the Cabinet and Labour caucus. We will miss him terribly, and we are sending all our love to Anne and his family."
"Sir Michael was one of the most influential figures in New Zealand politics over the last 40 years. Intelligent, funny and kind he left a significant legacy for the country."
Robertson said Sir Michael's contribution to New Zealand's long-term economic prosperity - as the architect of KiwiSaver, NZ Super Fund and Working for Families - was enormous.
"Each of these policies on their own would define a political career, but taken together they represent one of the most significant contributions any politician has made in recent times," he said, "For Michael they are only part of his extraordinary contribution to New Zealand."
He said he would also remember Sir Michael for small acts of kindness.
"He was always ready with a piece of advice, an insight or just a funny story. He also helped many Labour MPs out, often behind the scenes, and not wanting any publicity.
"He was loyal to the Labour Party, but also not afraid to voice his concerns."
In a statement, National leader Judith Collins said Sir Michael was a consummate politician, a respected adversary and a man of absolute conviction.
"Most importantly, he was a man of uncommon and uncompromising principle," she said.
"When he retired from politics in 2009, such was our respect for him we called on his vast skills and knowledge to chair New Zealand Post and Kiwibank, as well as appointing him to lead a wide-ranging review of New Zealand's intelligence agencies.
"He will be remembered as one of our most effective ministers of finance, with a long-term view of what needed to be done to enhance to New Zealand's economic and social prosperity and stability. His passion was to make New Zealand a better place for everyone.
"Sir Michael's keen intellect, wit and vast expertise will be missed by us all, and our thoughts and condolences are with his family."
In a tweet, she said she was saddened to learn of his passing, and the party extended deepest condolences to his family while acknowledging his many years of service.
I am saddened to learn of the passing of Sir Michael Cullen. The National Party would like to extend our deepest condolences to Sir Michael's family and acknowledge the many years of service he gave to NZ.
— Judith Collins (@JudithCollinsMP) August 19, 2021
ACT leader David Seymour said Sir Michael was a "careful Finance Minister and quick-witted politician", and thanked him for advocacy on the End of Life Choice Bill.
ACT sends condolences to the family of Sir Michael Cullen. He was a careful Finance Minister & quick witted politician. We were especially grateful for his brave advocacy for End of Life Choice while he was ill. We wish his loved ones privacy and consolation as they remember him.
— David Seymour (@dbseymour) August 19, 2021
In a tweet, Greens co-leader James Shaw said the party was greatly saddened, and Sir Michael had left an enduring legacy.
We're greatly saddened to hear that Michael Cullen has passed away. He left an enduring legacy, including Kiwisaver, the Super Fund, and removing interest from student loans. He will be greatly missed by his family and friends and our colleagues in the @nzlabour party.
— James Shaw (@jamespeshaw) August 19, 2021 More twitter responses
Former Labour leader David Cunliffe:
National's Foreign Affairs spokesperson Gerry Brownlee:
Sad to hear this morning of Sir Michael Cullen's passing. Whilst we did not always agree politically, I respected him as a great Parliamentarian. My thoughts and prayers are with his family.
— Gerry Brownlee (@GerryBrownleeMP) August 19, 2021
Former National minister Steven Joyce:
RIP Sir Michael Cullen. We were clearly not on the same side of politics and our respective times in parliament only crossed over by a few months, but I enjoyed working with him on Eastern BOP Development and other areas post his retirement. An unstinting servant of NZ.
— Steven Joyce (@stevenljoyce) August 19, 2021
Former United Future leader Peter Dunne:
Very sad news re Sir Michael Cullen. A giant of New Zealand politics - Kiwisaver, the Cullen Fund, Working for Families amongst his legacy. I enjoyed his wit and intelligence. My deepest sympathy to his wife Anne and their family. Michael will be missed but never forgotten
— Peter Dunne (@honpeterdunne) August 19, 2021
Former MP for NZ First, Mauri Pacific and National Tau Henare:
So sad to see the death notice of Sir Micheal Cullen. He was one of the Labour party's clever men. Moe Mai ra e te rangatira Micheal. Haere Okioki koe. #RIP
— WestSide 8345 (@tauhenare) August 19, 2021
Former Wellington mayor Justin Lester:
Saddened to hear of the passing of former Deputy PM Sir Michael Cullen. He was a reformist Finance Minister and leaves us a legacy of KiwiSaver, which will underpin NZ's economy and capital markets for decades to come. RIP Sir Michael and arohanui to Anne and whānau.
— Justin Lester (@justin_lester) August 19, 2021
Musician and documentarian Moana Maniapoto:
So sad to hear of Sir Michael Cullen's passing. Really enjoyed getting to know him during the making of #TheNegotiators. Such great company, so witty. This week sucks. pic.twitter.com/3OUXRLH3xs
— Moana Maniapoto (@moanatribe) August 19, 2021
Wellington lawyer and former journalist Linda Clark:
So incredibly sad to hear of Sir Michael Cullen's death. He was an outstanding MP and one of the funniest people I've ever met. Sharp as a razor, dedicated to helping others. His legacy is enormous. Check your Kiwisaver balance today and thank him.
— lindaclark1 (@lindaclark1) August 19, 2021
Poet and writer Bill Manhire:
There are much bigger things he'll be remembered for, but we wouldn't have the Poet Laureate position attached to the National Library of New Zealand @NLNZ without Michael Cullen. https://t.co/JYPR1yntUa
— Bill Manhire (@pacificraft) August 19, 2021


---