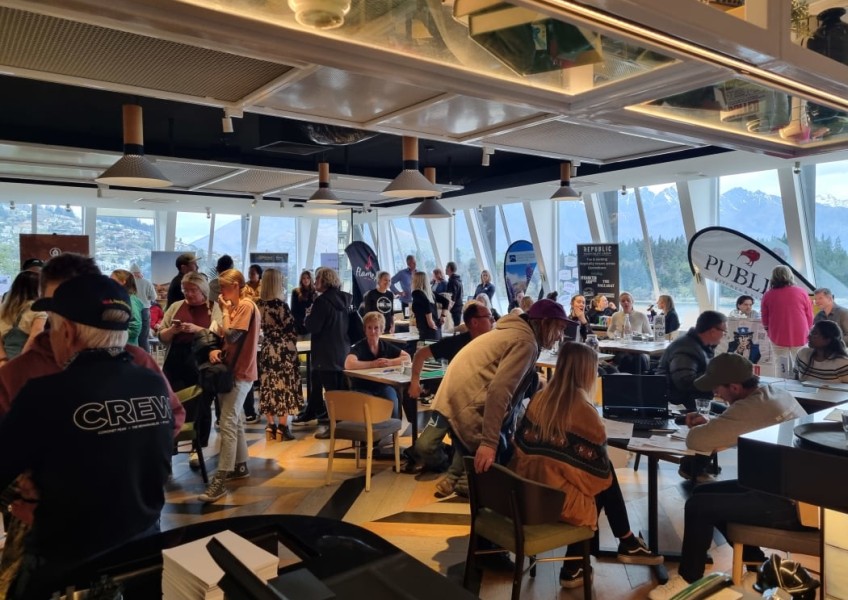 Queenstown recruitment drive: hundreds more jobs than would-be employees
Sep 28, 2022
---
There were more than 600 jobs on offer in Queenstown at a recruitment event last night but only roughly 100 prospective employees to fill the vacancies.
The resort town is gearing up for a busy summer and the event was designed to encourage winter workers to stick around after their seasonal contracts expire.
Zoe and her friend Helen arrived in Queenstown from China less than a week ago.
They were one of last night's success stories, interviewing and accepting jobs that start next Monday.
Both got jobs as cooks, even though neither of them had worked as a cook before.
It was an opportunity to try something new.
"We never try this job and we're very interested in this job," Zoe said.
Helen said part of the attraction was how friendly the business was to people from overseas.
She has wanted to visit Queenstown for a long time.
"It's very famous. When I was in China, I hear about here."
Adam, from Australia, has been looking for a temporary job to tide him over between the ski season and a trip overseas.
He has got a few ideas about what conditions would tempt him to stick around Queenstown.
"Respect for staff and flexibility and good pay rates obviously, which a lot of that's coming in now that people are so short staffed."
Walking around the recruitment event, he was swarmed by businesses eager to sign up workers.
He has found a few good options.
"I suppose I'll just have to go in and see what I like. I think the ball's in the worker's court at the moment so that's always good," he said.
"Everyone I've talked to, it seems to be 'come on in, we'll sit down and negotiate sort of the pay', so I'm sure you can kind of swindle your own terms to a certain extent this day and age."
Zuzana, from the Czech Republic, said the pay rate was not her biggest priority.
"I'm mostly looking for some experience, like I don't care actually that much about the money. I know that is kind of strange to think that but mostly I would like to find a job where the people would be friendly."
Other prospective workers said flexibility or a sponsor for their visa were top of their priorities.
The recruitment event was organised by the Ministry of Social Development (MSD), Hospitality New Zealand, and Go With Tourism
MSD southern regional commissioner Steph Voight said workers were in a better position to pick and choose the jobs they wanted.
"Where employers are able to offer a competitive wage, accommodation or other benefits, it certainly supports meeting their needs and it definitely gives them an edge in recruitment."
Businesses expected the summer would bring plenty of tourists, but said it was looking a bit more bleak for finding enough workers in time.
Another recruitment event will be held in Wanaka tonight.
Main image (RNZ/Tess Brunton): About 45 businesses attended the Queenstown recruitment event on 27 September, 2022.


---