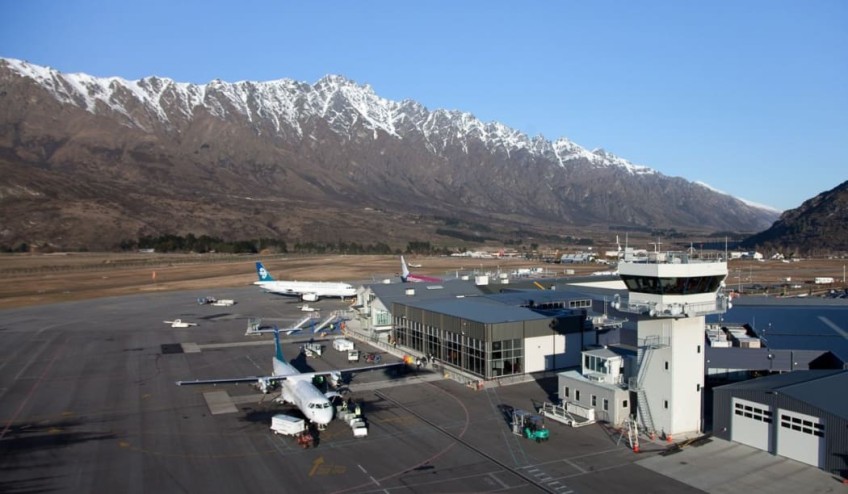 Queenstown flights backlog could take days to clear
Jul 25, 2022
---
Air New Zealand has added another plane and more flights to help clear a backlog of stranded passengers in Queenstown, but says it could take days.
Last week, wild weather caused multiple flight cancellations, exacerbated by staff sickness and a high demand during the school holidays.
The airline said it expected a few hundred customers had been impacted by flight cancellations in Queenstown yesterday.
"We have been re-accommodating customers with hotel accommodation, ground transfers and rebooking onto new flights," the airline said.
"As part of efforts, Air New Zealand is putting on a 300-seater 787 from Auckland-Christchurch-Auckland today.
"There will also be additional flights out of Christchurch to Queenstown and Wellington today to help customers return home."
Air New Zealand said the backlog might not be sorted until later this week.
"Unfortunately, we're still experiencing a perfect storm of a very busy end to the school holidays, with ongoing weather and crew sickness causing disruptions.
"Recovery might take several days, and we're working through potential alternative transport options for customers and encouraging those with non-urgent travel to push their fare in credit."
The airline said where the reason for cancellation was within its control, it would provide overnight accommodation either arranged at the airport or to an agreed value with proof of receipt.
"If a flight has been cancelled due to weather and customers are required to overnight, this would normally be covered by the customer or via their travel insurance.
"However, if a customer is part-way through their journey in a stopover port and the next flight is disrupted, we do our best to arrange appropriate accommodation for the night."
Customers should subscribe to Air New Zealand's Travel Alerts service and consult its Arrivals and Departures page, the airline said.
Those booked to travel on affected flights were urged to transfer their travel to another date by managing their booking online.
"Customers booked between now and August 31 can hold the value of their fare in credit for 12 months, from the time they requested their credit.
"Customers can easily opt into credit via the Air New Zealand app or website in the Manage Booking tab, by selecting request a credit.
"They can also use the app or website to change their flights to another date and have their change fee waived, though a fare difference may apply."
Queenstown Airport corporate and community affairs general manager Sara Irvine said people faced longer wait times and delays as airlines tried to clear the backlog on Sunday.
"Yesterday was one of the busiest days of the year and it hasn't been that busy for quite some time," Irvine said.
While Sundays during the school holidays were always busy, she said there was added pressure from earlier flight disruptions and staff sickness.
"We're expecting it to be resolved today from Queenstown. We're not expecting that there will be people who are stranded beyond today.
"We join the airlines in apologising for any inconvenience and just thanking people for that kindness and patience that they've been displaying to the people who are trying to help them as much as they can."
Main image: Queenstown Airport.

---