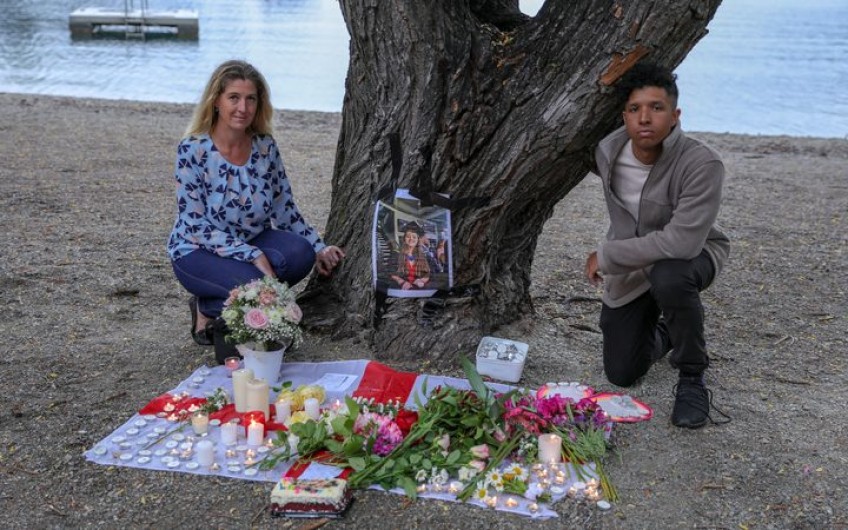 Queenstown backpackers pay respects to Grace Millane
Dec 12, 2018
---
The best friend of one of Grace Millane's older brothers was among the crowd at a candlelit vigil in Queenstown to remember the 22-year-old British backpacker.
About 100 people - locals and visitors - turned out on the tourist town's lakefront to pay their respects at last night's event.
A makeshift shrine was created at the base of a tree, with a photo of Ms Millane at her university graduation taped to the tree trunk and an English flag unfurled below it.
Many laid flowers there, while others lit candles.
Joshua Lewis is the best friend of Miss Millane's older brother, Declan.
He's known the Millane family for about 15 years and he said Ms Millane was like a little sister to him.
"You'd never think that sort of thing would happen, especially to such a young, lovely little girl."
Mr Lewis brought a birthday cake with him to the vigil.
Ms Millane turned 22 last Sunday. She was last seen the night before her birthday, entering a hotel in central Auckland.
"I just wanted to bring her a cake because I'm pretty sure travelling she probably wouldn't have got one, so I thought it would be nice to bring her one here," Mr Lewis said.
He had been in touch with the Millane family and they're devastated, he said.
"I can't imagine how they're feeling, but we just wanted to show support here, let them know that everyone here supports them, they've got support pretty much all over the world.
"I'm just glad that they've found her and that they can mourn for her, that we can all mourn for her."
Jess Bryan, who's living in Queenstown for the summer, said Ms Millane's death was heartbreaking.
"And it could have been any one of us. I've travelled alone - I am constantly - so it's just heartbreaking."
But Ms Bryan said it has also sparked a wider conversation about violence towards women.
"It's just not her fault, it doesn't matter if she was travelling alone ... it's how men are treating women and that's what matters and needs to be addressed at the end of the day."
Young Queenstown local Kate Lambert said Grace Millane's death had had an impact in the busy tourist town.
"What's happened has been really devastating for everyone in New Zealand because it's not really something that would happen here. I guess it's just hit us pretty hard and living in Queenstown as well we know she would have wanted to come here."
And for 17-year-old Charlotte Wilson, it hit pretty close to home.
"It's kind of like seeing someone my sister's age - my sister's about to go and do her OE - so putting myself in her family's shoes is just really sad."
Tonight, candlelit vigils will be held in main centres around the country, including Auckland, Wellington, Christchurch and Dunedin.


---