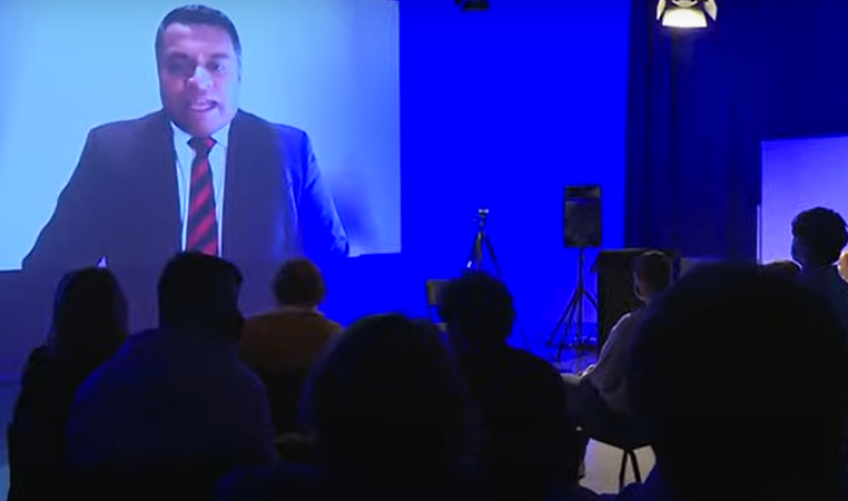 Public media plan emerges from behind closed doors
Mar 10, 2022
---
After more than two years and millions of dollars spent, the Government has finally confirmed a new media outfit will replace state-owned TVNZ and RNZ. Mediawatch looks at what's behind the new public media plan - and how the public and the media were out of the loop.
Most comparable countries have long-established public broadcasters offering radio and television - usually non-commercial - and a shared national news operation for both.
Most of them have added free-to-use digital services in recent years, including online news and entertainment and on-demand programming and podcasts.
New Zealand has heavily-commercial state-owned TVNZ which dominates free-to-air TV viewing and pulls in $300m a year from ads but makes little profit.
There is RNZ - a bonsai public broadcaster on radio with its own multimedia output and news staff that costs each onshore Kiwi about $10 a year.
State-funded Māori Television / Whakaata Māori runs on a similar annual budget, and also has its own news staff and online platforms.
Until 1990 Kiwi households paid a fee to cover the cost of broadcasting services. UK households still pay for the BBC that way. Other countries fund public broadcasters through taxes. Australia's government spends more than A$1billion a year funding the ABC and SBS - and the broadcasters are accountable for how they spend it.
In New Zealand, two government agencies - NZ On Air and Te Māngai Pāho - allocate mostly-contestable funds to a range of broadcasters and production companies).
All up, the annual public spend on public media is now more than $300m.
That pays for a lot of local content - but not comprehensive public broadcasting.
It's not a system that suits the present - let alone the digital future.
Short-term fixes that failed
Previous Labour governments made half-hearted, low-budget attempts to boost public service television through TVNZ.
The TVNZ Charter introduced in 2002 was scrapped by a subsequent National-led government within a decade. Publicly-funded non commercial TVNZ channels introduced in 2007 were gone by 2012.
Going into the 2017 election, the Labour Party campaigned on a $38m a year boost for public broadcasting.
The following year, new Broadcasting Minister Clare Curran unveiled a policy to expand RNZ and include a non-commercial television / video channel.
TVNZ was not part of that plan.
"To turn it into a public broadcaster would have been difficult culturally and resulted in battles and a lack of value for the taxpayer," Curran told Mediawatch at the time.
When Curran resigned as minister in 2018, that plan fell apart anyway.
New minister, new plan
Kris Faafoi - a political journalist for TVNZ ten years earlier - took over and announced a new plan under the banner 'Strong Public Media,' overseen by the Ministry for Culture and Heritage.
But only politicians, a handful of media executives and selected public servants were in the loop.
An advisory group representing both media companies and public service agencies was formed to look at funding options - but its members were not initially disclosed and neither was its advice.
Broadcasting Minister Kris Faafoi refused to release documents updating him on discussions between media and officials, citing both the confidentiality of officials' advice and commercial sensitivity.
RNZ reported the advisory group concluded the status quo was "unsustainable" and "collectively recommended the government agree to disestablish TVNZ and RNZ and to establish a new public media entity (PME)"
In January 2020 RNZ's political editor Jane Patterson revealed Cabinet settled on the option of a new public media organisation to replace state-owned RNZ and TVNZ within three years.
"The current mandates, objectives and funding arrangements of NZ On Air, RNZ and TVNZ are not aligned and constrain their ability to respond collectively to digital disruption. Having a strong public media that provides a range of trusted news, information and entertainment is vital to the health and vibrancy of New Zealand society, particularly if services provided by private media contract"
- Strengthening Public Media: Report Back – January 2020 Cabinet meeting
NZOA approved. So did RNZ.
"We believe, as a board and executive team, it is a once-in-a generation opportunity to create a stronger public media system that would benefit all New Zealanders," RNZ chair Jim Mather said.
TVNZ was less effusive. "You can be assured that we will continue to proactively champion the need for New Zealand businesses to reach large relevant audiences as part of any future public media plans," then-chief executive Kevin Kenrick told TVNZ's advertisers.
"I think it would be crazy if it got to the point where ... New Zealand's businesses didn't have access to TV advertising to build and grow their businesses That's a world first I wouldn't be that proud of," Kenrick told Mediawatch.
But cabinet ministers wanted a business case before giving it a green light.
Cabinet papers also made it clear that TVNZ's ad revenue would be a critical component of the new company.
"The current costs of operating TVNZ, RNZ and NZ On Air are approximately $450 million. Crown funding accounts for approximately $150 million of this amount."
Critics complained commercial TV imperatives - not public service principles - could end up the driving force, but the minister Kris Faafoi insisted a comprehensive public service charter would be part of the plan (though that was also drafted behind closed doors).
Then came Covid-19, delays and two more groups of consultants scoping the SPM project, which was allocated another $6m in Budget 2020.
An eight-strong governance group was formed last year to scrutinise the business case - finally completed last September - and draft a new charter (even though RNZ already has one which is currently the subject of a parliamentary inquiry).
Late last month, cabinet ministers finally approved the new PME - but still the secrecy continued.
Last Tuesday, Kris Faafoi told RNZ's Checkpoint he could not confirm when the announcement would be made.
About 20 minutes later, journalists were advised of Thursday's live-streamed set-piece announcement.

---