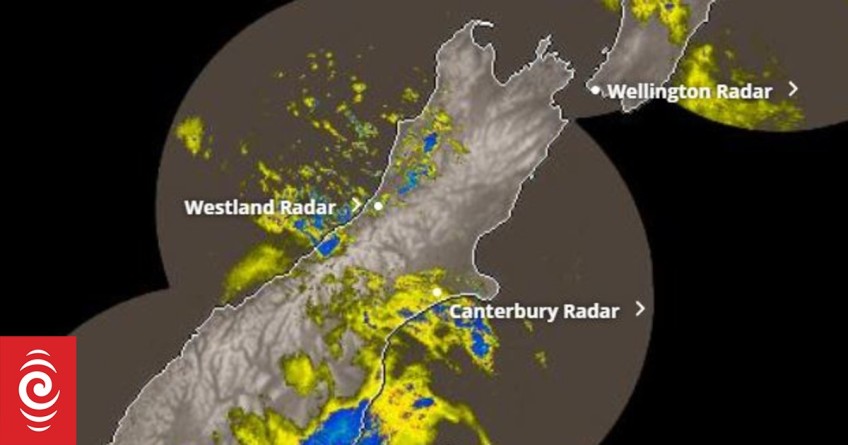 Severe weather affects much of South Island
Mar 21, 2023
---
Severe weather forecasters are investigating a possible tornado overnight as wild weather affects much of the South Island.
As of 8.30am, MetService had 19 severe weather warnings in place, with all but two in the South Island.
They included orange heavy rain warnings and orange strong wind warnings.
MetService meteorologist Amy Rossiter told Morning Report a front had moved through overnight, bringing a change from a very strong, warm and moist northwesterly flow to a southerly flow.
There was also a deep low off the east of the South Island that was driving stronger winds and heavier rain to the Otago and Southland regions.
Severe gales had been recorded overnight, with Rossiter saying Mount Hutt reached gales of 190 kilometres per hour while Nugget Point reached 142kmh.
A front moved through Westland around 10.30pm on Monday night, causing a possible tornado.
"There were some signals on our radar that suggests there may have been a tornado. Our severe weather forecasters are still investigating that, but at this stage, it looks like there was a possibility of one."
Rossiter said Otago's heavy rain warnings were in place until 11am. The rain had only just started in the last few hours but the "heavier stuff" was expected to persist this morning.
Snow had also started to show, as it does in colder outbursts, on the Crown Range, Rossiter said.
The strong wind could bring damage to property, especially loose structures, she said.
MetService said settled weather was expected for much of the country from Thursday.
Power outage in Clutha District
In a statement, Clutha District Council said parts of the area were without power after the storm, and the outage would disrupt rural water schemes.
Contractors were on hand to restore it once power was reconnected, and crews were out checking for damage and clearing drains, the council said.
There was also widespread flooding on roads, notably on Kaitangata's main street and in Lawrence, it said.
Motorists were urged to drive to the conditions and slow down through flood waters.
Dunedin City Council said the bad weather arrived later than expected, about 5am on Tuesday.
Stormwater systems were coping well so far, with staff and contractors on standby if any issues came up, the council said.
Otago Civil Defence said drivers should take extra care, with tree branches likely to be down across roads and some traffic lights affected.
Motorcycles and high-sided vehicles should also take extreme care travelling in high winds on State Highways 1, 85, and 8, Otago Civil Defence said.


---