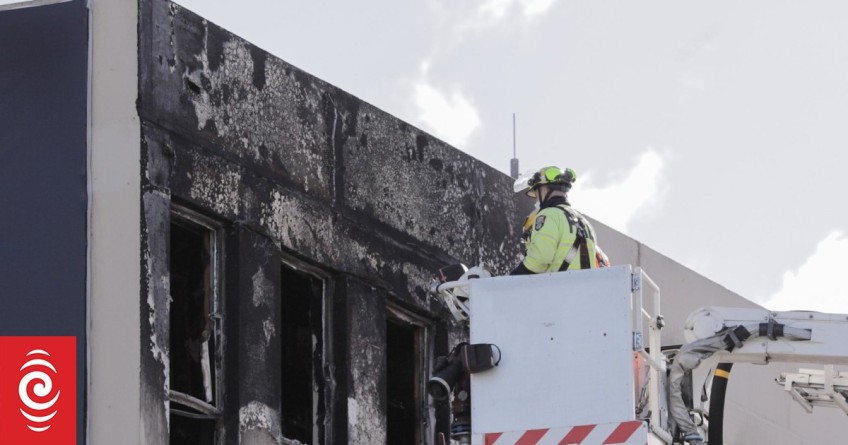 Police treating Loafers Lodge fire as suspicious
May 17, 2023
---
Fire and Emergency have handed the scene of the Loafers Lodge fire over to police, who say they are treating it as suspicious.
At least six people died in the fire.
Acting Wellington District Commander inspector Dion Bennett said officers hoped to enter the building this afternoon to begin a scene examination and to recover the bodies of those who lost their lives.
Police confirmed that about two hours prior to the fatal fire, there was a couch fire at the hostel - about 10.30pm on Monday night.
This fire was not reported to emergency services, Bennett said.
"As part of our enquiries, we will be seeking to confirm any link between that couch fire and the subsequent fatal fire."
A health and safety assessment would be done before officers enter the building.
It was likely to take several days to complete the examination, which was a extensive and methodical process, Bennett said.
"We know there are many people waiting for news of family and friends - including the residents who escaped the fire and are keenly waiting for news of their fellow tenants.
"I again want to provide the reassurance that we have a large number of officers working on this investigation, with the aim of providing them the answers they need as quickly as possible."
Any Loafers Lodge residents who were not at Newtown Park on Tuesday were asked to get in touch with police.
Anyone else who may have information which could assist police enquiries was asked to do the same.
People can contact 105, referencing Operation Rose or online, by selecting "Something Else".
Loafers Lodge director Greg Mein addresses media
Loafers Lodge Greg Mein says himself, the management, the family of the owner - "everyone" - is "gutted" by the fire.
Speaking to media on Wednesday afternoon following the fatal blaze, Mein acknowledged the "sad loss of life".
"Myself, the management, the family etc of the owner, everyone is just gutted by this, it's just done us in completely."
Mein said he was supporting management to assist police and FENZ with their investigations.
The rest of the management team was working closely with displaced residents to make sure they could be accommodated, he said.
"There's been all sorts of rumour and innuendo around, I can't speak to a lot of that.
"We have 90-odd residents, there might be the odd disgruntled one there, we try to deal with everyone the best we can, they all have varying needs and we do the best we can."
The management tried to assist people as best they could, he said.
Mein said he had not been interviewed by police or the fire service and was not privy to any other information.
"I just wanted to be able to put this to bed a wee bit, that's about all I've got to say."
The building had a monthly inspection "where they go through and check... make sure that all the services are up to standard and we had an invasive building warrant of fitness done, which is done yearly, and that was completed in March and everything was a-OK".
The day to day running of the building was done by managers, he said.
The large fire came just two hours after a couch was found on fire in the building.
Residents spoke of the frightening moments they realised they needed to get out, with one jumping from the top floor to get to safety.
Police were treating the fire as suspicious and working to establish any links between the two fires.
Prime Minister Chris Hipkins today has announced a review into building regulations for high density accommodation.
Read more: Investigators, search and rescue to enter Loafers Lodge
Main image: RNZ/Angus Dreaver

---