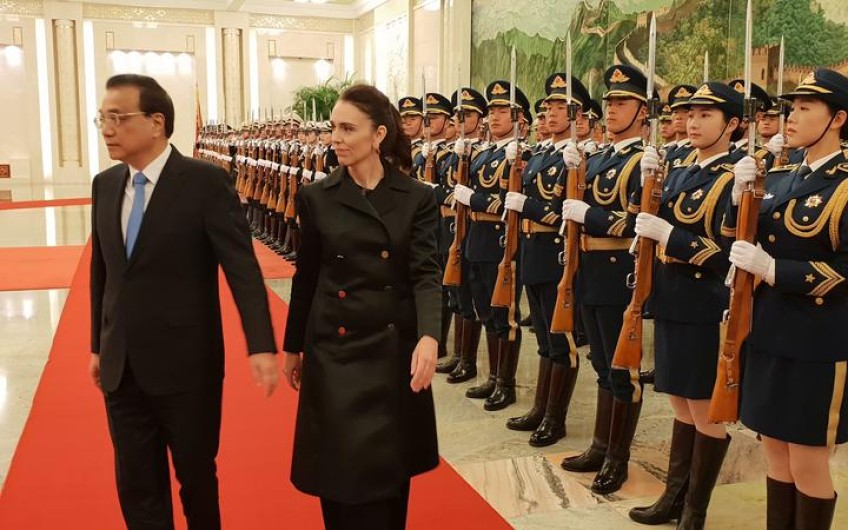 PM formally opens NZ embassy in Beijing
Apr 01, 2019
---
Prime Minister Jacinda Ardern has just formally opened New Zealand's new embassy in Beijing during her whirlwind visit to China.
Ms Ardern is in Beijing for just 24 hours, and will have meetings with the Premier Li Keqiang and President Xi Jinping later today.
Her planned week-long trip to the country was shortened following the March 15 mosque massacres.
Speaking at a plaque unveiling at NZ's embassy, Ms Ardern referred to the solidarity displayed by New Zealanders after the terror attack.
"We are a people who have not experienced that kind of violence in that kind of way on our shores before," she said.
"That did not change the values that we hold as a nation... we are a country of multiple ethnicities, multiple religions and faiths, different creeds.
"We are open, inclusive... we welcome those who choose to come to our shores".
Those values were held dear in embassies and commissions around the world including in China, Ms Ardern said.
"You have one of the most significant footprints that we have globally and I think that speaks to... the growing importance of our relationship with China."
'Explaining the process' behind Huawei decision
She said she intended to clear up what she calls "misreporting" about Huawei when she meets with China's leaders.
The GCSB has rejected Spark's initial 5G plans involving Huawei, citing security concerns.
Speaking to reporters in Beijing, Ms Ardern said she expected the matter to be raised during her meetings.
She planned to "explain the process" behind the Huawei decision and to clarify the government had no "direct involvement" with the decision, she said.
"The GCSB manages that regulatory process... it's there to support and strengthen New Zealand's national security interests and it sits separate of us," she said.
"I have seen reporting that Huawei is banned. That's just not true. Obviously we have Huawei products in New Zealand.
"It will be helpful for me to explain the process and the fact there has been some misreporting around the way it works."
New Zealand had a "very different" framework from any of its Five Eyes partners and had not been lobbied by any of them, she said.
"New Zealand makes its decision independently... I've not been directly appraoched or lobbied by anyone, but even if we were, it would make no difference to our independent process".
Ms Ardern said she also expected to discuss a potential upgrade to the two countries' Free Trade Agreemenet, as well as broader economic relations, cyber-security, and human rights issues.
"The visit itself is incredibly important to us ... the chance to come here and further that relationship is really key."
The embassy was first established in the 1980s shortly after China and New Zealand developed diplomatic relations.
Embassy staff have been in temporary quarters till last June while the brand new building and residence were being built.


---