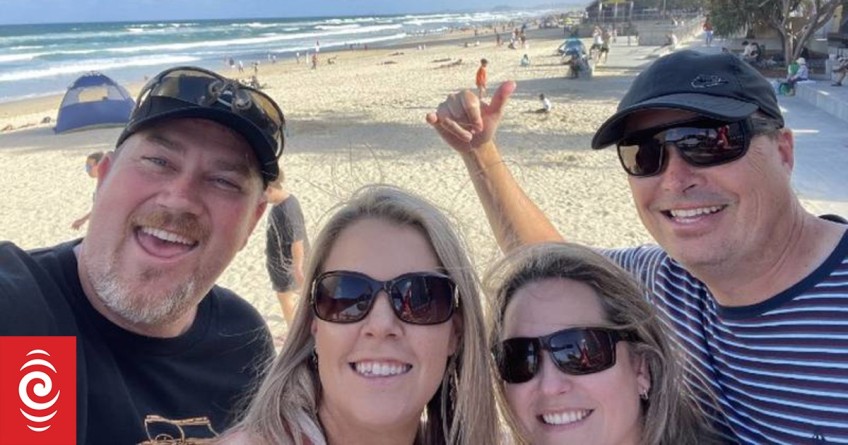 NZ survivors describe Gold Coast helicopter crash that killed four
Jan 05, 2023
---
Two New Zealand couples who survived the deadly helicopter crash on Australia's Gold Coast have described how a fun five-minute joy ride turned into a nightmare and praised the heroism of their pilot.
Aucklanders Elmarie and Riaan Steenberg and Edward and Marle Swart were holidaying in Queensland when they were caught up in Monday's tragedy near Sea World.
The couples' helicopter landed on a sandbank after a mid-air collision with another chopper.
In a joint statement, the Steenbergs and Swarts said they were still coming to grips with the disaster that left four people dead and three others badly injured.
"On behalf of our families, we are completely devastated by the horrific helicopter accident that occurred on 2nd January. A fun 5-minute joy ride on vacation to Australia turned into a nightmare," they said.
"Our deepest sympathies and sincere condolences to the injured and the deceased and their families.
"We are grateful and blessed to have been spared but very sad for the people who lost loved ones and the little ones and mum fighting for their lives in hospital. Our hearts are so heavy for them.
"Our gratitude goes out to every bystander who ran to help, every police officer and emergency services personnel who helped us with our immediate needs keeping us calm and making us comfortable. We saw mateship in action. Australians come together to help in time of need.
"We would like to extend our great thanks to the hospital staff taking care of us for their kindness and compassion during this traumatic experience.
"To our pilot, who, through all the chaos, landed the helicopter safely, keeping us and other bystanders safe. You are our hero. Thank you so very much."
Footage filmed inside the couples' helicopter appears to show one of the passengers trying to warn pilot Michael James moments before the windscreen smashes on impact.
The video obtained by Channel 7 shows the passenger gripping the back of the pilot's seat and the tourists being showered in glass.
Six people were on board their helicopter, which was landing at the time of the crash, including the pilot and a woman from Western Australia.
Five were treated for minor injuries at the Gold Coast University Hospital.
The Steenbergs and Swarts had been posting photos and video highlights of their trip to social media in the days before the crash.
They said they were assisting the Australian Transport Safety Bureau and Queensland police with their inquiries.
"We will share more when we are ready; however as we are coming to grips with what has happened and the resultant impact on our lives, we ask that our need for privacy be respected at this time," the couples said.
Pilot Ash Jenkinson, British couple Ron and Diane Hughes and Sydney mother Vanessa Tadros were killed when the other helicopter plummeted to the ground shortly after take-off.
Tadros's 10-year-old son Nicholas, Geelong woman Winnie De Silva and her nine-year-old son Leon were taken to hospital in a critical condition.
Tadros's husband Simon, who witnessed the accident, said his son was on life support and needed "all the prayers he can get".
Investigators have been trying to establish the cause of the crash.
Main image: Elmarie and Riaan Steenberg and Edward and Marle Swart were on vacation in Queensland when the Sea World helicopter they were in collided with another on 2 January, 2023. Photo: Supplied


---