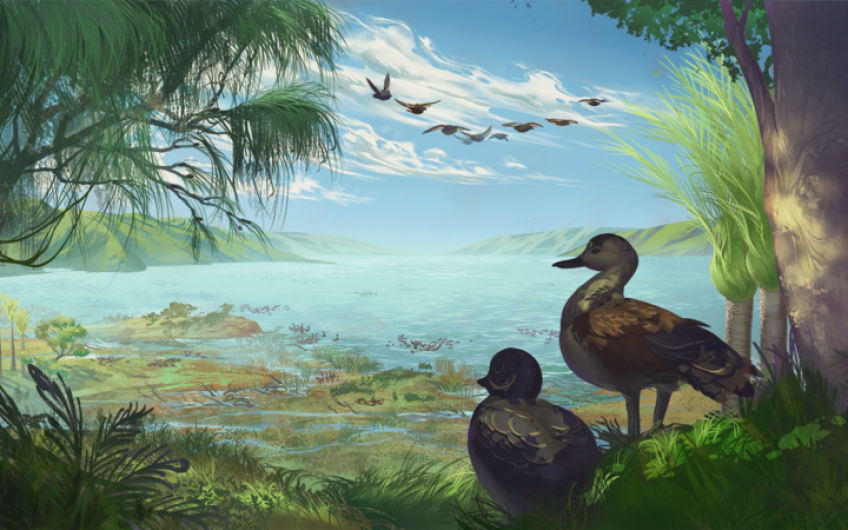 New giant duck discovered in St Bathans
Mar 10, 2022
---
A new species of large, extinct duck has been discovered at one of the country's richest fossil sites in St Bathans in Otago.
Researchers have been working in the area for more than 20 years, uncovering animals which lived millions of years ago.
Dr Nic Rawlence from the University of Otago's Department of Zoology says researchers have, so far, found the tūpuna of today's kiwi and tuatara but also some more exotic species like relatives of flamingos and crocodiles.
All of them once lived in or around a gigantic palaeo-lake named Lake Manuherikia.
Dr Rawlence discovered the duck species and named it after his late mother, Catriona.
He grew up in Nelson and often explored the caves of moa bones in Golden Bay.
His mother inspired his love of natural history and was his most enthusiastic supporter. She followed his field trips avidly so it was considered appropriate to pay her a tribute.
"She would have been excited by this discovery."
He told RNZ Afternoons that a large wing bone was found in an eroding creek bank.
"Catriona's shelduck from the St Bathans fossil site in Central Otago is about 15 [million] to 19 million years old and we know of about seven ducks that used to live there but Catriona's shelduck is the biggest of them all - about 70cm tall and weighing up to 2kg."
He said it equates to about one and a quarter to one and a third times the size of a male paradise shelduck: "So fairly big and fairly chunky."
The find is exciting, he says, with the team drawn from Te Papa and both Massey and Otago Universities celebrating the discovery.
Dr Rawlence said the duck would have been happiest walking on the grassy shore eating slugs that flowed into Lake Manuherikia, which extended across Central Otago down into the Nevis in northern Southland.
"It rivalled in size Lake Taupō. You had a whole lot of animals living in and around the lake, you had the tūpuna ancestors of kea, tuatara, the extinct adzebill living there but also the relatives of exotic animals like flamingos or crocodiles."
Aotearoa was a lot more forested in that era, with palm trees, eucalypt trees and coconut palms, similar to a greenhouse-type environment and a lot warmer.
There are two possibilities for Catriona's shelduck becoming extinct. One is a huge climatic change and tectonic geological evolution that dried up the lake and it became cooler. The duck may not have been able to adapt fast enough to such changes.
"There's also the possibility that it evolved into something we know today but we haven't actually managed to join the dots and establish that relationship yet."
Alan Tennyson, Te Papa's curator of vertebrates, says: "The discovery further underscores the global importance of St Bathans fossils for understanding the evolution of ducks and their relatives."
An Auckland University student, Simona Giovanardi, has drawn a reconstruction of what the duck and its environment may have looked like millions of years ago.

---