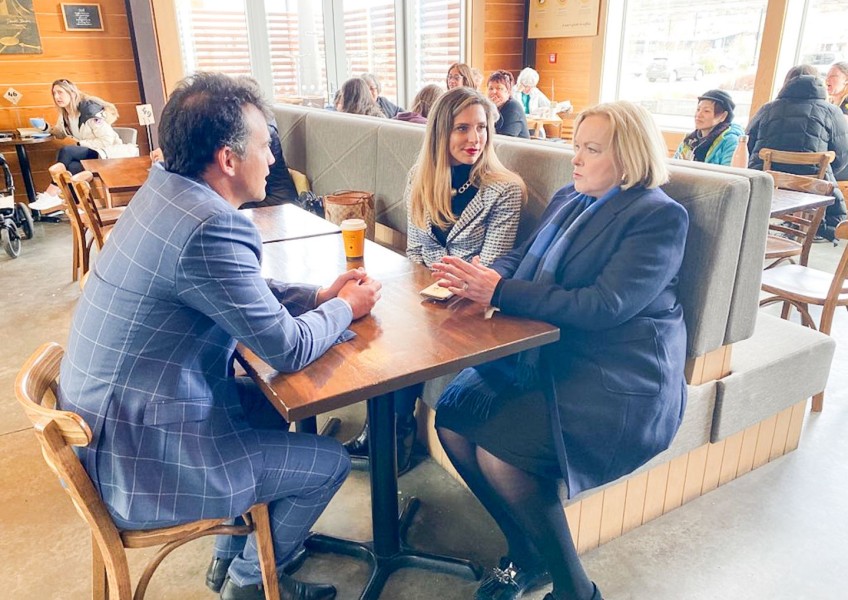 SQL's Wensley plays role in $1.3 billion tech policy
Sep 21, 2020
---
Reporting from RNZ and Crux.
National says it will double the size of the tech sector in 10 years, if elected, with a $1.29 billion plan that aims to create at least 100,000 new jobs.
The new policy was influenced Startup Queenstown Lakes CEO Olivia Wensley who met with National leader Judith Collins only a couple of weeks ago.
"I spoke with her about the surge in innovation in our region - and how many expats are returning to the region. I told her how there's already a vast amount of tech talent in our region - I told her that I thought the future for the recovery of the economy was through tech - and that the current budget supporting tech was pathetic."
"She told me "you've given me something to campaign on" and was very enthusiastic about boosting the tech economy in New Zealand. She agreed we needed to be leveraging our desirable position in a Covid world and to attract Silicon Valley talent."
Among the National party's aims in its Tech 2030 plan is the ambition to develop "the world's most tech-friendly regulation". National wants to increase the value of the tech sector's exports to $16b per annum by 2030.
National Party leader Judith Collins says the sector has "amazing potential" adding that she thought it "could be bigger than our dairy sector in 10 to 15 years".
National says it will also:
Establish a minister for technology
Offer 1000 tertiary scholarships per year targeted at students from low decile schools to undertake science, technology, engineering and maths (STEM) degrees
Establish a STEM-focused partnership school and restore funding for specialist ICT graduate schools Introduce a fast-track technology skills visa
Invest $1 billion in technology infrastructure upgrades with the aim of achieving 100 Mbps uncapped internet speeds for everyone using Ultra-Fast Broadband
Establish three targeted investment funds for tech start-ups worth $200 million each, with the cost split evenly between government and the private sector
National expects its plan to cost $690 million over its first four years with infrastructure upgrades over the following six years are expected to cost another $600m, bringing the total cost to $1.29 billion.
Collins announced the plan during a visit in Auckland to Buckley Systems Limited, a New Zealand company supplying precision electromagnets.
At the visit, Collins said a National government would "also create a regulative environment that attracts tech companies here. We believe that we could become a testing ground for new distruptive technologies like drones, artificial intelligence and driverless cars".
With "sluggish" government not able to keep up with new developments, a regulatory 'ice breaker unit' would be set up to respond quickly to them.
A minister of technology would act as a "champion for the tech sector, to partner with the tech sector and to implement this plan".
"We have a minister for fisheries, we have ministers for forestry, this sector is actually much bigger, much more important and much easier to grow... so I would have thought the tech sector does need a champion at the cabinet table."
Tech sector reacts
TechNZ chief executive Graeme Muller says access to skilled people will be crucial to the plan's success.
"It's really good to see actually, we've been calling for something similar to this for years so it's nice to see one of the political parties really stepping it up. The minister of technology is the key thing here, someone who can help co-ordinate all the key parts of government."
He feels the tech sector will grow in the range of 100,000 new jobs in the next decade regardless of who is in government and also expects, based on the current rate of growth, that exports will double in about six years anyhow.
"Getting it up to [National's] sort of level within 10 years is very feasible. I think with some focus we could do it better and faster."
He says spending money infrastructure is key, as is ensuring the sector have access to people with skills, which means tech related education - an area covered by National's announcement - is important.
Main Image: SQL CEO Olivia Wensley and local National Party candidate Joseph Mooney met with National Party leader Judith Collins in Queenstown just two weeks ago to push for more tech sector development support.


---