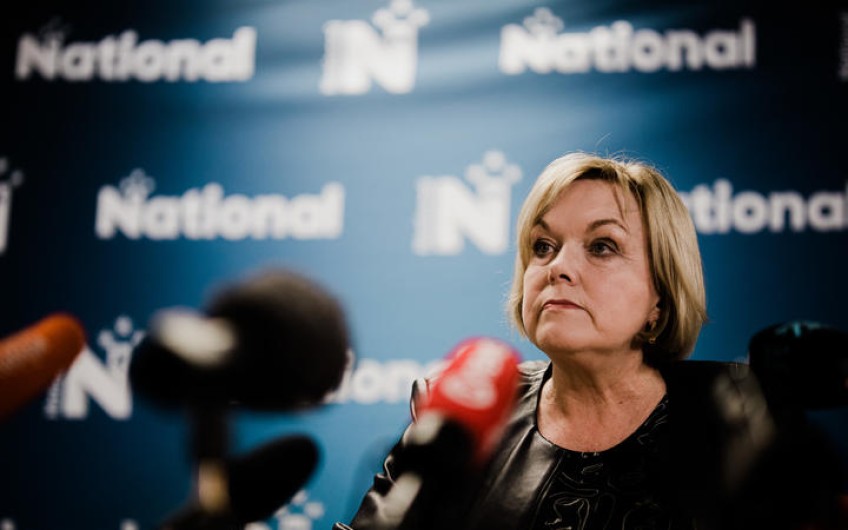 National MPs say goodbye as caucus dissects what went wrong
Oct 20, 2020
---
National's caucus will today begin the task of trying to pick up the pieces, at its first meeting following the weekend's crushing defeat.
While there's been speculation party leader Judith Collins' job may be on the line, it appears National MPs are still backing their leader for now.
Today the 21 casualties of the election will be given the chance to say goodbye, before the class of 2020 begins the frank dissection of what went wrong - and where to from here.
National MPs put on a brave face as they arrived back in the capital yesterday.
Many, like Kanwaljit Singh Bakshi, are only back to say goodbye.
"Oh that's all right. You have to take it on the chin and move on. There's life after politics so we'll continue with that. But obviously very disappointing for a lot of us," he said.
He said it was vital the party held a review of the "shortcomings" of the campaign.
National MPs from the class of 2008 met for a farewell dinner last night.
Melissa Lee - who is one of those still in a job - said the result was "devastating".
"We've always been very close friends and we've all become, you know, brothers and sisters. I love every single one of my colleagues and I feel terrible for those who did not make it this election," she said.
So far as the leaking during the campaign is concerned, she said: "That's something I'm really angry about. I just think New Zealanders will be very disappointed in us. We just look like politicians who can't actually keep it together.
"I'm really disappointed whoever it is and hopefully it will stop."
Lee said the problem with emails was they were sent to not just MPs but also their staff and possibly other people. She added she was not accusing staff of being behind the leak of the email she sent.
She advised any National MP who was leaking to media about Judith Collins being dumped as leader to "shut up".
Departing Hamilton West MP Tim Macindoe who has been in Parliament for 12 years, said his message for his colleagues was to be decent.
"To be fit to govern you must be absolutely united, you must demonstrate a very clear vision for what is important ... and also demonstrate fundamental decency.
"You have to be a team that people can respect and want to have lead a nation."
He said the National caucus needed to focus entirely on being fit to govern, otherwise "it would be a difficult way back".
Macindoe said Collins had done a good job in "extraordinarily challenging circumstances", and it would be a mistake "to get the knives out" for her.
Taranaki-King Country MP Barbara Kuriger said the caucus was united behind Collins. Three leaders, departing MPs and board members and leakers had made for a difficult year but Collins had "kept a smile on her face every day".
She said there was no room in caucus for leakers.
She agreed it was ironic that the team ran on a strong team banner.
"We weren't the best team... You can have all the best players, it's no different to the rugby. If you've got people dropping the ball, or not being able to do the right thing, then you don't win, and that's what happened."
Northland MP Matt King said today will be "sombre" as he says goodbye to friends, with half of his class of 2017 out of Parliament.
With his electorate still on a knife's edge, he said he won't be breathing easy until the special votes are counted.
"I'm 740 majority and there's going to be several thousand special votes, so I could lose it. Absolutely could lose it."
Hamilton East National MP David Bennett who was defeated on Saturday night, said he was very sad to see the departure of "some great MPs and colleagues and friends."
"That's politics. It's going to be a tough day."
Rangitikei MP Ian McKelvie who retained his seat said the person who leaked had undermined the party while the caucus backed Collins.
Asked if Mark Mitchell was brewing a coup, he said he did not think this was a reasonable assumption.
All National MPs from last term will be at today's meeting, along with the new faces.
The departing MPs will be given a silver platter as a present, and get the chance to make a short farewell speech before leaving the room - eventually whittling the meeting down to just those with the daunting task of trying to rebuild the party.
And while there is likely to be some frank soul-searching - it doesn't seem like the knives will be sharpening for Judith Collins' scalp at this stage.
Lee said she had not had "any inkling on anything like that", adding that she "supports Collins fully".
While King said Collins "took a hospital pass, she's worked her backside off for us, and I 100 percent support her".
The man responsible for that hospital pass, former leader Todd Muller, conceded that National's leadership challenges hurt the party.
However he doesn't regret rolling Simon Bridges.
"Oh look you can only do what you think is the right thing at the time. Clearly I went through a period there which was really tough personally and I've come through that and now just seek to be the best I can be as part of the National Party caucus," he said.
Muller said a challenge to Collins' now would not be in the party's best interests and he can't see that happening.
"I think she's done a tremendous job in the three months that she's been the leader and what we now need is stability and to take our time to reflect on what we need to do better," he said.
Waikato MP Tim van der Moe said while he was happy with his own result, one of only three MPs to win the party vote, there was a lot to review on National's performance.
"Leaking is never good for any team... We haven't done as well as we would have liked in this campaign clearly so building that team is vital and leaking is absolutely destructive for that."
He said any time a team was struggling and it became public, it would have a negative impact at the ballot box.
There would be "robust discussion" on what the party needed to do.
Kaikōura MP Stuart Smith said there was only one way for National to go from here and that was up, however, MPs would need to have a hard look at themselves.
"It's a tough time for everyone and the reality is we've been on the other side of it in 2014. We had a fantastic win..."
So fas as speculation on a leadership change was concerned, he described it as "nonsense."
Former leader Simon Bridges did not respond to RNZ's request for an interview.
While incoming Botany MP Christopher Luxon has been touted as a potential leader, RNZ understands he's been advised to settle in, lay low and not move too soon.
He shrugged off questions about his ambitions when arriving in Wellington yesterday.
"You guys are way ahead of your skis, I have to be really honest with you, you know, like this is my first day, I only was elected 36 hours ago. I'm really just taking it one step at a time and that's really important. I just want to be part of the team that Judith puts together in the next wee while and play the role that I can within that caucus," he said.
Even if there is an appetite for a coup brewing, under National's constitution no such moves would be made until after the special votes are out on 6 November.


---