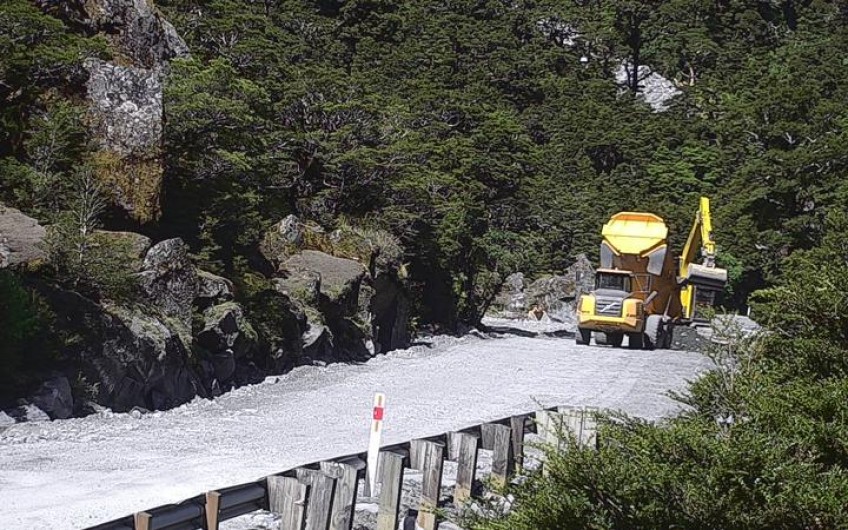 Milford Road repairs expected to take a year as 4WD access restored
Feb 12, 2020
---
Four-wheel-drive access into Milford Sound is now available just over a week after heavy flooding cut off the only road in.
State Highway 94 was hit with landslips and flooding when a metre of rain fell in less than three days.
The Transport Agency confirmed the route is open to emergency services while essential service convoys should start this weekend.
The agency's system manager Graeme Hall said it had taken a remarkable effort from crews to establish the access route.
"The damage will require a significant rebuilding over more than a 12-month period. However it has been a huge effort to establish a construction track and to be able to forecast we can accommodate some traffic use in the coming weeks while rebuilding continues," he said.
The road between the East Gate and the Chasm suffered the most serious damage, Hall said.
A twice-a-day business-only convoy is scheduled from Sunday to next Thursday, starting at 8am and 4pm from the East Gate, and returning through Gulliver Gate at 9am and 5pm.
The convoy would transport fuel, food, freight, septic and rubbish disposable trades, contractors, staff and air traffic control personnel.
"This convoy system is being supported under the Civil Defence emergency status, and it will need support and assistance from the tourism operators and wider businesses to work," Hall said.
Tourism buses would be included from next Friday three times a day with a minimum of ten seats, he said, but another smaller storm was forecast for next week which may affect the supervised convoys.
"The Transport Agency will be working closely with Emergency Management Southland which has extended the State of Emergency for Southland, including Fiordland, until next Tuesday.
"If at any stage rainfall creates fresh risks along this route, convoys will be halted and we will do our best to keep people informed and up to date."
Main Image: Forks Bridge. A route has been cleared through to Milford Sound which will be usable by 4WD vehicles in twice-a-day convoys. Photo: NZTA


---