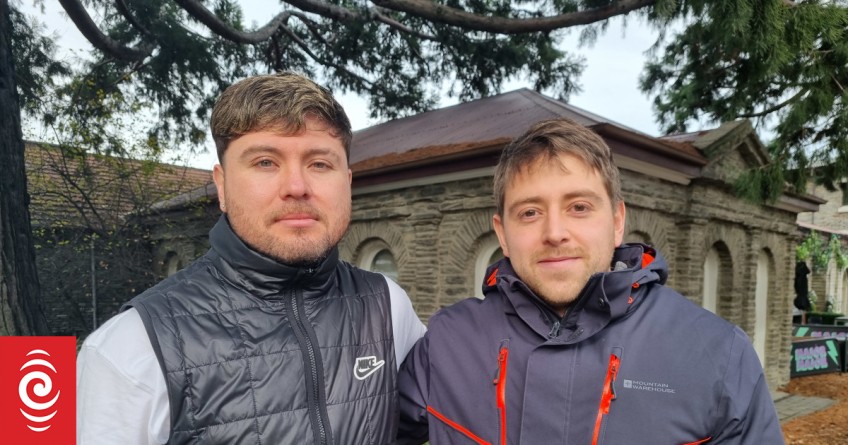 Migrant workers being exploited: Queenstown Citizens Advice Bureau
Jun 19, 2023
---
Dozens of migrant workers are being exploited by Queenstown employers who are not meeting the minimum conditions required by their visas, the Queenstown Citizens Advice Bureau says.
The workers' visas are tied to their employers and they are afraid to speak out, bureau manager Tracy Pool said.
Federico Planes and Abraham Ruz had been working for a Queenstown cleaning company under Accredited Employer Work Visas when the company was sold earlier this year.
Almost immediately problems started with the new boss expecting a higher standard of work in less time and often without providing equipment like gloves and cleaning chemicals.
What was expected of them was absurd, Planes said.
"It's impossible. It's stressful. He wants us to clean better, faster, he doesn't want to have complaints. It's crazy," he said.
The new boss was also not paying them when they travelled between clients, often rostered their work hours on the morning of the working day, underpaid them for the hours worked, and did not provide the 30 hours of paid employment guaranteed by their visas, he said.
But if they complained, they risked losing their jobs, and therefore would have to leave New Zealand, Planes said.
"It's stressful, because we leave our country, we are 15,000 kilometres away. We came here to enjoy life - it's very stressful," Planes said, choking back tears.
Abraham Ruz said he left his homeland of Chile because of a lack of financial opportunities and because the country was not safe.
"I want to stay here for a long, long time because it's friendly. It's safe," he said.
"But for the moment, I just need work because work is money, it's a visa. Really, I don't want to return to Chile."
Both men wanted to remain in New Zealand and so felt trapped even when being taken advantage of.
Connie, who obtained temporary residency after working in New Zealand for five years, said migrant workers, particularly those from the developing world, were seen as cheap labour and treated more like a commodity, rather than as people.
"People feel trapped in the work because of all it involves to come here with a visa, and if you have your family attached to that visa, even if you're having a bad time in the work, you're just going to stay there," she said.
Tracy Pool said migrant workers came to Queenstown because it was where the Accredited Employer Work visas were available.
Most employers followed the rules but dozens of migrant workers in the resort town were tied to bad employers and they could not risk speaking out, she said.
"They've got no backstop. There's no unemployment. They don't qualify - there's none of that," Pool said.
"And then if they've got partnerships tied to them, then their partners also lose their job because their visa is also cancelled. Their visa is based on the worker's visa."
It was a deeply unfair system which was ripe for exploitation, she said.
"You can take advantage of that because they're basically tied to you and good employers look after them - and the majority of them do - but some of them just don't. They Accredited Employer system was meant to help with that - it hasn't."
It was obvious why workers would not speak out to immigration authorities, since if their employer lost accreditation it would mean the workers lost their visas, Pool said.
Queenstown Housing Initiative co-founder Hannah Sullivan said the problems were compounded in Queenstown where housing was desperately short and migrant workers accommodation was also often linked to their employer.
"Right now people are being exploited, because it's better than what they can go back to," Sullivan said.
More than half of those in touch with the initiative were migrant workers, she said.
One person from Chile was crammed into a bedroom which had been divided into three and was paying over $200 per week.
"They said 'I can't go home because there's nothing for me there, it's not safe where I live', so they'll take anything they can get and it's so sad," Sullivan said.
Immigration New Zealand (INZ) verification and compliance general manager Richard Owen said INZ expected employers to comply with visa conditions, and there were penalties for those who did not.
"We take any allegations of migrant exploitation and fraud seriously and we routinely investigate businesses for compliance with immigration laws," Owen said, in a statement.
"The Accredited Employer Work Visa (AEWV) was introduced in July 2022 to provide a three-step pathway for hiring migrants and replace six other visas. The visa supports employers to get the workers they need without disadvantaging New Zealanders, and ensures migrant workers are given the same employment protection as New Zealanders.
"Under AEWV, we conduct post-accreditation checks on accredited employers. These checks can occur at any time post-accreditation. As part of the application process, employers are advised that there may be follow-up checks to ensure that the undertakings and declarations that they make during the application are correct and they are a good migrant employer.
"As of today, we have identified approximately 36 employers of potential concern involving migrant workers holding either AEWV or a Recovery visa. We are not in a position to comment on how many individuals are impacted at this stage nor will we be commenting on any current investigations."
Main image (RNZ/Tim Brown): Abraham Ruz (left) and Federico Planes worked in Queenstown under Accredited Employer Work Visas.


---