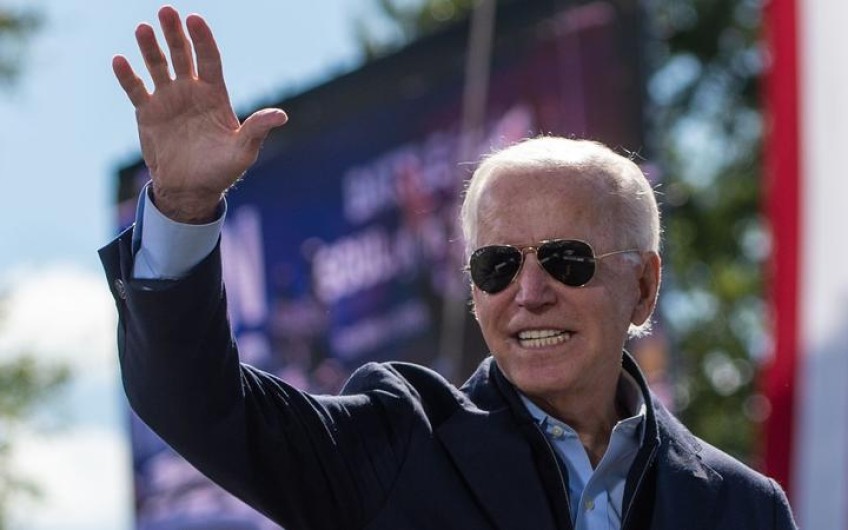 Joe Biden wins US presidential election
Nov 08, 2020
---
Democratic presidential candidate Joe Biden has won the US election, wrestling power away from Donald Trump, according to major news media outlets.
Three days after polls closed, Biden has now won more than the 270 he needs to secure the presidency.
The former vice president's projected win in Pennsylvania takes him to 273 electoral votes.
Biden said he is honored that Americans have chosen him to lead the country.
Biden said on Twitter that the work ahead is hard, but he promises to be a president for all Americans.
At the age of 77, Joe Biden will be the oldest president in American history. His running mate, Kamala Harris, will be the first ever female vice-president.
Trump has continued his attacks on the validity of the results. His campaign is pursuing a series of lawsuits across battleground states, but legal experts said they were unlikely to change the election outcome.
The US Senate looks likely to be dominated by Republicans.
Reuters commentator Andy Sullivan said a divided Congress could prevent Biden from enacting major priorities, such as expanding healthcare, fighting climate change and providing aid to millions whose lives have been upended by the coronavirus.
Biden has said on his first day in the White House, he would issue a national strategy to respond to Covid-19 that would probably include a mask mandate and clearer guidance on testing and school reopenings.
He has also promised to work more productively with health officials that Trump ignored, such as the nation's top infectious-disease expert, Dr Anthony Fauci.
Former New Zealand diplomat and trade deal negotiator Charles Finny said New Zealand could expect a "more conventional presidency" from Biden than was seen with Trump.
However, Biden might not be able to achieve all that he wanted with a Republican majority in the Senate, Finny said.
Biden had supported the Comprehensive and Progressive Agreement for Trans-Pacific Partnership (CPTPP), but it was uncertain whether he could get his party to agree to the US joining the trade agreement with New Zealand and other nations.
"He would be much more likely to join this agreement than a second Trump presidency," Finny said.
Victoria University professor of strategic studies Robert Ayson said the Biden administration would change the US "tone" towards international institutions.
"New Zealand will find in America a partner that is much closer on supporting multilateralism," Ayson said.
"Even though Mr Biden will want to take the US back into the Paris Climate Change Accord, he's going to need the Republicans if he wants to spend some big money on climate change mitigation.
"That's going to be the big issue."

---