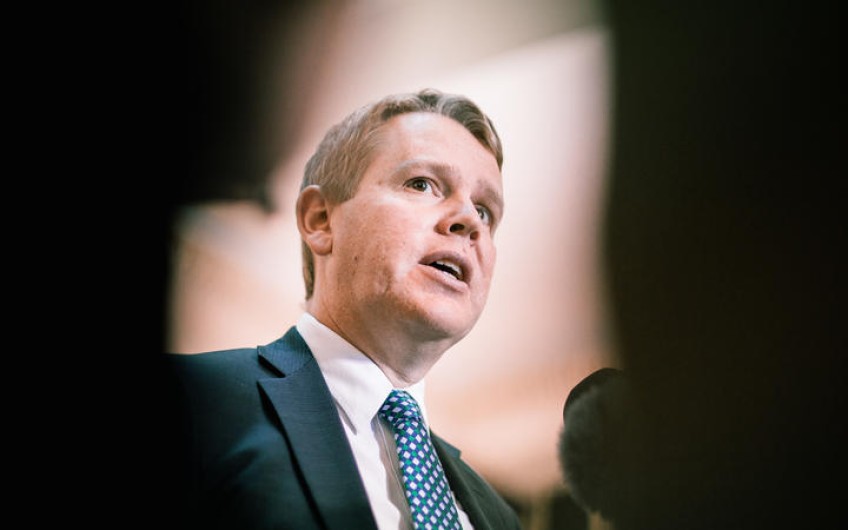 Three new Delta cases: total now ten
Aug 18, 2021
---
There are three new community cases of Covid-19, Prime Minister Jacinda Ardern's office has confirmed.
That takes the total number of cases to 10. More details on the new cases will be revealed tomorrow, Ardern's office said.
Speaking to Checkpoint, Covid-19 Response Minister Chris Hipkins also confirmed there had been new cases.
"We're seeing more cases coming through, I don't have details of those cases. But yes, I can confirm that we have further positive test results since the press conference today."
Hipkins also said it was "almost certain" the 58-year-old man is not the index case connected to the border.
"Almost certain they were given Covid-19 by someone else. What we're trying to do is identify how many steps in that chain of transmission there are before we got to the Devonport case."
He added that a decision on vaccinating people under 16 years old for Covid-19 will come soon.
"I'm not announcing something on your show tonight but you can expect to hear more very shortly on that."
Meanwhile, Countdown is continuing to limit the amount of some products people can buy in Auckland and the Coromandel, as shelves empty in the latest lockdown.
The supermarket applied a limit of six on some products yesterday evening, which includes toilet paper, flour, bags of rice, dry pasta, UHT milk, frozen vegetables, baby formula and pet food.
It says it will monitor stock levels around the country and will make changes to limits if needed.
Countdown also says it has purchased an extra 2000 crates of fresh fruit and vegetables to boost its fresh produce supply.
Follow the latest updates:
var liveblog={load:function(e,t){var a=document,l=a.createElement("script"),o=a.getElementsByTagName("script")[0];return l.type="text/javascript",l.onload=t,l.async=!0,l.src=e,o.parentNode.insertBefore(l,o),l}};liveblog.load("https://rnz.liveblog.pro/lb-rnz/themes_assets/angular/parent-iframe.js?"+parseInt(new Date().getTime()/900000,10),function(){"function"==typeof liveblog.loadCallback&&liveblog.loadCallback()});
Earlier today, Prime Minister Jacinda Ardern revealed there were four new cases of Covid-19, one of which is an Auckland hospital worker.
Ardern also revealed the Devonport Covid-19 case is the Delta variant.
***
This is an official COVID-19 ALERT.
All of New Zealand is now at Covid-19 alert level 4.
The alert level will be reviewed after 3 days for all areas EXCEPT Auckland & Coromandel Peninsula which is likely to remain at level 4 for an initial period of 7 days.
A community case of Covid-19 has been identified.
Stay at home where possible & follow the Alert Level 4 guidelines. This will stop the spread of COVID-19 and SAVE LIVES.
Everyone is asked to:
Wear a mask and keep a 2 metre distance from others whenever you leave your home.
If you are sick, call your doctor or Healthline on 0800 358 5453 for advice about getting tested.
Keep on scanning QR codes whenever you leave your home.
Practice good hygiene - wash hands often.
Services including supermarkets, pharmacies, clinics & petrol stations will stay open at Alert Level 4.
For more information on Alert Level 4 go to [the government website www.covid19.govt.nz]
***
RNZ is the statutory Lifeline Utility responsible for radio broadcasting under the Emergency Management Act 2002 and it has a memorandum of understanding with Government which has been activated to help deal with potential health issues related to the pandemic. RNZ's Lifeline Utility obligations do not affect our editorial independence as a public media organisation or the rigour of our news gathering and reporting operations.
As New Zealand's Lifeline Utility radio broadcaster, RNZ is required to maintain essential public information channels and news during times of national emergency and we are committed to supporting all New Zealanders.
We are also committed to looking after the health and well-being of our staff.
RNZ will continue to provide essential information services - broadcasting and publishing critical public service announcements on air, on our website and via social media channels. Comprehensive news will be available on air and via our website and digital services.
If necessary RNZ Concert and RNZ Pacific will carry news and information from RNZ National. Parliament will continue to be broadcast on the AM network when the House is sitting. As the country's public service media organisation, RNZ is committed to supporting all New Zealanders.
Kia Kaha - Stay Strong

---