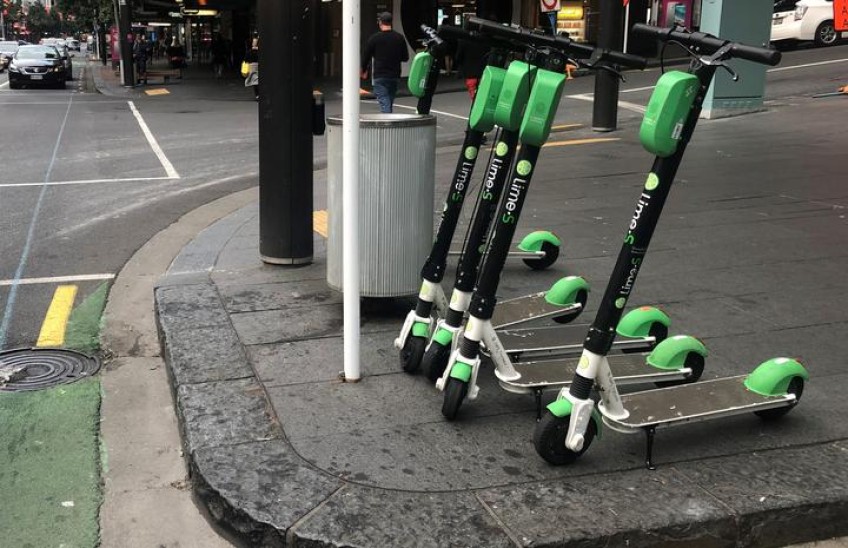 Lime Scooters lose contract to operate on Auckland's streets
Nov 29, 2019
---
Lime and Wave e-scooters will be gone from the streets of Auckland, after the regulator decided not to renew the company's contract.
Auckland Transport and the city council announced today other e-scooter companies had been granted renewals or new licences - Beam, Neuron and Jump - alongside the existing operator Flamingo
Lime and Wave will be required to have their scooters deactivated by midnight on Monday and physically off the streets by next Friday.
The Council said safety was paramount, and the other four operators had better safety profiles, including self-braking when going down hills.
Auckland Council Director Regulatory Services Craig Hobbs said eight licence applications were received and four operators had been offered licences.
"We went into this application process expecting to grant three or four licences and have chosen four 'preferred' operators.
"Each has been notified that their application was successful and have provisionally accepted the licence conditions. We are now in the final discussions with the operators before we complete the paperwork and issue the licences," he said.
Each successful operator has received a letter confirming its application, the e-scooter allocation per tier and any additional conditions or initiatives that were proposed in their application, the council said.
Mr Hobbs said safety remained a paramount concern.
"As with each phase of our e-scooter programme, safety remains paramount. This includes safe use of the devices, through maintenance programmes and reporting requirements, and continuation of geo-fencing (slow speed zones)," he said.
"We have also explored a number of enhanced initiatives, including the deactivation of scooters outside of licensed hours, a curfew in entertainment areas and parking enforcement and initiatives.
"This highlights our focus on 'nuisance factors' around e-scooter use and our commitment to balancing the increasing popularity of micro-mobility with the needs of non-users.
"As always, riders should follow the terms and conditions they agree to when renting an e-scooter, wear a helmet and ride safely."
The council and AT will continue to advocate to the Ministry of Transport and NZTA to reassess current regulations around speed, where e-scooters can be ridden and the use of helmets.
E-scooter fleet
Mr Hobbs said, overall, they have increased the size of the city's e-scooter fleet.
"Overall, up to 3200 rideshare e-scooters can be available for use in Auckland, however these are spread across three tiers - inner city, outer city and the remainder of the region - with the greatest increase in allocation in tiers two and three.
"This allows more people to use e-scooters to travel between home and public transport hubs or in outer suburbs."
Previously the cap was set at 1875.
Final numbers and tier allocations, along with licence fees, will be confirmed once licences are finalised.
New licences will start from Tuesday 3 December and we expect operators to introduce their products during December.
Other operators
Flamingo is a dockless electric scooter-share company based in Wellington. The company was founded in June 2018 and is a participant in Wellington City Council's e-scooter trial.
Flamingo was granted a licence for 525 e-scooters during its last trial (May-October 2019).
Founded in 2016, Neuron Mobility claims to be Southeast Asia's leading shared electric scooter service. The company currently operates in Singapore, Thailand, Malaysia, and Australia. Auckland is Neuron's first New Zealand market.
Beam is a Singapore-based company that currently operates in Christchurch.
Jump began as a bike-share company and is now owned by Uber and offers both bikes and e-scooters. It currently offers e-scooters in Wellington.
Uber has today been criticised after it sent 300 of its Wellington scooters for recycling after six months of operation.


---