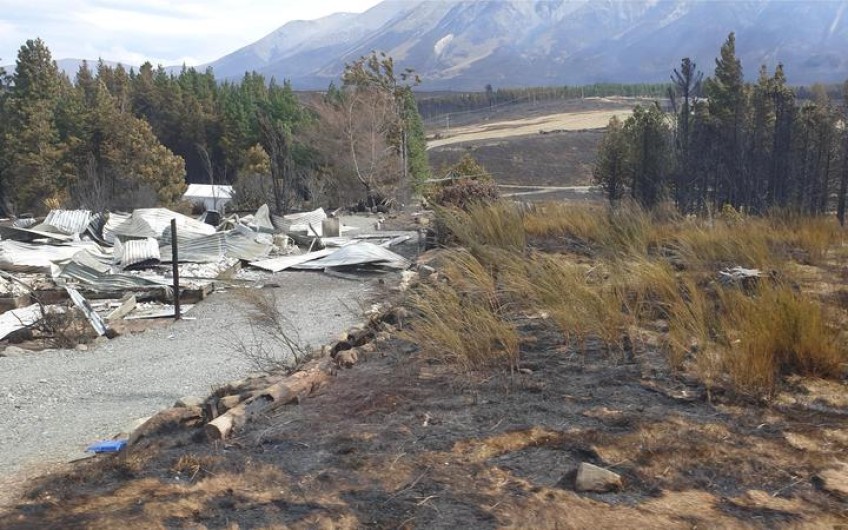 Lake Ōhau fire: 'Conservation land a bomb waiting to go off' - Fed Farmers
Oct 05, 2020
---
Farmers say wilding vegetation on DOC land helped fuel the Lake Ōhau fire but the conservation minister has hit back saying nature does not start fires.
The Ōhau fire destroyed at least 20 homes and forced around 90 people to evacuate.
Federated Farmers High Country Committee chairman Rob Stokes said he had been warning the government about this danger for 12 years.
He said DOC closing up land for national parks meant that the ground was not grazed by sheep and cattle and therefore tussocks and grass were left to grow wild.
"I've been in the high country committee for 12 years and we've bought it up with DOC every year - the fuel that has been built up over the years is going to be an ongoing issue.
"It's early in the season to be hit but it won't be the last fire that's for sure," Stokes said.
He said it was good the government was investing a lot into wilding pine and weed control but more needs to be done.
"The scrub builds up over a year - when the country used to be clean we had buffer zones, but the conservation land is a bomb waiting to go off."
Andrew Simpson farms merino sheep and cattle at Balmoral Station near Lake Tekapo.
He has notified Conservation Minister Eugenie Sage often about this problem.
"I've told her they may need to rethink how they manage some of this conservation land it is a fuel load and a disaster waiting to happen.
"She didn't dismiss grazing it again but I've said that she might have to do some strategic fuel loading burns to get rid some of the problem areas like they do in Australia.
"It creates fire breaks and alleviates the risk of so much land being burnt," Simpson said.
Sage, who visited the area today with Civil Defence Minister Peeni Henare, said 1800 hectares of conservation land had been affected.
"Fire needs to be managed. We need to get fire smart in the future."
In response to a suggestion that conservation land may have provided fuel to the fire, she said: "This government has put more funding into wilding conifer control - five times what the previous government put into it - $100 million over four years which is going to control wilding conifers. On conservation lands wildings have been substantially reduced.
"Federated Farmers I think was making a push for free grazing. Nature doesn't start fires except via occasional lightening strikes. It's managing human activity that's the key."
Replying to another question abbout cut down wildings being left to dry off and becoming a fire risk, Sage agreed there were a lot of conifers in the area but said today was more about focusing on the needs of the affected residents.
Victor Steffensen, a specialist in indigenous fire management, who holds workshops in Australia on using traditional methods to reduce the threat of catastrophic bushfires duration 28′ :20″ from Saturday Morning Add to playlistPlaylist Download as Ogg Download as MP3 Play Ogg in browser Play MP3 in browser
DOC operations manager Karina Morrow said its priority was to extinguish the fire.
"The hot dry climate of the Mackenzie Basin and the golden tussock landscape unfortunately means fire will always pose a threat.
"The land in the path of the fire surrounding the Ōhau village is all private property. Some of the private land is grazed, but most people generally appreciate the natural values of the scrub and tussock and that is why they choose to live there."
She said grazing on nearby public conservation land would have a significant negative impact on the native species found here, and grazed tussock still burns very well, which is why stock are lost in fast moving grass fires.
"'Fireproofing' public conservation land is largely unachievable. All public conservation land is generally covered in some type of vegetation."


---