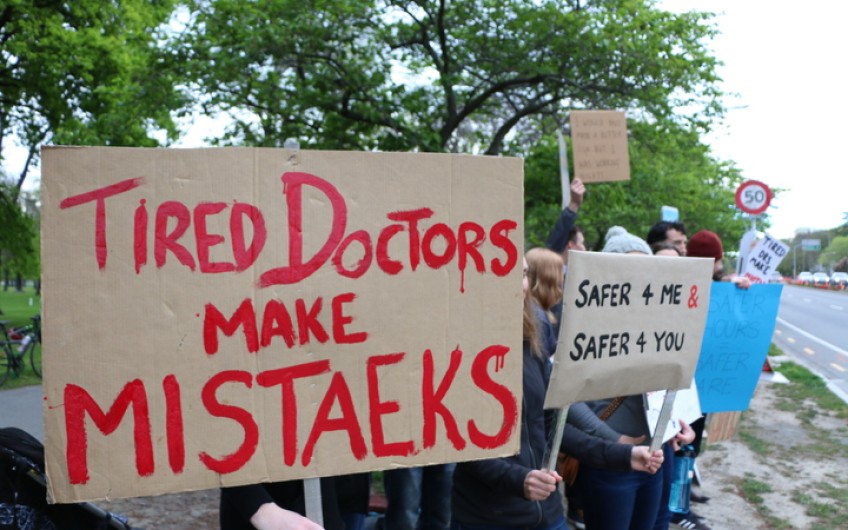 Junior doctors vote for a second strike
Jan 11, 2019
---
Junior doctors will carry out a second strike at the end of this month, after also deciding on a 48-hour strike next week.
The doctors have voted to strike for another 48 hours on 29 and 30 January. It follows on from failed mediation between the union and District Health Boards (DHBs) throughout the country.
New Zealand Resident Doctors' Association (NZRDA) president Courtney Brown said doctors were forced to take industrial action to keep their working terms and conditions.
She said under DHB proposals, doctors could be required to work more than 16 hours in a row, and lose access to education and traning.
Doctors were prepared to be in for the long haul, if needed NZRDA senior advocate David Munro said.
He said one strike might not be enough.
"The RMOs have become more incensed about this situation as they've realised what's at stake. DHBs are trying to take away conditions some of which have been in their collective agreement for 15 years or more."
He said even following the second strike there could be more action.
"It needs to be said that the strikes can and will stop at the point we get back around the table and the DHBs withdraw their counterclaims, and are prepared to make a reasonable offer."
The first 48-hour strike next Tuesday is expected to have up to 3000 junior doctors walk off the job.
DHB spokesperson Peter Bramley said a sticking-point over rosters was to blame for the strike action.
Dr Bramley said it was not about pay and conditions, but rather rosters.
"The RDA have indeed acknowledged that there are some unintended consequences of a one-size fits all ... unfortunately we've not been able to get them to consider with us some alternates that we've put on the table," he said.
Dr Bramley said local decisions on rosters - which allow for training and flexibility - would be much better than one uniformed roster for all DHBs.
In 2016 and 2017, thousands of junior doctors took to the streets to protest long working hours and hospital rosters they said were unsafe.
They won a deal to new rosters that cut the number of consecutive days doctors could work from 12 to 10.
However, in November last year a breakaway doctors' union - Specialty Trainees of New Zealand (SToNZ) agreed to a deal with DHBs to work 12 consecutive days if they wish.


---