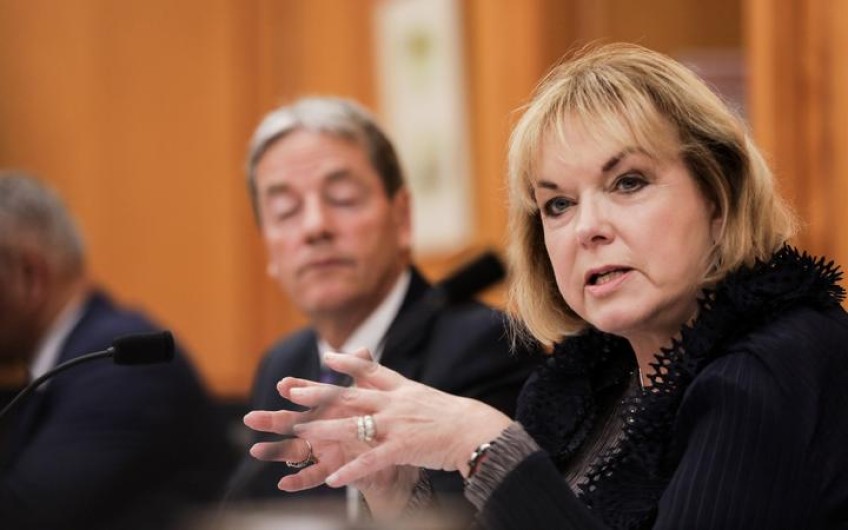 Judith Collins on 2020 election: 'We're going to take it back'
Jul 15, 2020
---
Analysis - For years Judith Collins has had her eye on the top prize and it took a complete leadership meltdown, just 10 weeks out from an election, for her National Party colleagues to give her what she's always wanted.
She had been labelled the nuclear option - not hugely liked within her own caucus but loved by the party base.
But the shock resignation of Todd Muller after just 53 days in the job saw the party reach for the nuclear button.
It took two hours for the caucus to decide the old guard was the new leadership they needed.
Collins, 61, fronted her first media conference as party leader last night with her entire caucus surrounding her - a show of unity after yet another leadership contest.
Introducing all her colleagues as her front bench she delighted in the pleasure of being anointed leader.
"And starting off as a Labour voter back when I was a child - almost - I find it remarkable that the National Party has chosen me,'' Collins said.
The proud Papakura MP and her deputy Gerry Brownlee have been trusted to get the derailed party back on track.
The pair are from the John Key and Bill English era - the party's glory days MPs are often heard harking back to.
Collins wasn't giving anything away as to whether there were any other challenges or how many votes it came down to last night.
Asked why she got across the line this time - her deputy came to her aid whispering a helpful response in her ear.
"Well, it's third time lucky really, isn't it?"
Collins has plenty of nicknames - and in 2009 she earned earned the title of Crusher Collins with the comment: "I guess the message to those who want to indulge in illegal street racing, is that every new offence will now bring them closer to the crusher.''
She isn't personally a fan of the name, but was happy to use it last night when saying her team will crush the other lot come 19 September.
"Jacinda Ardern is not someone who we should ever underestimate - her own party did so for many years,'' Collins said.
"She is an adversary that I would absolutely respect but I can tell you what, our team is better than their team, and we're going to take it back.''
Leadership ambitions aren't in short supply in a large caucus but Gerry Brownlee said he's not interested in the top job - although there was a caveat.
"You never know where that next bus is coming from,'' he said.
Jokes aside, Brownlee said he's there to support his leader and the team.
"Look it's not something you campaign to get, it's an opportunity that's arisen and I've put myself up for caucus and have been selected.''
A number of National MPs who were all singing from the same songsheet.
MP Michael Woodhouse said the move was a genuine sign of support for the new leadership team.
"[It's] one of the most difficult days for the party and I think it has ended better than it started," he said.
Retiring MP Paula Bennett who was ousted as deputy leader little more than a month ago has given Judith a glowing reference.
"Honestly if anyone can do tough and dig in and prove that they have got it, then it is Judith," she said.
Chris Bishop and David Carter also touted Collins' ability to put up a fight in this year's election.
"I think she will be a very strong leader of the National Party, who will take the fight to the government, she is a very determined person and I am really looking forward to serving in her team," Bishop said.
"She is a person of conviction, you've got a very strong Prime Minister she is up against and I think she will hold her own very, very well," Carter said.
And Matt Doocey was happy to have a fellow Cantabrian as deputy leader.
"Many will know that Gerry stepped up and led the recovery after the devastating Christchurch earthquakes and Gerry stood up, made decisions and really drove that recovery forward so he has a real breath of experience," he said.
The National Party found itself in yesterday's mess after a horrid week for former leader Todd Muller, followed by radio silence for three days.
He'd gone to ground, he wasn't speaking to some of his closest confidantes, and faced questions on whether he lied about what he did and didn't know about who had received private details of Covid-19 patients.
Collins said Muller will stay on in the caucus and he will be supported through this difficult time.
With the election so close, there won't be big changes to MPs' portfolios.
The caucus position not to work with New Zealand First remains.
Although Collins' final words last night that "it might be time for a drink" means she might have more in common with Winston Peters than she thinks.


---