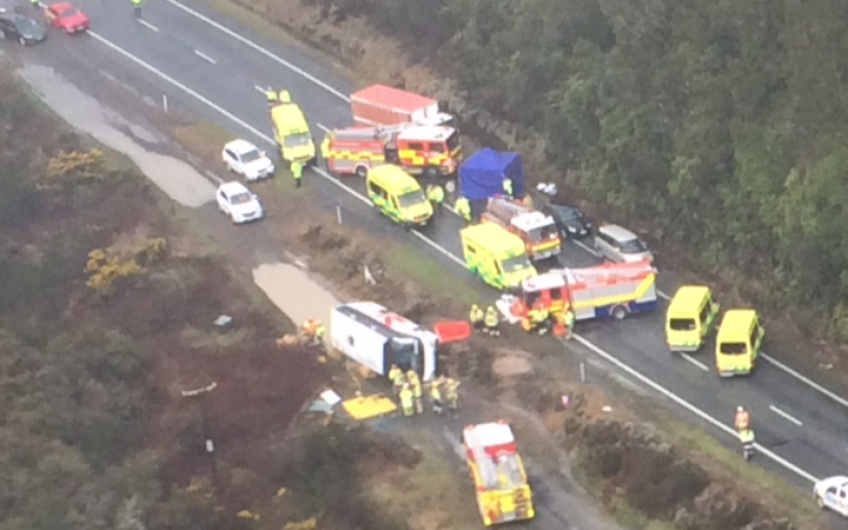 Horror crash: Deaths confirmed after bus rolls near Rotorua
Sep 04, 2019
---
Police have confimed five of the 27 passengers aboard the bus have died after a serious crash on State Highway 5 in Ngātira near Rotorua.
Inspector Brent Crowe said it was reported that a bus rolled in Ngātira, west of Rotorua, at about 11am.
"Two people were seriously injured, further four received moderate injuries and the remainder of those persons onboard the buys were either injured to a lesser extent or were able to walk away from the scene."
He said the tour bus was carrying Chinese nationals.
An investigation has commenced. Police were working with the Ministry of Foreign Affairs and Trade and the Chinese Consulate to identify and find the next of kin of those killed.
The serious crash unit and the commercial vehicle safety team are still at the scene.
The road is expected to be closed for "a considerable period of time" and might only open later tonight.
Mr Crowe said the bus was travelling south towards Rotorua and rolled over a moderate-to-easy bend.
No other vehicles were involved and the driver was not seriously injured.
He said it was too early to tell if charges would be laid.
Five helicopters, three ambulances and a St John manager were sent to the scene.
St John said one patient in a serious condition and another in a moderate condition had been airlifted to Waikato Hospital.
Waikato Hospital staff with Mandarin language skills had helped with translating.
Another person in a moderate condition was airlifted to Tauranga Hospital.
Three patients in moderate to minor condition were taken by Rotorua Hospital and 15 patients are being assessed.
NZME reports that a police officer said they arrived at the site and found "people everywhere".
A police officer told reporters at the scene: "It is a major crash, we've got people everywhere, you can't come any closer at the moment."
Survivors have emerged from the crash site wrapped in blankets.
A spokeswoman for an Auckland-based international travel company said they had been contacted about a crash near Rotorua this morning.
"We received reports from our driver. At the moment we don't know the extent of things and we are busy trying to sort things out."
A spokeswoman from Kuranui Wilderness Lodge and Trophy Park said the crash was east of its premises and she had seen multiple police and ambulance vehicles going past and two helicopters in the air.
The police serious crash unit and the commercial vehicle safety team remain in the area. The road was closed and motorists had been asked to avoid the area. The Transport Agency said long detours via Tauranga or Tokoroa would be required.
A reporter at the scene said traffic was backed up for hundreds of metres and drivers were being asked to turn around.
There had been persistent rain throughout the morning at the site, which is a 20-minute drive from Rotorua and there are patches of light surface flooding on the road.
However, a Ngātira resident said it was a tragic freak accident because the road wasn't dangerous otherwise.
Carol Sklenars drives State Highway 5 toward Mamaku four times a day to take and pick up her children from school.
She said the road wasn't dangerous or difficult and the weather today wasn't particularly bad.
- RNZ with NZME
Main Image. Survivors from the bus crash are led away from the scene. Photo: NZME / Ben Fraser


---