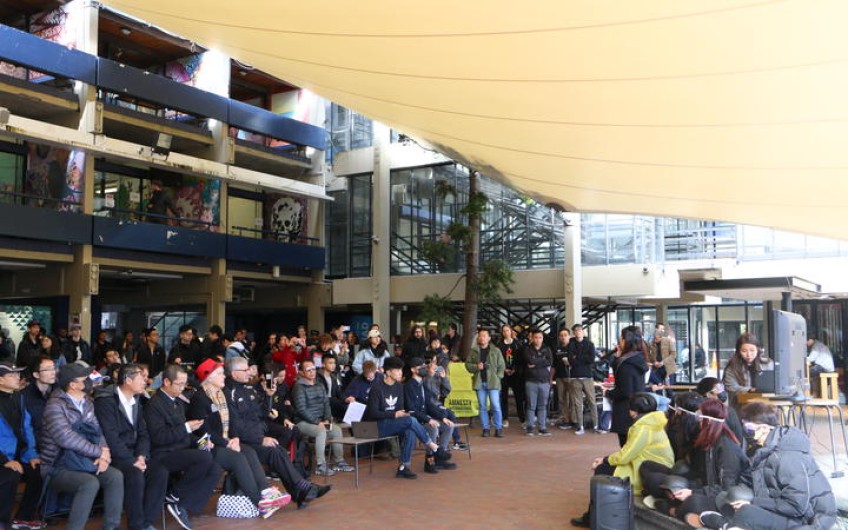 Hong Kong extradition bill protesters in NZ get death threats
Aug 07, 2019
---
New Zealand protesters opposed to Hong Kong's contentious extradition bill say they have received death threats for speaking out - but it won't stop them having their say.
Hundreds of people turned out at the Auckland University quad for a rally today about the controversial law.
Tensions were high, with at least one argument breaking out among the crowd.
One of the organisers, Serena Lee, said before the event people had tried to silence them.
She said even though her group was given permission by Auckland University to post flyers about the extradition bill, others had covered those with their own messages.
"Some words can be pretty offensive and they tried to cover the information that we posted up instead of having a fair, two-sided discussion," she said.
The proposed bill, which would allow suspected criminals to be taken to China for a trial, has sparked weeks of protests in Hong Kong.
The bill has been shelved by officials but protesters say anger and frustration has spread in New Zealand, and they want it completely withdrawn.
A week ago an altercation between pro-Beijing and anti-extradition law supporters ended with one woman pushed to the ground on the Auckland University campus.
A police investigation has been opened and the university is making its own inquiries.
Serena Lee, who was involved in the argument, said she had to change her phone number and disable her social media accounts because of the abusive messages she has received.
"I would say some [of the messages] are sexually worded," she said.
Other messages questioned her credibility to speak out on the situation.
"I am also a New Zealand citizen so they don't think I have a right to speak," she said.
Ms Lee also received death threats against her and her family and she was not the only one.
Another man at the rally who has lived in New Zealand for around 30 years said he was shocked by the abuse he received after speaking out.
"On Instagram I get messages from people telling me I should go die, my family should go die, we're dogs, we're not humans and pretty much [just] abuse all over," he said.
The man said those messages were from people in New Zealand and also overseas.
Fifty-year-old Stephen is not from Hong Kong but has lived most of his adult life there.
He said democratic rights in the region are slowly being taken away.
"People who are not happy with the government are being treated as enemies of China or enemies of Hong Kong which is just incorrect," he said.
"I think it's important ... to realise the freedoms that Hong Kong has traditionally enjoyed are being eroded."
Stephen now lives in New Zealand, partly because he felt democracy was deteriorating in Hong Kong.
The Chinese Consulate in Auckland released a statement last week saying some western anti-China politicians and individuals had made irresponsible remarks about the situation in Hong Kong.
It strongly condemned any activity that demonised China and Hong Kong officials.
ACT Party leader David Seymour said that was unacceptable.
"I've written a letter to the Chinese consulate saying that they're here with certain rights and duties and one of their duties is not to interfere with our internal matters," he said.
Mr Seymour said he was yet to receive a response from the consulate.
Heightened university security as well as police officers kept a close eye on today's event.
For the protesters, they said they would not be intimidated and are determined to continue standing up for the rights of Hong Kong people.
Main Image: Hundreds of people turned out at the Auckland University quad for a rally on 6 August about the controversial law. Photo: RNZ / Jogai Bhatt


---