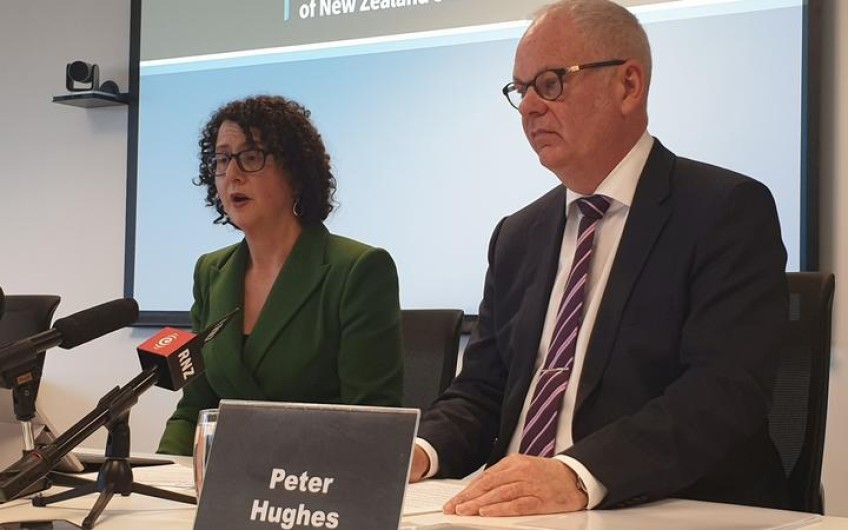 Head of Stats NZ Liz MacPherson resigns over botched census
Aug 13, 2019
---
The head of Stats NZ has resigned following the release of a report into the botched 2018 online census.
The government statistician and Stats NZ chief executive Liz MacPherson was appointed to the role after the last census in 2013.
In Statistic NZ's 2018 annual report it was reported that responses had been collected for 90 percent of the estimated population - down four percent since the 2013 census.
But just released figures as of July this year, shows a response rate of 83 percent, falling short of the 94 percent target and a nine percent drop from the previous census.
In April, Ms MacPherson wrote to MPs, after being threatened with being held in contempt of Parliament, to confirm almost one in seven people did not complete the census.
The report, conducted by two independent reviewers, found the census project did not meet all the expectations and the delay in producing results and limited communication had led to stakeholder frustration and an erosion of trust.
It found there was little flexibility or contingencies built into the budget or planning schedule.
"The risks began to mount as the programme encountered challenges with IT system delivery, tacked the implications of the North Canterbury earthquake, and implemented deviations from the planned collection model," the report said.
It also found targeted populations and dwellings were not properly equipped to fully participate.
Despite there being calls for another census to be held early in 2021, the report recommended against this.
"It is in our view that a census before 2023 is unsafe - maintaining too much risk with insufficient time to properly re-design, test and implement a plan for success," it said.
Māori response rate dropped 20 percent
Statistics New Zealand has admitted it failed its Treaty partners after a big drop in the response rate from Māori in the 2018 census.
The review found that Māori responses dropped 20 percent on the previous census.
It found there was too much focus on a digital-first approach, and not enough staff and paper forms in many Māori communities.
"We did not have enough boots on the ground to knock on doors and talk to people face-to-face ... and we didn't work closely deeply, and in particular early enough with Māori, Pasifika and other hard to count communities at the grassroots level," Ms MacPherson said.
She was confident that they had been able to plug most of the data gaps but a glaring gap remained for iwi-affiliation data, which she said she deeply regretted.
The review recommends census workers be considered in future to increase Māori participation.
'We let ourselves and NZ down' - Liz McPherson
Ms MacPherson said Stats NZ was too optimistic and placed too much emphasis on the online census.
She said as leader of the organisation, she took full responsibility for faults found by the reviewers.
"As the reviewers say, we got some things wrong at a time of great change during the switch to a more digitally-focused data collection approach.
"I accept the findings. We let ourselves and New Zealand down."
She will remain in her role as Government Statistician until Christmas.
The first official results of the 2018 census will be released on 23 September, 11 months later than planned.
Statistics Minister James Shaw said the information gathered for setting electoral boundaries and making funding decisions had met the statutory standard.
He supported Ms MacPherson's decision and said the focus now would be making sure Stats NZ was well enough resourced and run to successfully carry out the next census in 2023.
He added work had already been carried - thanks to Ms MacPherson and her team - to address the poor response rate and replace it with administrative data.
"By incorporating census data with information that's held in other government agencies to provide population coverage of 98.6 per cent, that's better than coverage in the 2013 census," he said.
National Party spokesperson Dr Jian Yan also said the resignation of Ms MacPherson was appropriate.
However, she should not be a scapegoat for Mr Shaw, whose failure to show leadership played a significant part in this mess, he said.
"The minister needed to be more involved in his department. He should have asked more questions of his Statistics NZ leadership team and demanded better results from them," he said.
But Mr Shaw said he was one of six ministers involved in the census and the review was clear there was nothing any of them could have done differently.
Main Image: Departing Stats NZ chief executive Liz MacPherson with State Services Commissioner Peter Hughes Photo: RNZ / Charlie Dreaver


---