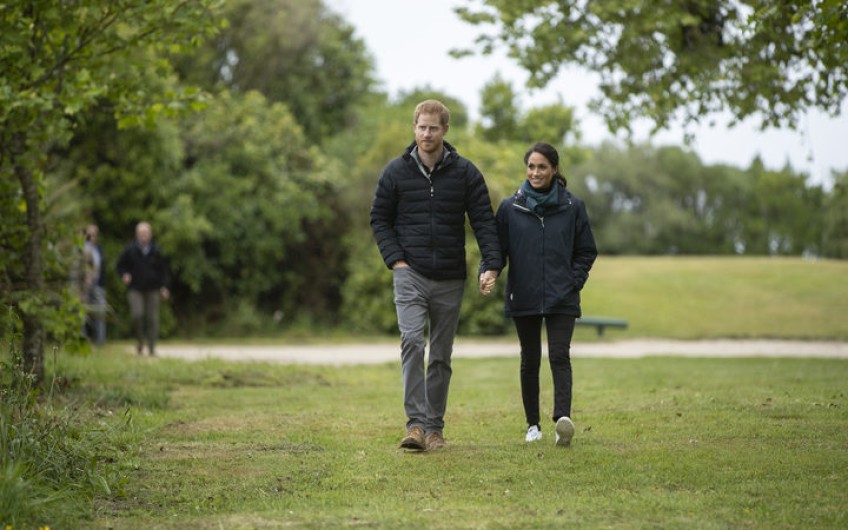 Harry and Meghan visit national park: 'It's a blessing to be here'
Oct 29, 2018
---
The Duke and Duchess of Sussex have visited Abel Tasman National Park, where they learnt about local conservation projects.
As rain fell and weka prowled around, Harry and Meghan were welcomed to the beachside campsite with a traditional pōwhiri from local iwi, with the blowing of a conch shell, a karanga and a long line of hongi.
Inside a marquee set up on the grass, local kaumātua Barney Thomas spoke in te reo, wishing them "kia kaha" with their "pepi", Meghan smiling as this was translated. He later explained that he'd told the royals, "There's two of you now and there will be three of you soon, and I'm sure you'll be supported."
Meghan sat in the front row of a line of plastic chairs, but hers was set a few inches back from Harry's. Barney, of Onetahua Marae in Golden Bay, explained, "The middle represents the god of war and we don't want to put our women into that space. We want to be inclusive but especially Meghan, because she's expecting, we don't want to put her at any risk."
After a waiata, Harry addressed the group, saying, "Thank you so much for having us today. The weather forecast was a lot worse than this and we are really fortunate to be here. The rain is a blessing and a reminder of our connection to the land... From my wife, myself and our little bump, it's a blessing to be here... We bring you greetings from my grandmother."
Also acknowledging the weather and how lousy it has been throughout their trip, Barney finished up by saying, "We've been watching your progress on tour and we wouldn't want to be royals."
Harry, in a black puffer jacket, and Meghan, in a black Seasalt jacket, then joined DoC ranger Andrew Lamason for a stroll along the yellow-sand beach, the royal couple arm in arm, sharing an umbrella. They came across a weka, with Andrew explaining they're New Zealand's version of a monkey as they're very cheeky. He said Harry knew a lot about global conservation issues, and that the prince expressed concern over the proliferation of fake news and those who believe it.
A planned tree planting was called off due to weather, with the royals instead joining school children and youth volunteers for brownies and tea in the marquee. As Harry and Meghan served themselves, a local kuia commented, "There should be someone serving them!"
After meeting Harry and Meghan, Milan Chapman, 15, of Motueka High School, said, "They were very nice, chatty and relaxed."
Pippa Struck, 13, of Golden Bay High School, added, "They were just so calm. You see them on TV, but when you meet them, you realise they're just normal people."
Saskia Gray, 16, an Abel Tasman Youth Ambassador, commented, "It was a great opportunity. I'm very fortunate to have this chance. They acted very down-to-earth, and they genuinely care about the people and the land."
After a group photo, the royals were presented with gifts, including a painting of three tui by Takaka artist Robin Slow, which represents them and their unborn child. They both admired it, with Meghan saying, "Thank you so much."


---