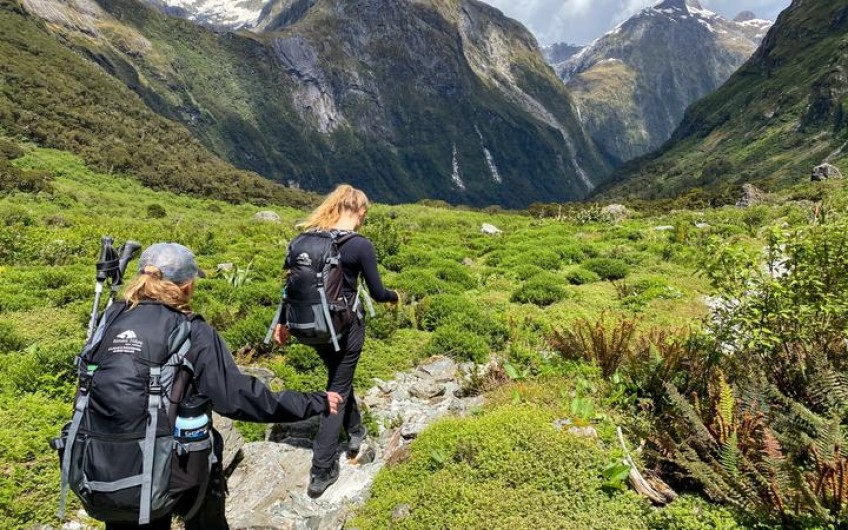 Great Walks open for bookings with 'unprecedented demand'
Jun 16, 2021
---
The coming Great Walks season will be make or break for many Fiordland-based tourism operators.
The area was hit by widespread flooding in February last year before the Covid-19 pandemic crippled the tourism sector.
Three of the country's 10 Great Walks are in the area and the first bookings for Department of Conservation-operated huts on the tracks opened this morning.
It took just 15 minutes for accommodation on the Milford Track to fill up for the entire six-month season this morning.
Department of Conservation heritage and visitors director Steve Taylor said he had never seen anything like it.
"Really we've seen some unprecedented demand on the Great Walks, particularly for the Milford Track which in previous years at this stage we would have seen at about 95 percent of the track being sold out. This year within 15 minutes it was completely sold out."
The Heaphy and Rākiura also went on sale today with New Zealand's other seven Great Walks to be offered tomorrow and Thursday.
Taylor said, based on the evidence, those who were keen should get in quick.
"There were about 6700 people making online bookings in that first 30 minutes, so the demand is incredible. These are outstanding experiences, great landscapes, breathtaking waterfalls and rainforest, and they're trips of a lifetime. So it's inevitable that some people will miss out but that's how we manage the quality of the experience and minimise the impact of people in these areas."
It was music to the ears of the area's tourism operators.
Fiordland Historic Cruises manager Adam Butcher said the coming Great Walks season would be make or break for many.
"We're at a point now where it's just a numbers game. At some point if the numbers don't change in our favour then operators will not be able to continue like they've expected. So this coming season is critical - more than perhaps is being made known."
Butcher said he picked up work as a tradie because while the customers had stopped, the bills had not.
Fiordland Jet co-owner Chris Adams said the boost was desperately needed because things could not be worse than they were right now.
"[It's] way worse than last year. Last year was actually not all bad because once people had got out of lockdown, Kiwis started travelling," he said.
"This year they've done a lot of their travelling in the summer and they're obviously waiting to see what happens in Australia so they can travel there. Or they've spent their money and they're sitting at home for winter or waiting for ski season."
Compounding their pain was a lack of staff, Adams said.
He had concerns that when visitors did finally show up, smaller operators might not be able to capitalise.
"We need more workers. As for the tourism minister saying 'we don't want backpackers coming in', it's the silliest thing he's ever said. The first 300 planes need to be full of backpackers that want a holiday and work because we're desperate for them."
The government and the Department of Conservation also needed to do more to support operators over the quiet season, he said. Utilising the area's Great Walks as cycle tracks over those periods would be a good start.
For those who missed out on the Department of Conservation's accommodation on the Milford Track, there were still options.
Ultimate Hikes general manager Noel Saxon said they had spots available on their guided tours.
"At this stage, we've limited ourselves to a shortened season and just five days a week. But we've got the ability to open that up again should this trans-Tasman bubble be successful and that's looking very positive at the moment," Saxon said.
"We've still got plenty of space available on both the Milford and the Routeburn, but those spaces are selling and selling pretty quickly as well."
The nearby Hump Ridge Track was hoped to become New Zealand's 11th Great Walk in the next couple of years.


---