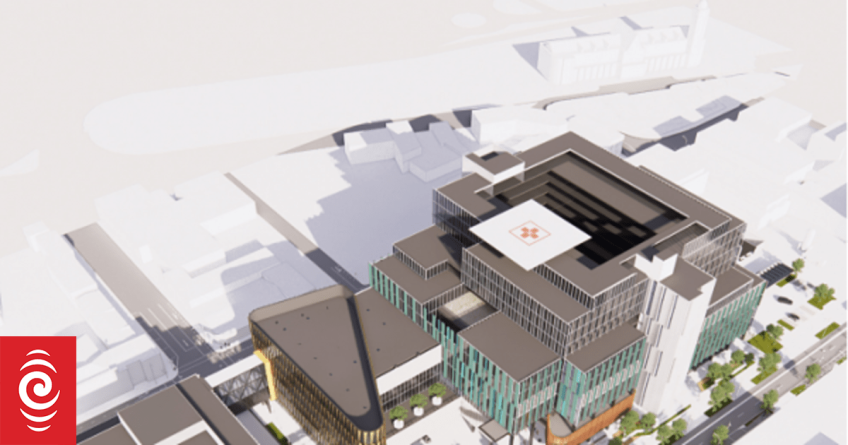 Government reverses $10 million in hospital cuts
Apr 14, 2023
---
The government has forked out an extra $10 million for the new Dunedin Hospital rebuild just months after making controversial cuts, but has ruled out further large redesigns.
Just before Christmas, the government confirmed a $200 million budget blow-out, saying it would cover $110 million and make design changes to cover the rest.
The changes meant cuts to beds, MRI units and operating theatres numbers available upon opening, and the loss of a connection bridge and a non-clinical pavilion building, causing a local uproar.
Health Minister Ayesha Verrall said the additional funding would include a complete fit-out of collaborative workspace and an extra MRI unit, instead of just space set aside for one.
"There will be no further substantial re-designs and now it's time to get on with the build. It's likely that further design changes would lead to increased cost and delay which no one wants," Verrall said.
She also announced a review to determine the most appropriate range of mental health services to meet the region's needs, as well as seeking further advice on the proposed pathology arrangements.
"Its design and use of the latest technologies will mean better patient flow and improved access to diagnostics and treatment spaces which will help reduce unnecessary delays.
"This government's commitment to building a state-of-the-art health facility which will deliver the health services the people of Dunedin and the wider region deserve remains unchanged."
The announcement followed months of campaigning against the cuts, with more than 13,000 people signing a petition to get them reversed.
Dunedin Mayor Jules Radich said it felt like their voices were being heard now.
"It's a really positive first step. The minister has listened to the public of Dunedin who have been raising their voices in protest at the cuts to our new hospital, and it is fair to say that the minister has listened."
Today's announcement won't change the number of beds - 398 with shell space for 12 more - or operating theatres - 23 with space set aside for three more - at the new Dunedin Hospital detailed in December last year.
Radich was particularly pleased that the new build would have three MRI units, instead of the two proposed in December with space set aside for another one.
"It is a significant improvement, that's 50 percent more scanning capacity, and MRI scanning is a significant constriction to patient flow in any hospital."
While it was progress, he says the fight was far from over.
"The aim of the exercise is to reverse the cuts so $10 million of cuts have been reversed so far, and there are some others that need to be resolved.
"So we will be carrying on in the interim until we know the final details of all of the other cuts have been announced that have not been discussed today."
New Zealand Nurses Organisation president Anne Daniels was delighted to hear the government commit to making no further large re-designs.
The funding was welcome, but more changes were needed, she said.
"Missing out on the PET CT scanner means that patients ... particularly our cancer patients are going to have to sit in a car and drive 265 kilometres one way to go and get a scan that should be really at their doorstep."
A shell space has been set aside for a PET CT scanner in the rebuild. The current Dunedin Hospital doesn't have one, but a design developed in March last year included one.
They were over-capacity right now, making the need for a fit-for-purpose hospital even more pressing, she said.
"We absolutely need to have the resources to do our jobs safely and properly, and not make our patients wait and suffer unnecessarily which is what they're doing every day right now."
Invercargill mayor Nobby Clark said the Southland Hospital has more demand than it could cope with, and relied on Dunedin Hospital for back up and for more specialised care.
Last year, he went to Dunedin Hospital for a cancer operation, expecting to be in there for three days post-surgery.
"I got discharged the following day when I was still quite unwell on the assumption that I would sit in the motel for a couple of days before I came home to Invercargill, and when I inquired, it was because they needed the bed that I was in for some further surgery that was happening on the Saturday."
The new Dunedin Hospital needed to get all the beds it required to avoid this happening, Clark said.
He wanted the government to completely reverse the cuts.
The Health Minister also announced an additional $97 million has been earmarked for the data and digital infrastructure needed to make the new hospital operational.

---