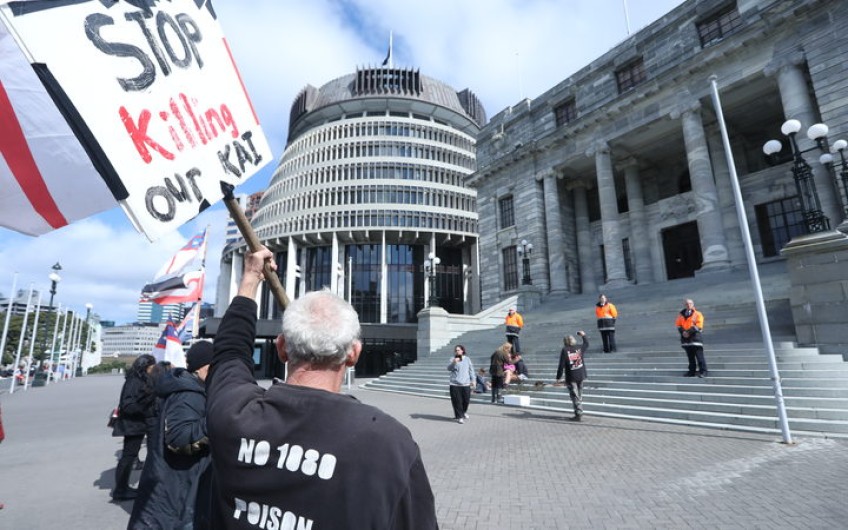 Government commits $20m to research 1080 alternatives
Feb 19, 2019
---
The government has committed a large sum of money to find alternatives to the use of 1080 poison, in line with the New Zealand First's opposition to the pesticide.
About $20 million has been put towards finding alternatives to help eradicate pests and predators in the regions.
Protesters last year left dead birds on parliament's steps to highlight their claim that it kills native species, while others have attempted to sabotage Department of Conservation drops.
Economic Development Minister Shane Jones and Conservation Minister Eugenie Sage - the former from New Zealand First and the latter from the Greens - said any new techniques or methods would augment rather than replace the use of 1080.
But the New Zealand First leader Winston Peters said it could be a step towards making 1080 redundant.
Mr Jones said the funding would give conservationists new ways of killing pests that did not attract the heated protests so common before a 1080 drop.
"Unfortunately, that hysteria has not gone away but the focus here really is strengthening the arm, quite frankly, of minister Eugenie and her core, without fulfilling every prejudicial view that there is about 1080.
"But, the reality is, we need every trick in the book."
The money will come from the Provincial Growth Fund, which Mr Jones administers, and Ms Sage said it would be of great benefit to regional New Zealand.
"Investing it in [regions identified as needing early investment] mean's there'll be jobs," she said.
Far from scaling back on 1080 operations, with 2019 expected to be a mast year - with an influx of pests as a result of abundant food - this year will see the largest aerial 1080 programme in New Zealand's history.
"This investment will help develop new technology, new traps, new lures, new toxins and go to the places where we're seeing bird populations and our forests declining because of the scourge of possums, rats and stoats," Ms Sage said.
"It's a real investment in the protection of things that Kiwis care about: Our native birds and forests."
Despite concerns raised by some MPs, including the Speaker of the House Trevor Mallard, that Ms Sage was directing her department to avoid research into the role of genetic modification in pest control, she said it was not on the table.
"Well we haven't reformed the legislation since the Royal Commission on Genetic Modification. The law is the law," she said.
The National Party's conservation spokesperson Sarah Dowie criticised the government for failing to invest in research into what she called "biotechnology".
"That's the only that we can achieve predator-free 2050.
"[For example], creating sterility in possums and that can be done through genome investigations."
New Zealand First leader Winston Peters said in a statement that the funding signalled a necessary shift away from the use of 1080.
He said his party maintained its opposition to 1080 and with adequate resources, research and development into alternatives, it could be replaced.
The new funds will be used by the Crown-owned company Predator Free 2050 Limited to contract pest eradication projects across tens of thousands of hectares.
Predator Free 2050 Limited will seek expressions of interest from local authorities and community-backed entities in Northland, Bay of Plenty, East Cape, Hawke's Bay, Manawatū-Whanganui and the West Coast.


---