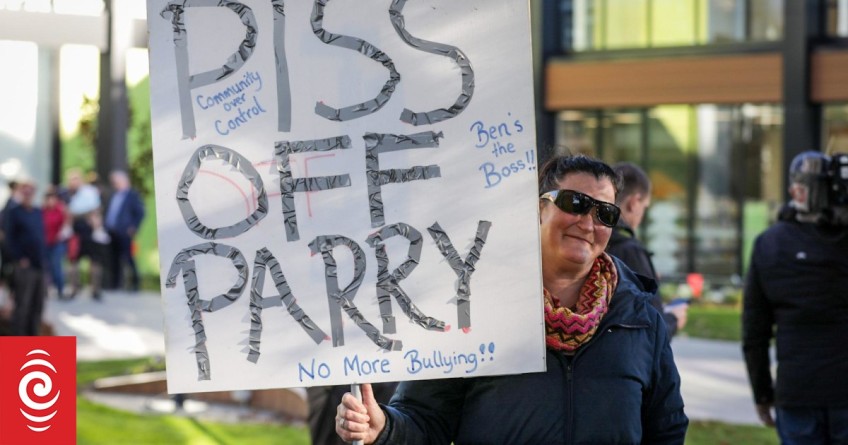 Gore council chief executive breaks silence after months of turmoil
Jun 09, 2023
---
Gore District Council's chief executive Stephen Parry says allegations of internal bullying have been "extremely hurtful and stressful".
In March, it was revealed that Parry and Mayor Ben Bell have not been on speaking terms since December.
A public petition calling for Parry to resign last month received thousands of signatures and councillors backed down from a vote of no confidence in the mayor.
Two decades of historic allegations of bullying at the council had also emerged.
Parry has addressed the recent months of turmoil with a public statement today. The statement was sent to RNZ by his staff, as Parry was out of the office today.
"Over recent weeks Gore District Council staff have been subject to a barrage of allegations and criticism. In the newspaper, on television and even when socialising, staff are confronted by questions and accusations," he said.
"The allegations have been extremely hurtful and stressful, yet staff have continued to act professionally and serve their community to the best of their ability.
"There's a distinct difference between performance management and systemic bullying in the workplace. As with any workplace... there can be disharmony, even conflict. It would be naive to believe this hasn't been the case at the council.
But he said no complaints of bullying by former dissatisfied staff against the council had been upheld.
"The strength of an organisation is how the council learns from these situations to build a cohesive, inclusive workplace."
In a council staff survey last year, three quarters of respondents reportedly agreed with the statement "my organisation has effective governance and leadership in health and safety".
Parry said the question "Gore District Council is a good place to work" scored 4.5 out of five in the same survey.
In his statement, he included "unsolicited comments" that reflected the survey results. Parry said they had been sent to him and other "senior staff".
One read "In my time at the council, I have always found you to be a wise and inspirational leader... The allegations of a toxic work environment and bullying couldn't be further from the truth".
"I just want to say for what it's worth, you have been (and continue to be) a very supportive boss and as many of us know, this place would not be the great place it is if it weren't for you and your hard work over many years," another said.
Parry said the council will not be commenting further on allegations about the workplace.
"Instead, [we are] focusing on supporting staff through this difficult time."
Last week, the council delayed a vote on the terms of reference for a review into its dysfunction.
At the extraordinary meeting, Mayor Ben Bell it would be inappropriate for the council to vote on the review while it was still finalising the position of a senior legal representative.
"I just want to clarify for the public that the review will still be happening," he said.
Main image (RNZ/Nate McKinnon): Supporters of Gore Mayor Ben Bell outside the Gore District Council building on 16 May, 2023.


---