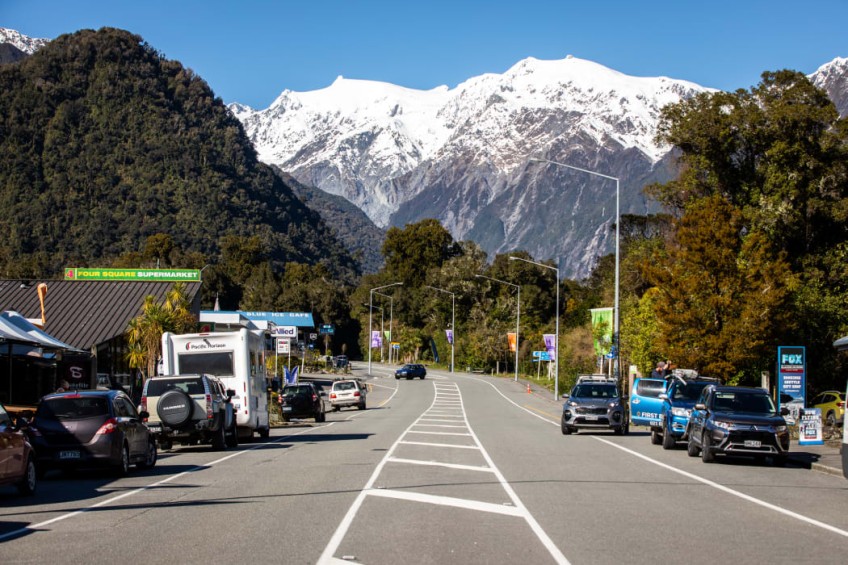 Glacier towns frozen by lack of staffing, capacity as tourists return
Oct 03, 2022
---
Staffing shortages and reduced airline capacity are hampering businesses as they attempt to brush the cobwebs off their mothballed operations.
Business owners in West Coast glacier towns are working hard and hoping visas and flights will align in time for them to welcome back summer tourists.
Gig Raksamart runs three hospitality businesses in Franz Josef, but two of them have been on ice awaiting the return of tourists.
"Right after the lockdown in 2020, we closed down the King Tiger because winter market's always been overseas tourists anyway and we're just hoping it's going to be a few months and it turned out to be a few years."
Earlier this year, Full of Beans cafe was also put into hibernation.
They would usually have up to 120 staff between the three businesses, but now operate with less than 20.
She needed at least 25 more front line staff, 10 cooks and a few managers.
She planned to open Full of Beans cafe in the second week of September, but didn't have enough staff to make that happen.
"No, we can't open Full of Beans or King Tiger just yet. We started to get tour operators contacting us about bringing a group in in the summer or in spring.
"But we just can't have them here because we don't have staff."
The process for hiring overseas was taking too long and hiring domestically wasn't working either, she said.
It meant she did not know when they could reopen their two businesses despite feeling hopeful for a busy summer and having some overseas workers lined up.
"The immigration process with job check and accredited status is taking so long so we don't know when they can apply for the visa and how long the visa process will take until they get approval and come to work so that could be one month, two months."
In May last year, The Scenic Hotel Group closed four of its hotels in Fox Glacier and Franz Josef with plans they would stay shut for up to 18 months.
Typically up to 90 percent of their visitors in the region were from overseas.
Chief executive Karl Luxon said closing a hotel was extremely difficult.
"They're buildings that [are] never really designed to be shut. They're buildings that are built to be populated and in closing or hibernating there's actually many things you've got to do."
That included continual maintenance of the buildings and equipment like the water reticulation system, airing out the hotels and storing linen - and the bills didn't disappear either.
"There was always a small team in the coast that daily was just going through the properties."
Three of the hotels have now reopened, but taking them out of hibernation was not easy either, he said.
"It's almost like opening a hotel from scratch so it's unpacking stuff, putting it all back in order again.
"A lot of it now is really around the staffing in our hotel teams and that would possibly be our biggest challenge, is finding enough people to be able to work inside of these hotels."
Close to 140 staff are still needed for those hotels and another nearby in Haast.
Airline capacity to Aotearoa has also been a challenge, he said.
"Some of the tour companies have reported that they simply haven't been able to get their passengers on flights to New Zealand in time to make that tour.
"We can see that the air capacity coming into New Zealand improves significantly from January."
Bernie Oudemans kept Holly Homestead open for the first 12 months of the pandemic, but described it as soul-destroying and decided it was better to go into hibernation.
She has been preparing to reopen this weekend.
"It's just going to be a massive spring clean so the list just keeps growing so we'll just work through it."
Being involved in Jobs for Nature ensured they had a sense of purpose and source of income, she said.
But she was delighted to have bookings coming through.
"Perhaps almost half of our bookings are people who tried to come for 2020, they tried to come in 2021, and they've just sort of kept picking another date and moving all their plans forward.
She was excited to see more tourists return and for Franz Josef to be buzzing again.
"The only downside is it might be hard to get a park on the main street again," she joked.
"But we can cope with that."


---