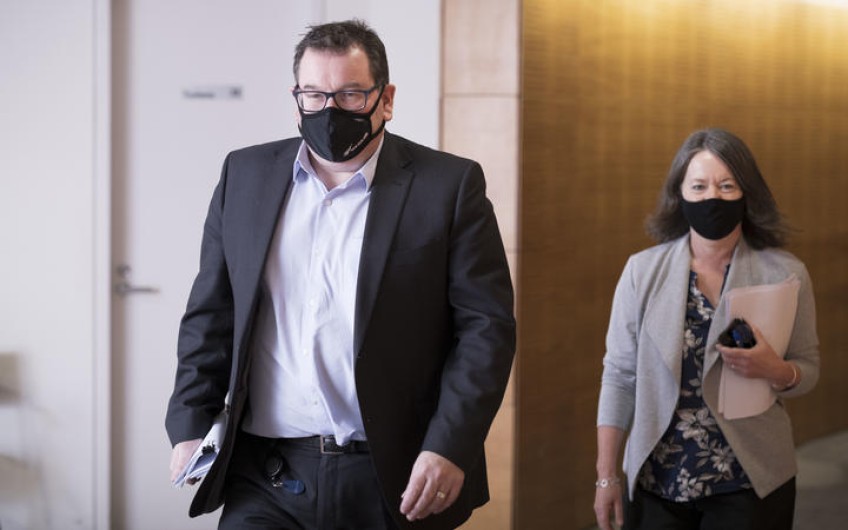 'Getting most NZers to agree on anything is highly unusual' - deputy PM
Dec 03, 2021
---
The Deputy Prime Minister has hit back at claims that New Zealand is a divided nation over vaccinations, saying the numbers "simply do not bear that out".
Grant Robertson and Director of Public Health Dr Caroline McElnay are providing today's Covid-19 update, which is planned to be the last Friday news conference of the year.
There were 92 new community cases reported today.
As the country today moved into the Covid-19 Protection Framework and the traffic light system, Robertson thanked all those who had helped achieve the high vaccination rates necessary for the new system.
Robertson said the country was able to make the move to the traffic light system because it had come through the past two years in better shape than many places in the rest of the world, but also because of high and rising vaccination levels.
"Of the eligible population, we now have 93 percent with a first dose and 87 percent with full vaccination. Of the remaining five DHBs still to reach 90 percent first dose, the Lakes DHB has just 785 more vaccinations to go and the West Coast DHB 284 to reach the target," he said.
He said the number of vaccinations showed that those who tried to portray New Zealand as a divided nation over getting the jab were wrong.
"Getting 90 percent-plus of New Zealanders to agree on anything is a highly unusual achievement."
He said there were expected to be teething problems in the next few days with the traffic light system, and the government will be monitoring and tweaking as needed, as was done with alert levels.
"We are all learning as we go."
He said about 3.25 million vaccine passes have been issued, including 250,000 yesterday.
About 54,500 people were issued an exemption email because their request had not been resolved, and Robertson said 99 percent of those emails got through, and there will be a second run of those emails tonight which will cover all those with an outstanding service request.
Robertson said the eighth and final round of the wage subsidy remains open until 11.59pm on 9 December. The resurgence support payment numbers four to six remain open for applications until 13 January, and the transition payment opens for applications from next Friday.


---