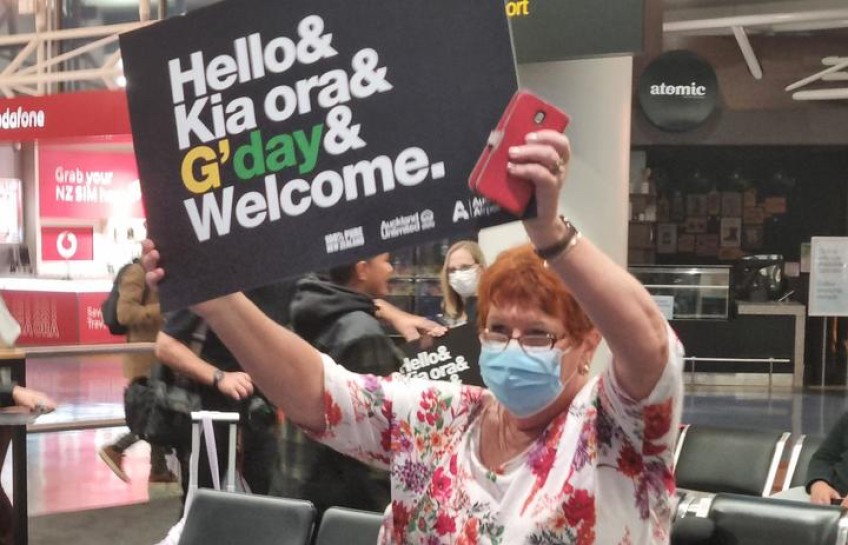 'G'day': First flights arrive as border reopens to Australians
Apr 13, 2022
---
There have been emotional scenes at Auckland Airport as the border reopened and the first flights from across the Tasman landed.
Aotearoa's international border reopened to Australians from midnight.
Vaccinated Australians and permanent residents can enter New Zealand with no other requirements than to self-test for Covid-19 on arrival.
It is the first time Australians have been allowed in isolation-free since the trans-Tasman bubble last year.
Eighteen flights from Australia are expected to arrive in Auckland, Wellington and Christchurch today.
Several dozen Australians arrived on the first flight from Perth.
Many of those flying in today were also returning New Zealanders. After two-and-a-half years away from home Beatrice Hazlehurst said she was looking forward to more classic Kiwi cuisine "like lamingtons, lolly cakes, hot cross buns, feijoas."
Justine Kanapu was waiting to see her mother from Perth for the first time in almost three years. "We have missed out on a lot - my parents' 60th birthdays, some funerals, some real special moments and some real sad moments - so I can't wait to see my Mum."
Phil Marsh hadn't seen his girlfriend in two years and said he was feeling overwhelmed as he touched down on Kiwi soil.
He said he missed the New Zealand rain, so had arrived on a good day.
Camilla was meeting her niece for the very first time after two years in Chile. "I am here, I don't believe it, I am so happy," she said.
Suzanne Wilson was on welcoming and hugging duty for the chief bridesmaid at her daughter's wedding - standing in at the airport for the groom who was down with Covid-19.
The bridesmaid had booked "the very first flight out".
"We have got the wedding next weekend so it's very exciting."
Constanza Munoz had been at the airport since 4am waiting for her sister to land, and said she had been dreaming of this moment for a long time.
"I couldn't sleep last night, I am very excited, I am shaking."
She said her daughter, born in 2020, had yet to meet any members of her family.
After more than three years, Chris Latrell was reuniting with family. "It's weird hearing all the Kiwi accents but it's great to be home."
Air New Zealand has added an extra 96 trans-Tasman flights for April through to June, an increase of about 20,000 seats.
A woman holds a welcome sign at Auckland Airport as the first flights from Australia arrive. Photo: RNZ / Jonty Dine

---