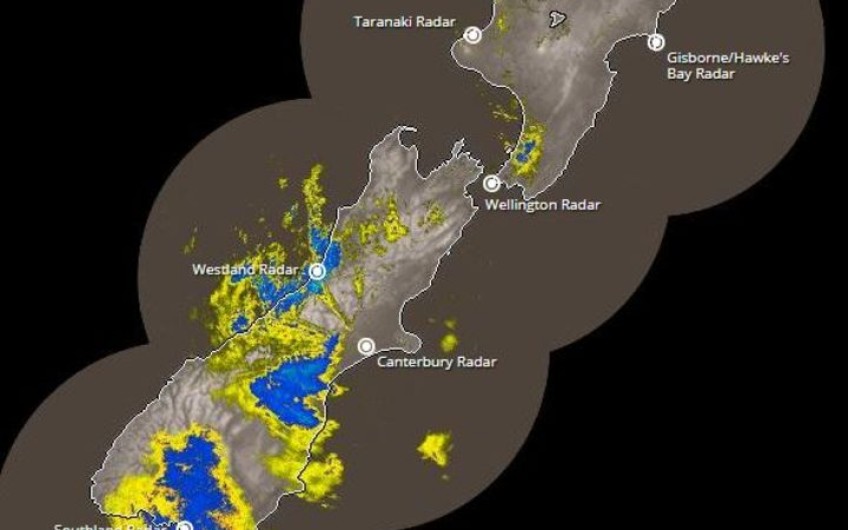 Flooding hits West Coast closing highway as front sets in
Nov 08, 2018
---
Flooding has closed a highway on the West Coast as heavy rainfall lashes the region, with locals preparing for further weather disruption today.
The highway from Hari Hari to Franz Josef has been closed due to flooding.
The latest transport agency update said heavy rain in the area had shut a section of State Highway 6, while warnings were in place for the highway from Hokitika to Haast, and Fox Glacier to Haast.
There were reports of water across the road in South Westland, and more heavy rain was forecast.
Area warnings are also in place for State Highway 60 from Riwaka to Takaka due to forecast rain from now until tomorrow morning.
Strong wind warnings are in effect for Canterbury, including the alpine passes. Parts of Otago and Southland are also braced for heavy rain.
Civil Defence is monitoring the weather as MetService says an active front will bring heavy rain to parts of central and southern New Zealand.
New Severe Weather Watche and Warnings in place.
Earlier, Westland Mayor Bruce Smith said all of the district's emergency operations centres had been set up in the event they were needed.
Hydrologists from the West Coast Regional Council are monitoring the situation and liaising with MetService.
Meanwhile, in stark contrast farther north settled and warmer weather continues ahead of the front.
Temperatures along the East Coast in particular are set to reach the 20s today.
The highest temperatures forecast today are around Napier, expected to reach 29C.
Further up the coast at Gisborne temperatures are expected to hit 25C.
Similar temperatures are expected around Palmerston North and the Wellington region.
Christchurch will experience the hottest weather in the South Island, forecast to reach 26C.
Auckland and Northland temperatures will hover around the low 20s, with some light showers expected.
Showers are also expected across western areas of the North Island.

---