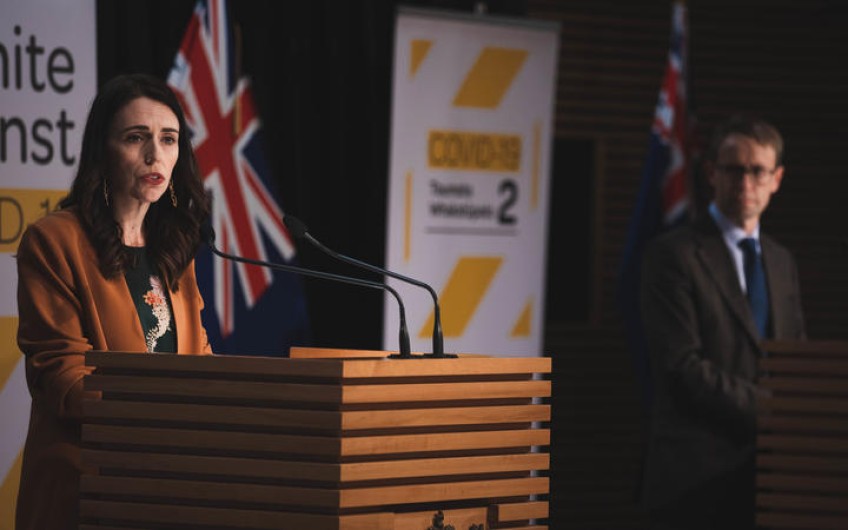 First batch of Covid-19 vaccines has arrived in New Zealand - Prime Minister Jacinda Ardern
Feb 15, 2021
---
The first batch of Pfizer vaccines has arrived in New Zealand, and the country has transitioned well to increased alert levels, Prime Minister Jacinda Ardern says.
Ardern has spoken after a Cabinet meeting, along with Director-General of Health Dr Ashley Bloomfield.
She says alert levels are unchanged, with Auckland to remain at alert level 3 and the rest of New Zealand at level 2.
The batch of 60,000 vaccines, which arrived in New Zealand about 9.30am, will be tested this week for quality assurance, once the safety check is complete doses will be formally released to start the vaccination programme, Ardern says.
It is expected border workers will start receiving vaccinations from this Saturday.
"This will be the largest full-scale vaccination campaign in this country's history," she says.
"We have purchased enough vaccines to cover all New Zealanders and to do so for free. That includes all those in New Zealand regardless of their visa status," Ardern says.
She said the vaccine had arrived earlier than expected but planning for that had been built in.
Border workers include MIQ cleaners, nurses who work at MIQ facilities, hotel workers and security staff. All border workers are expected to be vaccinated within three weeks, followed by their household contacts.
She suggested that with enough people taking up the vaccine, an acceptable level of herd immunity could be reached despite the few people who would refuse to be vaccinated no matter what.
"We just have to make sure we provide good information and remove all the barriers."
Saliva testing
Epidemiologists and opposition parties have called for daily saliva testing to be used at all border-facing facilities.
Ardern says that is being done in conjunction with PCR tests at some high-risk sites including the Jet Park quarantine facility, and the government is considering rolling it out further.
"That gives us an ability to do some of the calibration in a real live setting, test the sensitivity ... but there are always tradeoffs. If you are doing upwards of 12,000 saliva tests in a day .. there's always an opportunity cost in everything you do.
"We have determined it is right for us to roll it out into those settings and we haven't ruled out rolling it out more widely."
She says there are "question marks" over whether or not the saliva tests have the same sensitivity as a nasal swab, which is one of the reasons the rollout is being delayed.
The government could change the settings regarding which border or MIQ workers are considered high risk, she says, and therefore are regularly tested as a result of this latest discovery.
Alert levels
Auckland was put into alert level 3 at midnight, while the rest of the country moved to level 2 after three community cases were revealed yesterday.
Ardern and Bloomfield this afternoon say they believe the level 3 restrictions in Auckland are still sufficient to contain the spread of Covid-19, even given the increased transmissibility of the UK variant.
The Govt has not discussed or even considered the possibility of an extension to Covid-19 restrictions at this stage, Ardern says. She says they are waiting for the full picture first.
Ardern yesterday said the alert levels would be reassessed on a daily basis.
Ardern has clarified confusion around the border surrounding Auckland. Police are moving a checkpoint to align it with where the legal boundary sits.
She says the error was down to "miscommunication" and was not the fault of police. She says the boundary remains the same as it was last time.
Ardern this morning revealed that genomic sequencing of the latest Covid-19 community cases in Auckland showed they were the UK variant of the coronavirus. Testing from MIQ facilities have shown no match, Ardern said.
Ardern told RNZ's Morning Report the results showed the government was right in taking a precautionary approach in moving alert levels, considering the UK variant was more infectious.
Latest information about community cases
Dr Bloomfield says no further cases in the community is an encouraging sign.
"We are continuing investigations into the potential source ... the intensive domestic source investigation continues."
He says serology testing confirms they are all active cases, and investigations into the source have led the source investigation to focus heavily on the mother and daughter, as the father's test suggests he is still in the early stages of infection.
Seven of the nine co-workers of the mother have returned negative test results.
There are 42 close contacts outside of the household, including the daughter's classmates and teachers. All of the nine non-school related close contacts have returned negative test results. Only two people from the school have returned negative test results, while results for the others are pending.
Ardern said while it is "heartening" some close contacts have returned negative results, other results are pending and more time is needed - "no conclusions yet".
Bloomfield says as at 3pm today the community testing centres have swabbed close to 2300 people in Auckland alone. New Plymouth has quadrupled its usual testing capacity, he says.
"It's very important that the right people are tested, so please don't rush to a centre if you are well or haven't been to one of the locations of interest."
He says locations of interest have been identified on the ministry's website.
There were no new community cases today, but five new cases were identified in managed isolation facilities.


---