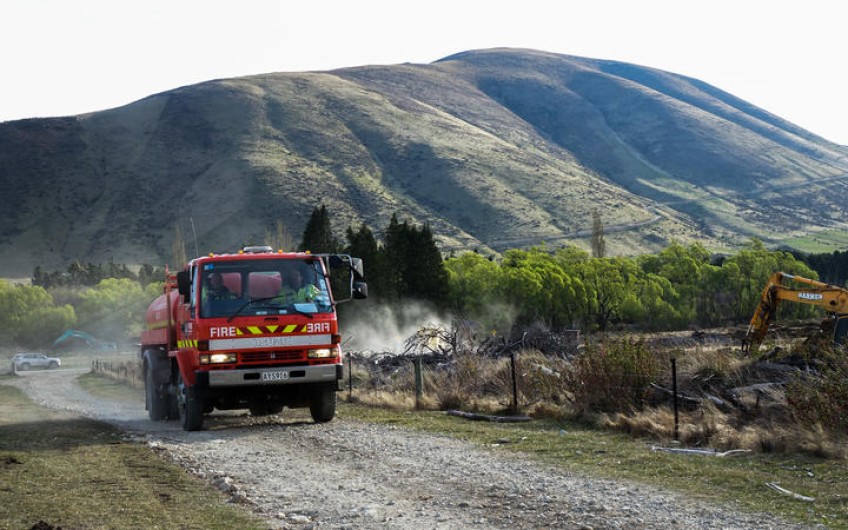 Firefighters heading to Lake Ōhau fire describe 'hairy moments' and 'apocalyptic scenes'
Oct 07, 2020
---
The firefighters who raced to the community's rescue have opened up about how the Lake Ōhau fire took hold.
Volunteer firefighter Keri Jackson's tanker crew were the first on the scene.
She described driving towards Lake Ōhau Village as a fire storm with flames reaching up to 15 metres into the sky.
She sent the second alert to call for more back up.
"As we headed up Lake Ōhau Road, we started to have ash fall on the truck. So we knew that it was definitely growing in size quite quickly, big chunks of ash means that it's quite like a fast burn coming through," Jackson said.
The fire was flashing across the road as they drove - which looks like explosions.
It was difficult seeing the community she knew so well burning.
"You did feel a little bit helpless. And that sense too and the fact of, for the first you know hour we were just unable to enter into the village. It was too unsafe... You know you do feel like 'what am I doing now? What more can we do?'"
But that changed when they were able to enter the village and help to save properties from the fire.
Twizel's chief fire officer Simon Fox lives in a rural area near the town - he received a page alerting him to a vegetation fire at Lake Ōhau.
"I quickly looked out my window in seeing a mass of large glow of red over the hills behind me. And my first thoughts were 'I need to get moving'. So I headed straight towards this fire brigade here knowing that my crews would already be on the road."
As he rushed to the scene, car after car passed him heading in the opposite direction.
They were residents, fleeing the flames.
Fox said in his 21 years at the brigade, he has never seen embers flying around like they did that morning.
Deciding whether to send firefighters into the village weighed heavily on him, he said.
Twizel's deputy chief fire officer Ian Gardiner, normally goes past Lake Ōhau Village on his way skiing, but his trip on Sunday was a lot different.
Staying safe was the only thing racing through his mind.
"But still there were some hairy moments getting in there, the fire was right on the side of the road ... lots of smoke. Very hard to see. I was saying earlier, you could only see one white line ahead of you," he said.
By the time he arrived at the village later in the afternoon, fire engines were already there.
"Trees were on fire. It was just, just incredible. I think Simon said earlier it was like apocalyptic scenes."
On Sunday, Hamish Smith's property was in the firing line as wind swept the blaze towards Quailburn Road, with 11 helicopters fighting to prevent the spread.
He was relieved when the wind changed direction, easing the pressure.
"In this community and the Omarama community, in the Mackenzie Basin, there's dry land parks all around the farming communities. So there's no reason why it can't start somewhere else if it wanted to," Smith said.
He wanted more collaboration to reduce the risk of similar blazes.
"I hope that we can all work together towards a positive outcome regarding the risk of these dry land parks."
Fire and Emergency Incident Controller Rob Hands said it was concerning to see another large fire in the region, so soon after the Pukaki Downs blaze.
"You can blame a number of aspects of that but you know, climate change, the different weather, but our fire environment, we have fuel, topography and weather. And the weather in regard to high temperatures and low relative humidity makes the fuel available.
"And we only need the smallest spark from whatever heat source to get that moving. And then it's just depending on how much fuel it's got to go and what else is on its way," Hands said.
But it had not been unmanageable, he said.
"The first of October is normally - was the old trigger for the fire season. But we can have burns going actively in the winter as well. So that is a concern, but we're managing so far."
Up to 12 residents will be allowed to return to the fire-ravaged village and gather their belongings each day.


---