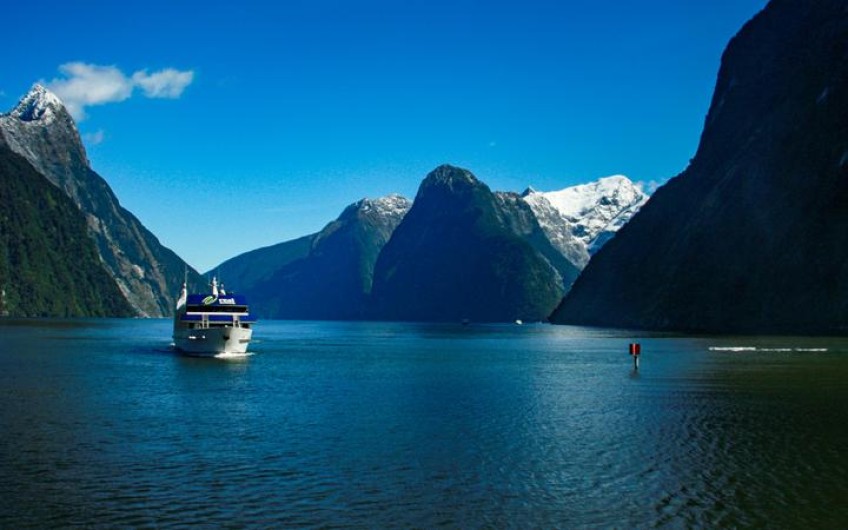 Fiordland tourist operators keen to put 'diabolical' years behind them
Apr 04, 2022
---
The tourists are coming back, but will one of the country's most special destinations - Fiordland - be ready for them?
The year before Covid-19 struck, visitor numbers to Milford Sound peaked at close to 900,000.
But the pandemic turned the deluge into a near drought, topped off by flooding in February 2020 that cut the Milford Road, Great Walks and the tourist summer season off early.
Cruise Milford has gone from offering up to five trips a day to one during the pandemic.
Managing director Peter Egerton said it has been a diabolical few years, but their luck seemed to be finally changing now the borders were set to reopen.
"I think the simple word is hope. Everyone is conscious that we could not carry on indefinitely sustaining the sort of losses that we were sustaining, so at least now we can see light at the end of the tunnel. We can start to move towards a future."
He was hopeful they could build up to three to four trips a day later this year.
The government's $49 million Tourism Kick-start Fund would be critical for businesses who would struggle to afford the costs of ramping back up after years of low revenue, he said.
It would have to cover the many, mounting costs including staff accommodation, land leases, wages, and vessel surveys.
"You have an unusual situation where a vessel that normally would have done 2500 or 3000 hours may have only done 500 or 600 hours but you still incur the same cost. The vessel's got to be taken out of the water, it's got to be basically stripped down and certified."
In Te Anau, The Fat Duck Gastropub co-owner Cameron Davies couldn't wait to welcome back more tourists.
But he said scaling back up would be a delicate process requiring money and hard work.
"That's going to be key to pick your timing right ... we still are heading into winter. I think that's at the front of our minds that we don't want to ramp up too early either.
"But we want to make sure we get our timing right for when they do come back."
He wasn't expecting to see the crowds return until spring and said they would need to be ready to adapt.
"For us, ... heading into winter and not being a renowned winter destination, it probably gives us a few months to build into it, which will be nice.
"If they had opened it in a week or two weeks' time, there would have been huge challenges around that too. So to be able to build up gradually is probably going to be of benefit to this region."
Te Anau resident Pam Mitchell is part-owner of a business, Fishjet New Zealand, bought by four couples early last year.
It was a successful business before the pandemic, but most of its guests were international, she said.
"When we started off, the first summer we had some work and that was good and then with the second lockdown everything's just gone very quiet.
"Because there's so many costs like insurance and all that sort of thing, we've got it on hold at the moment while people do other jobs so we can keep an income coming in."
She wouldn't be surprised if people were still hesitant to travel but said the business was still getting ready to open later this year.
"Getting staff back on board, just getting all the processes in place to get going. If everything's ready, we can hopefully go at a drop of a hat."
Fishing season was nearly over but Mitchell was looking forward to visitors reeling in some trout from spring.


---