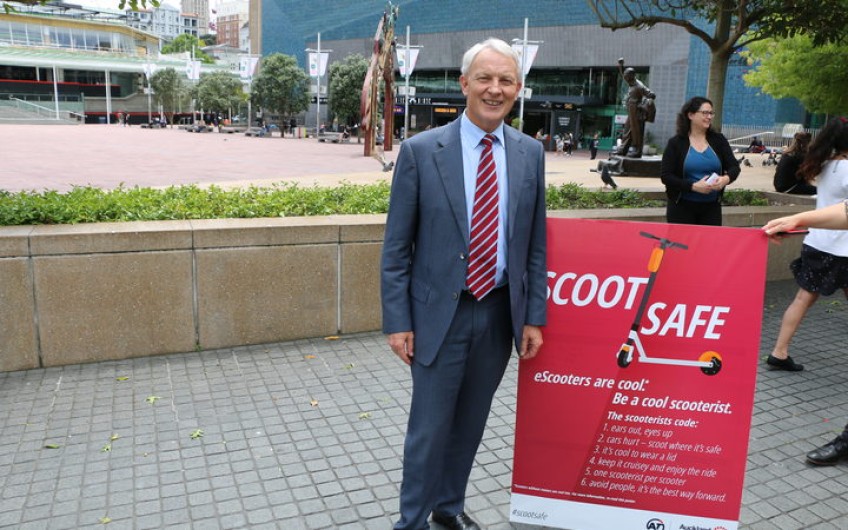 E-scooter safety campaign rolled out in Auckland
Nov 15, 2018
---
More than a month after hundreds of Lime e-scooters rolled out in Auckland, the city council has kicked-off a campaign to promote their safety.
ACC has received more than 80 claims relating to e-scooter injuries in Auckland and they've proved polarising among pedestrians and motorists.
Auckland Council has now paid $10,000 for 40 large posters and 50 dozens of bus stop posters and large footpath stickers to encourage people to wear helmets and ride safely.
Mr Goff said the campaign was just the beginning and the council would be making a submission to the Transport Ministry by the end of the week, pushing for greater controls on e-scooters.
He said he supported speed limits of 10 kilometres an hour on footpaths, and clearer rules around helmets.
"If I'm riding an electric bike... it requires a helmet, but if I'm going faster on a scooter I'm not.
"Central government has that jurisdiction and they'll be working through those issues," he said.
The US-based company Lime has paid $3326 for their three-month trial license for 1000 scooters.
Two more companies, Wave and Onzo, are set to launch another 1500 e-scooters before the end of the month.
Mr Goff said the e-scooter companies had not helped fund the council's safety campaign, but they would be encouraged to promote their own safety messages.
Lime has said it will be hosting 'rider safety workshops' to address safety concerns.
Main Image: Auckland Mayor Phil Goff is encouraging people to take care while scootering. Photo: RNZ / Nita Blake-Persen


---