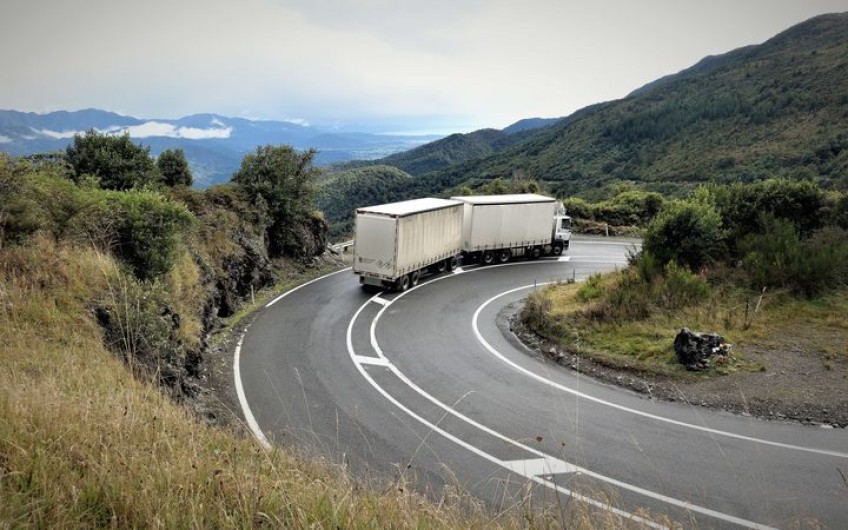 Difficult and dangerous - why truck drivers are quitting
Nov 25, 2018
---
The road freight industry is currently short of 2500 drivers, and predicts 28,000 more will be needed over the next 25 years to meet growth in the industry. The average age of the workforce is now 54, drivers pressured by tight deadlines and long hours are quitting, and young people aren't eyeing it as a career option. Tracy Neal investigates for Insight.
Merv Solly walks with a cowboy swagger and talks in tobacco-stained tones.
The third-generation trucking firm owner caught the diesel bug as an 18-year-old.
He says the industry is now unrecognisable from the time when he started.
"We didn't have white lines on the side of the road - we didn't have them in the middle of the road.
"We found our way up and down (the country) but now you've got lines everywhere and you have to stand where you're told, wear what you're told - that's the difference over 55 years."
Sollys Transport Golden Bay is a mid-size freight haulage firm with 100 trucks and 120 staff, a $50 million annual turn-over and a weekly road user charge bill of up to $200,000.
Thousands of new drivers needed
The National Road Carriers Association predicts the industry will need about 28,000 drivers over the next decade to meet growth in demand from the freight industry.
According to the Ministry of Transport's 2017 Transport Outlook: Future Overview, freight volumes are predicted to increase by 55 percent, from 237 million tonnes over the next 25 years, to about 366 million tonnes.
Like others, Mr Solly says, he is struggling to find drivers.
"It's hard to get people, and we try really hard to keep them. We train them, from leaving school but because of the licence rules it's pretty hard for them to stick to it, because it takes so long."
He believes the length of training times is the reason many quit.
But another reason young people are not entering the industry is that fewer are getting their full car driver's licence before their early 20s according to Steve Divers of the National Road Carriers group.
That is the fundamental ticket to the industry, followed by a class 2 licence - the entry point to driving a heavy motor vehicle.
"For 17 year olds there's less than 5 percent that have a full car licence; 25 percent at the age of 18 and 35 percent at the age of 19.
"We don't actually see a tipping point until the age of 21 or 22, when the majority hold a full licence."
The licensing process can be sped up by learning through an approved course provider, but for some reason, Mr Divers says few seem to know about the option.
Transport Agency figures show that the number of truck driver licences issued from classes two to five has actually increased over the past five years.
For Ken Shirley of the Road Transport Forum, the industry's main lobbying arm, that's a sign the industry is growing faster than the numbers qualifying to drive the trucks.
The union has a different take. For them it's a sign that more drivers are quitting than are being replaced.
Diesel in the blood
Allan Frew has been driving trucks for more than three decades.
He joined a cadet driver scheme run by the company known formerly as Transport Nelson, on his 17th birthday.
The job was appealing for a number of reasons, including being outside, being on the road, and the destinations that the average driver might never see.
But there was one drawback, Mr Frew said.
"I used to hate getting out of bed at two o'clock in the morning, although in saying that, when you're out there driving at sunrise it's a good feeling. But you see people going past, eating their toast, people shaving and stuff like that and you think, 'If you'd been up two hours ago you wouldn't have to be doing that in your car'."
Mr Frew learned the trade off the old guys - from how to change a tyre, to load freight safely in a yard.
It was an important link in the chain of progression into the trade, as revealed in the results of a recent union survey about what attracted people to the industry.
The government is taking the matter seriously and on 15 November it announced an almost $3 million investment in a new national driver training centre near Palmerston North.
The programme has been developed by the Manfeild Trust national driver training centre initiative and will be funded through the Provincial Growth Fund.
It aims to train up to 700 drivers and machine operators each year.
Key to change
Jarrod Abbott of First Union argues not much will change unless better pay and conditions can be secured. Competitive pressures are pushing down wages, and drivers are having to work longer hours to make enough money to live off, he says.
Salaries for heavy truck drivers vary from $17 to $32 an hour, depending on the size of the vehicle, length of journey, location, experience and goods transported.
The average annual estimated income is $49,000.
Mr Abbott says whenever there is a driver shortage, Immigration New Zealand allows companies to bring in more drivers, regardless of the rates they pay, as long as they meet minimum requirements.
Immigration New Zealand says in the two years to March this year, 1591 foreigners applied to drive trucks in New Zealand.
Of that total, 327 were declined, meaning just over 1200 drivers from overseas have theoretically joined the workforce in two years.
The pressures on the industry right now are also showing and not only in the growing number of drivers being caught breaking the rules:
Police warnings and prosecutions related to the trucking industry in the last five years: There were 1582 driver behaviour offences in 2013-14, rising to 3376 in 2016-17 (the year of the alternative highway due to the closure of SH1 through Kaikōura). In 2017-18 there were 3157 driver behaviour offences, which include cell phone use, compliance failure and dangerous driving. There were 2309 logbook/worktime offences in 2013-14. The figure has risen gradually to 3386 offences in 2016-17, and dropped to 2665 in the past year. Alcohol and drug offences have tracked up from 26 recorded five years ago, to 73 in 2016-17, and 56 last year. *Speeding offences five years ago were 5696, rising steadily to 8010 in 2016-17 and 6885 last year.
                                          Source: New Zealand Police Commercial Vehicle Safety Team.
Number of road deaths and injuries from crashes involving trucks: In 2017, 82 people died and 1003 were injured in road crashes involving trucks - 22 percent of all deaths and 7 percent of all injuries on our roads. In 2016, 75 people died and a further 850 were injured in crashes involving trucks. *Deaths from crashes involving trucks make up 21 percent of the total road toll on a five-year average from 2013-17. *From 2012-16, truck drivers were primarily responsible for about a third (34 percent) of the fatal crashes in which they were involved.
                                        Source: Ministry of Transport manager of analytics and modelling, Dan Jenkins.
Jarrod Abbott says it's also showing in the companies which are willing to risk cutting corners.
Ken Shirley of the Road Transport Forum says while the spotlight has been on the lack of certification of vehicles and components, human error presents the greatest risk to the industry, and to others.
"We were concerned that NZTA seemed to drop the ball, and with a number of restructurings it lost key competencies in the heavy vehicle engineering area.
"They are now addressing that issue - as they need to - they've been called to task for it."
The Ministry of Transport is leading development of a new strategy to address road safety, and improving truck safety is a significant focus.
The ministry says it will be looking more closely at driver fatigue in a workplace safety assessment.

---