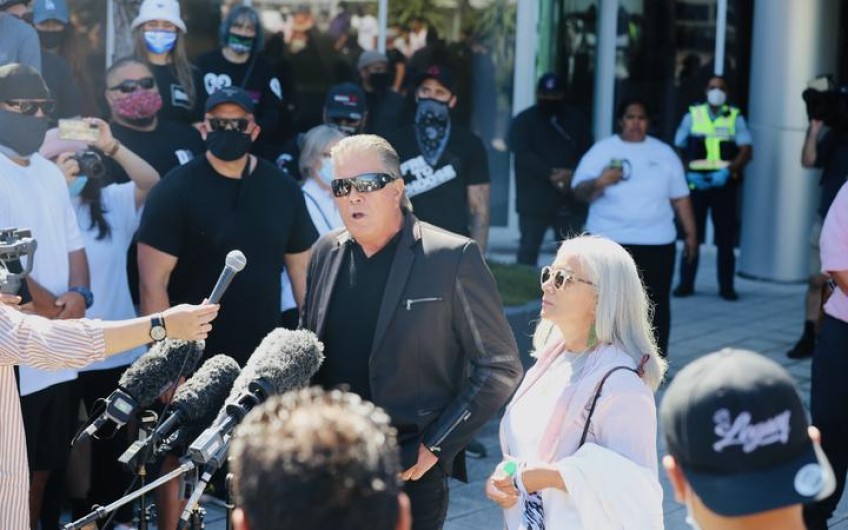 Destiny Church's Brian and Hannah Tamaki charged by police
Nov 23, 2021
---
Destiny Church leader Brian Tamaki addressed a small crowd of supporters outside the Auckland Central police station this morning.
The Freedoms and Rights Coalition, which is connected to the church, had earlier claimed that Tamaki and his wife Hannah Tamaki had been summoned to the station.
Outside the station, he made unsupported claims about freedom of association, vaccine data and the social effects of the pandemic.
Brian Tamaki told the crowd neither he nor his wife had received the Pfizer vaccine.
The couple, who have been prominent at anti-lockdown protests, then went into the station.
Police say this morning two people, a 63-year-old man and a 60-year-old woman, were arrested in relation to the Auckland Domain gathering on Saturday which breached alert level restrictions.
The man was charged with Failing to Comply with Order (Covid-19) under the Covid-19 Public Health Response Act and will also be appearing for breach of his bail conditions.
The woman has also been charged with two counts of Failing to Comply with Order (Covid-19).
They both are sue to appear before the Auckland District Court later today via video link.
Superintendent Shanan Gray, relieving Auckland City District Commander says police have not ruled out further arrests being made in relation to Saturday's event at the Auckland Domain.


---