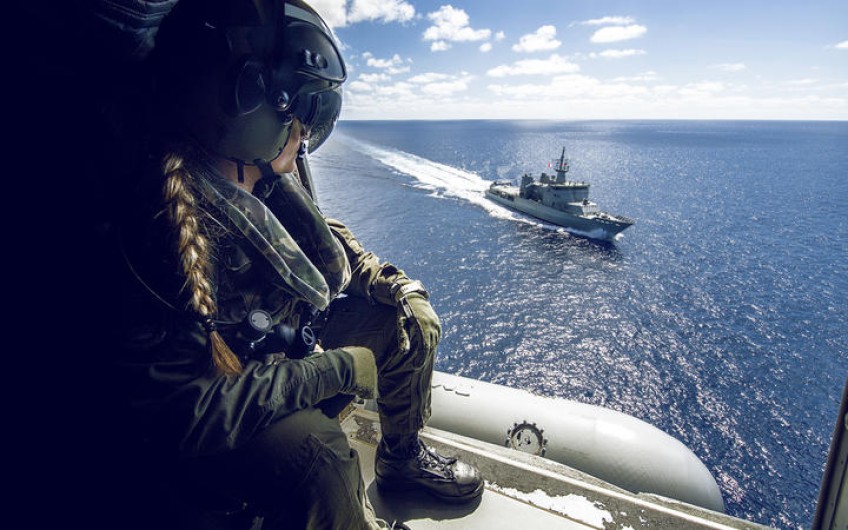 Defence Force $20bn upgrade: Climate change driving much of plan - Minister Ron Mark
Jun 11, 2019
---
The Defence Force's $20 billion upgrade plan will partially focus on how new equipment will help the South Pacific region deal with climate change and its effects.
Planes, ships, troops, satellites, drones and tanks: as Defence Minister Ron Mark announced today, nearly every major item gets an upgrade.
The coalition government's Defence Capability Plan details $20 billion of upgrades planned by 2030 to set up the Defence Force for the future.
"We have accepted responsibility to support smaller Pacific Island nations, who do not have the capacity to respond to these sort of disasters which befall them and to do that we need to have some flexibility," Mr Mark said.
He said much of the plan was driven by climate change and the effect it will have on the South Pacific.
"Over time there will be an increased requirement for our defence and other security forces to respond with humanitarian assistance and disaster relief. More search and rescue missions and potentially stability operations," he said.
A warming world, with acidifying and rising seas - may see low-lying Pacific Island countries disappear and contribute to resource scarcity.
"There will be increased competition as people potentially run into conflict with each other as to who has the right to fish those stocks," Mr Mark said.
Those foreseen problems, plus geo-political tensions in New Zealand's backyard, are reflected in today's major upgrade announcements with plans for non-weaponised space-based surveillance and communications systems and drones (small ones in 2025, bigger long range ones for after 2030).
"We have a search area and responsibility that takes us all the way up to the Kiribati, bearing in mind that we are looking at establishing a marine reserve in the Kermadecs, all of these things mean nothing if we cannot provide surveillance over that," he said.
The upgrade also includes a second ship, similar to HMNZS Canterbury, to assist in humanitarian disasters.
"This vessel will be able to move more vital stores and personnel with greater availability to operate in adverse conditions than is currently available to HMNZS Canterbury. And I emphasise that climate change will require that," he said.
There are also plans for a polar-ready Southern Ocean Patrol Vessel and new maritime helicopters in mid-to-late 2020s, and increasing the number of soldiers to 6000 by 2035.
The Chief of Defence, Air Marshal Kevin Short, said the investments were balanced across the three services: Army, Navy and Air Force.
Top of the list is the new Super Hercules to replace the old Hercules at a cost of $1.1 billion.
Mr Short agreed it was time to send off the current Hercules fleet.
"While most of New Zealand sees them working really well, they're costing tens of millions of dollars each year more than we can expect of a new fleet," he said.
The Hercules are a workhorse, doing a bit of everything from paratrooper and humanitarian aid drops to ferrying scientists to Antarctica.
Prime Minister Jacinda Ardern said the current machines were unreliable and no longer up to the task.
"Our Hercules do our most basic of jobs, they get aid and they get some of our natural disaster responses around the country and around the Pacific. Without it, we just couldn't look after ourselves and our neighbours," she said.
On the other hand, National's defence spokesperson Mark Mitchell said it was worrying the Hercules weren't going out to tender.
"We should have competitive tension in any of those procurements that we're doing. That's the best way of delivering the best result for the taxpayer, plus the country," he said.
However, Mr Mark said they were being offered the best price, and competing aircraft were not yet proven in the skies.
He said the government would be careful though, and detailed business cases would be required for each of the major upgrades.


---