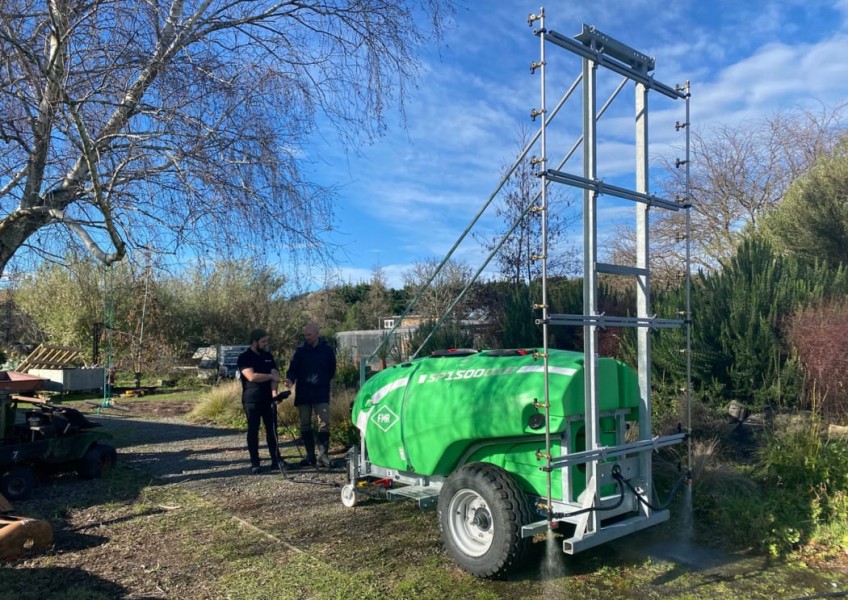 Cromwell cherry grower has 'world first' electric sprayer
Aug 17, 2022
---
In what is thought to be a world first, a Cromwell orchard has developed an electric foliage sprayer.
Forest Lodge Orchard, which is ten minutes out of town at Mt Pisa and grows six hectares of cherries, is completely electric. It does not use fossil fuels for anything.
Established four years ago, the orchard's 9000 trees are beginning to produce a commercial quantity of fruit.
Orchard manager Euan White said they had got this far using non-commercial ways of spraying but they had now developed an electric foliar sprayer.
"Traditionally, sprayers run off the back of tractors using what's called a PTO shaft or power take off shaft, which of course runs off diesel off the tractor, but that's not an option for us so we had to come up with another way," White said.
"And by asking lots of questions and lots of people, we teamed up with TRS Wholesale Ltd in Blenheim and created the first fully electric foliar sprayer, converting an existing sprayer that runs off tractor power to one that can be directly powered from a 230 volt power source."
The new sprayer had its first run through the orchard on Tuesday being towed by an electric tractor.
"It went fantastically, it did exactly what we thought it would do and it uses less power than we thought it would as well which is great," White said.
"We can spray for about two-and-a-half hours on one charge and that allows us to spray about a third of the orchard in one go."
However, White said there were limitations to using an electric sprayer and tractor combination over more traditional diesel alternatives.
"You do lose the ability to refuel quickly. To charge the tractor takes about six hours, but we're really proud of what we are doing in creating a zero fossil fuel orchard.
"There's been lots of interest from other growers. We have a lot of people coming along to see what we're doing, so hopefully we can prove that it's successful, allowing others to adopt the fossil fuel free practices."
Main image (supplied): The orchard can spray for about two and a half hours on one charge.


---