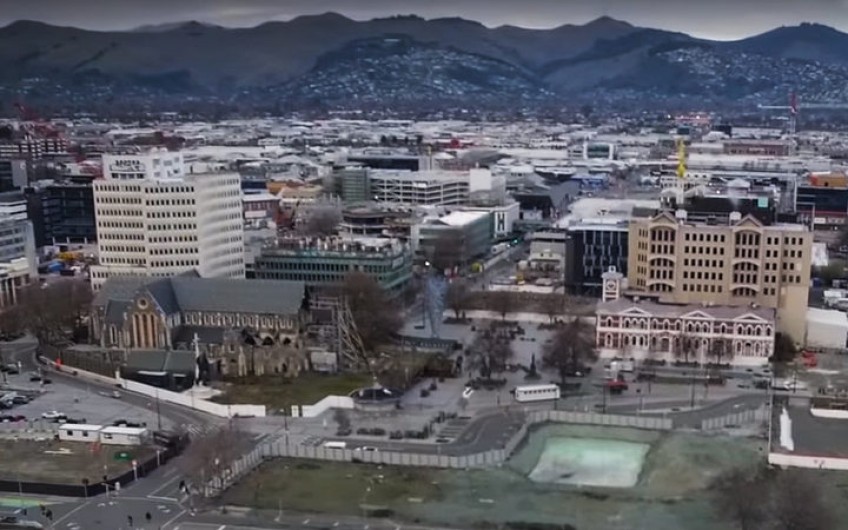 Combustible cladding in Christchurch office blocks
Aug 31, 2018
---
The majority of Christchurch buildings that have the most combustible type of aluminium composite cladding are office blocks.
A list released to RNZ by the City Council shows offices make up 90 percent of the 28 buildings with the polyethylene-core panels.
Fifteen of the 46 buildings on the list have 20 percent or more of their cladding in the combustible panels; many of these are new buildings, erected in the past five years.
The list does not identify the buildings by name or address, unlike a similar list put out by Auckland Council in June.
The Christchurch list only states what a building is used for, how tall it is, when it was built, and crucially - what type of panel it has on it and the ratio of it.
Of the 46 with panels of some kind, 28 have the polyethylene-core type (PE), and 18 the less combustible FR or fire-resistant panel.
The Codemark certificates for both types of panel have been suspended since late July after an audit found they didn't provide enough evidence the products were fire resistant enough.
What to do about the cheapest, most flammable type of panel, the PE, has been causing angst since the fatal Grenfell Tower fire in London last year, especially in Australia and the UK where there are thousands of these.
New Zealand has scores of such buildings, though exactly how many remains unclear as council efforts to identify the types of panel have hit difficulties, such as a lack of branding on panels.
A fire engineer has said the PE panels release more energy than petrol when they burn.
"A kilogram of polyethylene will release the same amount of energy as a kilogram of petrol, and it gets worse than that because polyethylene is denser than petrol too, so that's about, a kilogram of polyethylene is like about one and a bit, one and a half litres of petrol," Melbourne fire engineer Tony Enright, an expatriate New Zealander, told the ABC.
The Christchurch list includes six apartment blocks or residential, but only one of these has PE panels on it, and a small amount.
It also lists two care facilities, one with 10 percent PE panelling.
Only buildings more than 10 metres tall - or about three storeys - make the list; under that height the use of PE panel is not regulated.
There are two cases of four-storey office-retail blocks, where a half of the cladding is made up of combustible panels; in another building, it's 40 percent.
There is also an eight-storey and a 12-storey office block with substantial PE panelling.
The Christchurch City Council has said it had no safety concerns with buildings clad in aluminium composite panel.
Since the Grenfell fire in June 2017, it's a stance that has been echoed by local and central government in this country, citing good fire design and safety systems.
In Christchurch, only eight out of the 46 buildings don't have sprinklers, and most of these are three storeys or less.
The government ordered three city councils to investigate earlier this year.
Auckland identified 25 buildings with PE panels, though in the case of another 53 buildings it was not sure what type of panel was used.
Wellington said it would release its list with more details about building cladding in early September. It has said it had 113 buildings with the panel, but again there had been uncertainty over what type.
Auckland and Wellington councils have both said they have no safety concerns, and for a few buildings have called in fire engineers for extra advice.
Major Christchurch buildings with PE panel of coverage above 20 percent
*All the following buildings have sprinklers:
4-storey 15m tall, built 2004, office and retail block, with 50 percent of its cladding in polyethylene aluminium composite panel
4-storey 15m tall, built 2017, office block - 50 percent PE
3-storey 11m tall, built 2015, office block - 40 percent PE
8-storey 32m tall, built 2016, office block - 30 percent PE
5-storey 22m tall, built 2017, office block - 30 percent PE
4-storey 16m tall, built 2015, office block - 30 percent PE
12-storey 40m tall, built 2009, office block - 25 percent PE
5-storey 18m tall, built 2016, office and retail building - 25 percent PE
3-storey 12m tall, built 2002, office and retail block - 25 percent PE
3-storey 13m tall, built 2014 office block - 20 percent PE
3-storey 11m tall, built 2017 office and carparking block - 20 percent PE
3-storey 11m tall, built 2013 office block - 25 percent PE
5-storey 17m tall, built 2015 office block - 20 percent PE
5 storey 15m tall, built 2015 office block - 20 percent PE
Main Image: The lot where a new convention centre will be built in downtown Christchurch. Photo: Frank Film


---