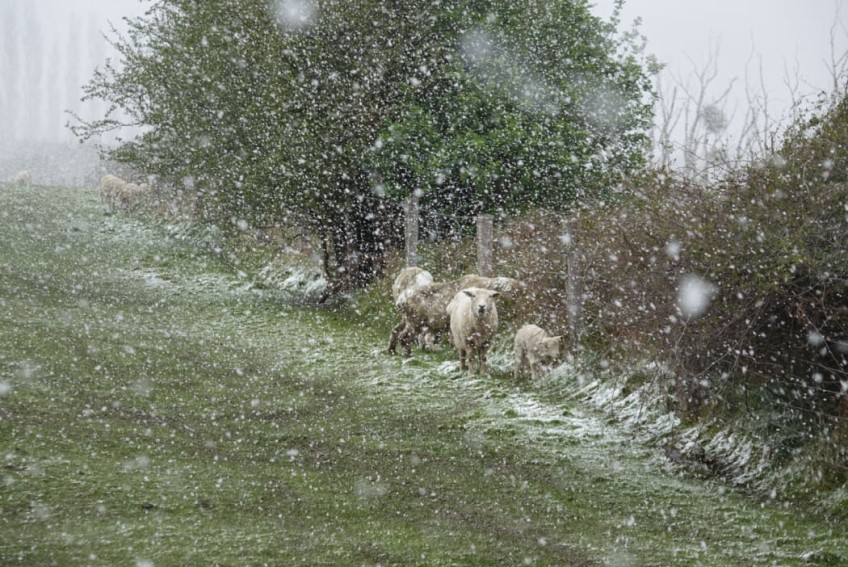 Cold snap and snow forecast for later this week
Oct 03, 2022
---
Turbulent spring weather is forecast to bring another cold spell later this week across much of Aotearoa as an icy front moves up from Antarctica.
Snow fall is also expected to hit some of the South Island and central regions of the North Island on Wednesday and Thursday, with snow possible to 200m in Wellington and to sea level in Christchurch and Banks Peninsula.
NIWA meteorologist Chris Brandolino told Morning Report it was very unusual for snowfall to be coming at this time of the year.
"Temperatures [are expected to be] three to four degrees [Celsius in Wellington] on Thursday morning," Brandolino said.
"Some snow flurries could be falling, particularly over the hills, surrounding Wellington proper and winds will be gusty, 90 to 100 [km/h]. You add that together, the effect of temperature, how it feels, the wind chill is probably going to be subzero, -2, -3," he said.
"If there's not snow showers, there will be rain showers."
MetService said snow was possible to 400m in Otago and Southland on Tuesday and snow could lower to 600m for Hawke's Bay southwards on Wednesday.
Invercargill is forecast to have a maximum temperature of 5C on Wednesday.
"If that were to happen, that would be the coldest October maximum day time temperature on record," Brandolino said.
"There could be some snow flurries, snow showers in Invercargill on Wednesday morning."
While Christchurch will be warmer on Tuesday with 19C or 20C expected, it is forecast to drop to 11 on Wednesday and then -1C on Thursday morning.
Brandolino said the low pressure near the Antarctic shelf and the high pressure south of Australia, over the Southern Ocean, were combining to direct airflow from the Antarctic shelf right to Aotearoa.
"The good news is it's going to be a quick blast of cold air. By the weekend, temperatures will start warming, particularly for the South Island, good news for them, and then we're going to find temperatures turning very warm next week."
MetService warned the strong winds, snow and bitterly cold temperatures might stress livestock.
Southland farmer Dean Rabbidge said some jobs would have to go on the backburner.
The unexpected cold snap might impact lambing in the high country, he said.
Main image (RNZ/Tess Brunton): MetService warns the strong winds, snow and bitterly cold temperatures may stress livestock.

---