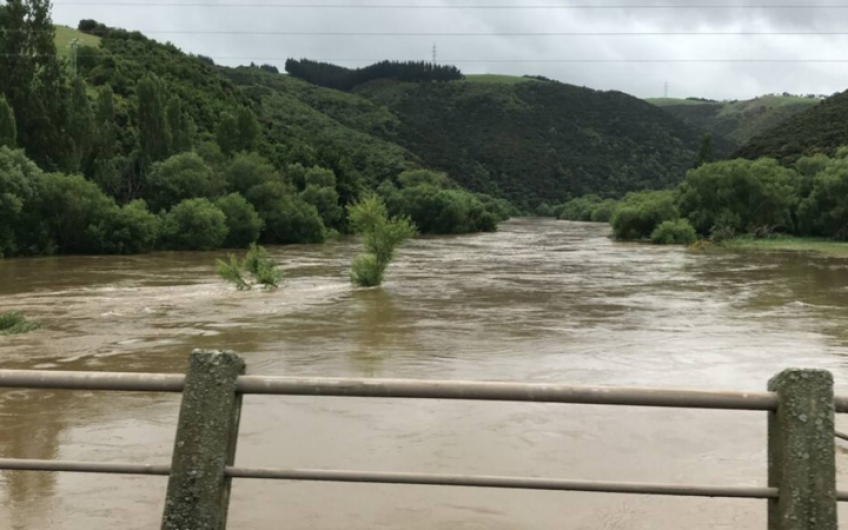 Cold blast: River levels rise in the south, heavy rain for the north
Nov 21, 2018
---
Clean-up work is starting today following yesterday's influx of rain but flooding continues to block some South Island roads.
Severe weather warnings in the South Island were lifted last night as rain across the Dunedin and Clutha districts eased off.
Despite rainfall easing in southern regions, rivers have not yet peaked.
The Clutha River is flooding and the Clutha District Council is warning people to avoid all unnecessary travel and stay off the roads if possible.
Those who are out and about are urged to keep an eye out for debris in flood waters and damage to roads.
Dunedin City Council urged motorists to stay off the roads until surface flooding around Dunedin and the Taieri Plain recedes.
State Highway 8 from Milton to Alexandra and State Highway 90 from Raes Junction to Tapanui are closed because of slips and flooding.
State Highway 1 south of Milton is closed to cars and other local roads are also closed.
In the North Island, MetService predicts some heavy, thundery showers could hit in time for the morning commute.
Torrential rain and flooding in Otago means a tough start to summer for local farmers.
The rain may have eased last night, but farmer James Adam's Henley dairy farm - south of Dunedin - was flooded with a couple of metres of water.
He said if it does not drain, stagnant water may kill the grass on his 190 hectares of land.
It's the first summer flood he's seen in 15 years and it has taken the shine off the start of the season, he said.
South Island state highway warnings and closures
Canterbury (Including Alpine / Mountain Pass)
SH 82 Waimate to Kurow - Flooding SH 82 Waimate to Kurow - Washout - Due to a washout near Redcliffe Back Rd there is a speed restriction of 50 km/h in place, SH 1 Waimate Junction (SH 82) to Glenavy - Flooding - Due to flooding there is a 30 km/h temporary speed restriction in place by the intersection of Gum Tree Flat Road. SH 1 Waimate Junction to Rakaia - Flooding SH 8 Fairlie to Twizel - Snow SH 79 Geraldine to Fairlei - Flooding
Otago
CLOSED - SH 1 Balclutha to Milton - Flooding - Heavy vehicles are able to travel through this area other road users are advised to delay travel or consider an alternative route CLOSED - SH90 Pomahaka River Bridge, South of Glenkenich - Due to flooding, this section of Tapanui-Waikoikoi Highway is closed. Avoid the area or delay your journey if possible. Detour route: Southbound traffic turn left onto Pomahaka Rd, continue along West Otago Rd and onto SH1. Reverse for northbound traffic CLOSED - SH 8 Raes Junction to Milton - Flooding - Due to multiple slips and flooding the road is closed. CLOSED - SH 90 Raes Junction to Tapanui - Drop Out - Road users are advised to consider an alternative route CLOSED - SH 8 Raes Junction to Alexandra - Flooding CLOSED - SH 87 Kyeburn to Hyde - Flooding SH 87 Mosgiel to Outram - Surface Water NEW: SH 1 Waitaki to McNab - Flooding - All light vehicles should delay all non-essential travel SH 85 Kyeburn to Palmerston - Surface Water NEW: SH 85 Alexandra to Kyeburn - Flooding NEW: SH1 Oamaru to Pukeuri - Surface Water SH 83 Kurow to Peebles - Surface water
[LI ]SH 8 Omarama to Tarras (Lindis Pass) - Snow
NEW: SH 8A Kane Road to McKay Road - Flooding - Near the Glenfoyle Rd intersection
Southland
SH 94 Waimea Highway - Flooding - Due to flooding in Otamita, there is a 30km/h temporary speed restriction in place NEW: SH 97 Mossburn to Lowther - Surface Water
Main Image: River levels continue to rise adding to yesterday's high levels. Photo: Facebook / Otago Regional Council


---