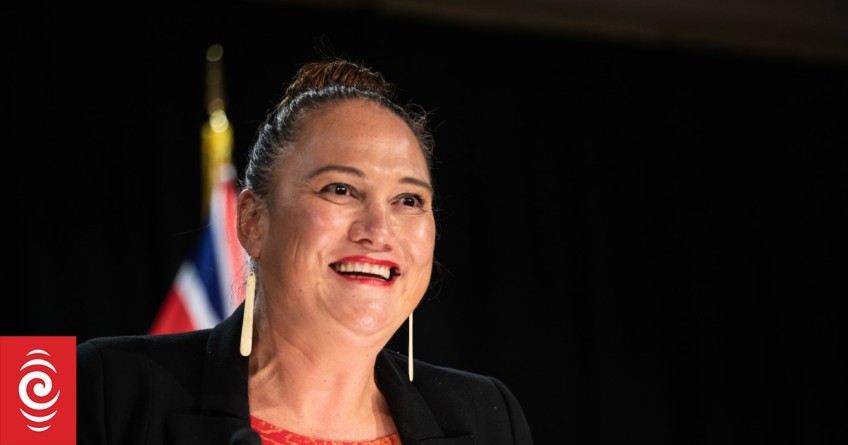 Carmel Sepuloni: New Zealand's new Deputy Prime Minister
Jan 22, 2023
---
Carmel Sepuloni has been named as New Zealand's deputy prime minister.
Sepuloni first entered Parliament after the 2008 general election as a List member, becoming New Zealand's first MP of Tongan descent.
She is the MP for Kelston and has been New Zealand's Minister for Social Development since 2017.
She is also Minister for ACC and Minister for Arts, Culture and Heritage.
She was also previously the Minister for Disability Issues, but last year passed that portfolio to colleague Poto Williams.
Born and raised in Waitara, Taranaki, Sepuloni moved to Auckland in 1996.
She graduated from the Auckland College of Education with a Diploma in Teaching (Primary), before going on to the University of Auckland and earning a Bachelor of Education. She also holds a Postgraduate Diploma in Education.
Her father was a Samoan-Tongan migrant freezing worker and unionist. Her mother was Pākehā from a farming background. The MP is the middle child of three daughters.
Before entering Parliament, she worked in the tertiary sector as a literacy educator, a student mentor adviser, an equity manager, and a Pacific health research project manager.
On social media, the new Deputy PM describes herself as "a mother, a daughter of a migrant, Government Minister & NZ Labour MP for Kelston".
She has previously spoken of her love of poetry, and not just because she is married to poet Daren Kamali. She also writes poetry that she says "will never see the light of day".
"My husband likes to say that I'm creative as well, and I quietly write poetry that I only share with him," she said in an interview with Stuff last year.
"It's funny because I don't know if poetry ever comes from a happy place. It's always when I'm in a bad mood. It's quite therapeutic, I've found. But no one needs to see that."
Sepuloni, 46, is the mother of two boys. In the throes of lockdown in 2021, the minister went viral when one of her sons interrupted a live interview she was doing from home. The incident got the nation laughing and generated a lot of discussion about the challenges for parents trying to work from home during the Covid-19 pandemic.
Sepuloni said today she had told most of her family - including her sons - that she was up for the role of deputy PM, and they were all proud and excited for her.
She said her father just got back from Samoa yesterday, so she had not had a chance to sit down with him yet ,but talked to him on the phone when he arrived.
"I didn't want to tell him while he was in Samoa because I didn't want to run the risk of him telling the whole village over there before he returned.
"He's very proud. He came here in 1964 from Samoa, his mother is Samoan and his dad is Tongan. To think that he could come here to work on the railways and then the freezing works, and marry a sheep farmer's daughter and have a daughter who would become the deputy prime minister of New Zealand is very difficult to comprehend, but as you can imagine, very proud."
Despite an early career in education, Sepuloni has previously stated that she had thought of entering politics from a young age, as she had the drive to help create a fairer society.
"Interestingly, growing up - and friends still remind me of this - I used to say that this is what I would do. That I would be a politician. And they found it so funny at the time," she said in an interview with E-Tangata in 2017.
"We can see the unfairness unfolding around us, whether it be health statistics or educational outcomes. Pay inequality. All of those things that we see in our own lives, our families' lives, and our communities. So, I think it's really difficult not to feel political in some way."
In the end, she puts her successful move into politics down to timing.
"I joined the Labour Party and became active not long before the 2008 election, when the party was looking to have better representation, looking for younger representation and looking to rejuvenate more generally. I just happened to be one of the ones that came along - who at the time seemed to tick all the boxes for the Labour Party," she said in the same interview.
"On top of that, I do, like many other people who are involved, have a strong sense of social justice and fairness and equity. All of those things are really important for me."
As Minister of Social Development for the past five years, Sepuloni has been steadily reforming the system via measures including raising benefit levels, adopting a less punitive approach to sanctions and overseeing a review of the Working for Families welfare scheme.
Writing in the Herald at the time of ramraids last August, Sepuloni reflected on her time as an at-risk youth educator with tertiary students.
"I've seen what works and what doesn't, and punitive approaches to young people - or people in general, really - already experiencing complex challenges don't. I liken it to pushing someone over who is wanting and trying to get up, while yelling at them to get up."
As Minister for Arts, Culture and Heritage, Sepuloni has set up a scheme for painters and other visual artists whose work is resold to get 5 percent of royalties, bringing New Zealand in line with 80 other countries.


---