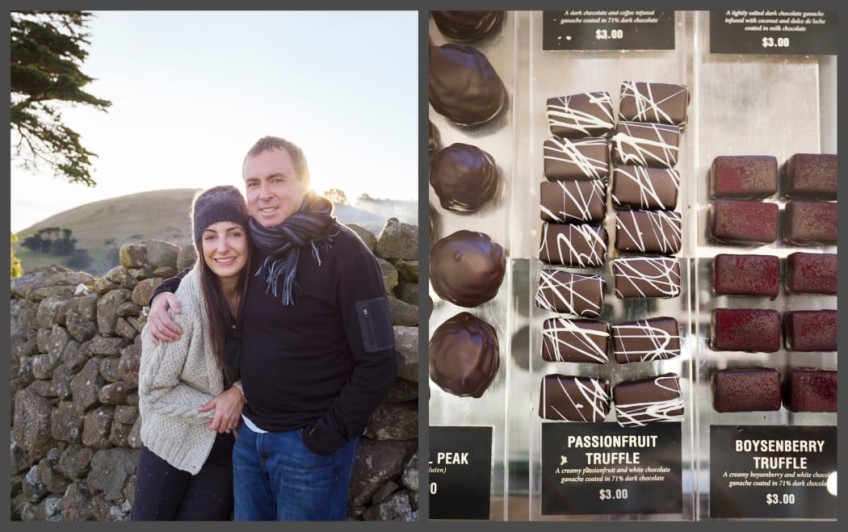 Bringing a love of chocolate to the Southern Lakes
Jul 26, 2022
---
Argentinians Alex Gimenez and Lorena Giallonardo immigrated to New Zealand for their love of adventure sports in 2002.
But after arriving in Queenstown, they realised how similar it was to a Patagonian ski resort famed for its amazing chocolates.
They recognised a gap in the artisan market and Patagonia Chocolates was born.
Gimenez tells Kathryn Ryan they came to explore the South Island but loved the place so much they never left.
"Three days after I arrived here, I thought this is a perfect place to open a chocolate shop.
"This is so similar to Patagonian down south in Argentina that I couldn't understand why nobody was making chocolates.
"The dream started there but of course it took about three years for us to start materialising the dream."
The chocoholic doesn't just stick to Patagonia-inspired treats but learns from chefs around the world to create new flavours and recipes.
"I let myself be influenced a lot by customers talking to me, by friends talking to me, by travelling as well," Gimenez says.
"For me, it's like I keep on changing and adapting things that I've tried that are not related necessarily with chocolate or ice cream, but I'm thinking I can make this stuff into a chocolate or ice cream or something similar or take that idea from there."
Six months after they opened their first shop in Arrowtown, they put everything on the line to open a lakefront store in Wānaka, he says.
"At the beginning, we were selling ice cream from somebody else in there until we managed to basically convince the bank to finance us to buy ice cream equipment."
He says he was sure they'd be able to churn out a better product and they haven't looked back since.
"After a couple of years, we bought a coffee roaster, roasting the coffee in our shop in Wānaka.
"We roast our own nuts, the hazelnuts that we get from Canterbury … and we grind and refine and produce a beautiful paste that we use to produce three different chocolates and ice cream.
"Most people would buy that product [readymade], but I say no, no, we can do a better product … and we can make it cheaper and it's going to be better, much better.
"And that's the secret of our business. It's just to keep on vertically integrating the business, developing new recipes for ingredients and things like that."
Their dulce de leche-flavoured ice creams are among their best sellers, he says.
But he's quite strict about getting it right because he doesn't want to let anyone down, he says.
"I come from an Italian family … and I had quite a lot of recipes and techniques from my family, but I keep on developing new stuff and trying new stuff.
"It is a constant evolution, just tweaking stuff and be sure that reality is meeting my expectation basically because I'm quite obsessed about perfection when it comes to food.
"I never give myself 10 points when I cook anything."
Despite the number of visitors to the region increasing on pandemic levels, the problem remains they are very short-staffed, and some workers are burnt out, he says.
"In reality, they [staff] understand as well that everyone is very much in the same boat, it's not just our company.
"We know that we could do much better and we could do really well, but we don't have enough staff to deal with the whole thing. I don't know when it's going to be better."
Listen to the whole interview here.
Main image (Photographs by Rachael Mckenna for the July/Aug Edition of NZ Life & Leisure Magazine): Alex Gimenez and Lorena Giallonardo from Patagonia Chocolates.



---