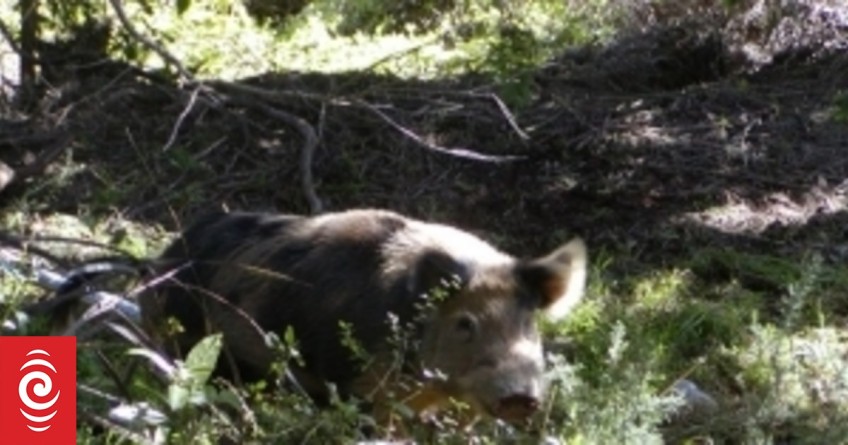 'Bit of an ordeal' - St Bathan's man hit by charging boar
Mar 10, 2023
---
An Otago resident attacked by a huge wild boar says he now fears for children and others visiting the historic village his lives in.
Steven Easton was enjoying the lake view from the deck of his St Bathans cottage when he saw piglets in his garden and chased them out the gate, only to be violently confronted by the tusked boar.
Easton says wild boar sightings have shot up around the former gold mining town since a large plantation of pine had been cut down, which he thinks forced the animals out of their habitat.
"I'm just worried about other people," he told Checkpoint. "This wasn't a situation where they were in a corner. That pig made a decision to charge me out in the open, with full force."
He said his brutal encounter had come out of the blue, after sitting socialising with a friend.
"We were just sitting there listening to music and relaxing and about 7.45pm he said 'that's a funny noise down the front'. We've got a little garden down the front of the cottage and that was an unusual noise."
Easton walked towards the gate and saw "six beautiful little baby pigs" rooting around for food. After chasing them out of the property and on to the road away from the property, he stood watching them scamper up a hill.
"At that time, there were probably 100 to 150m away from me and then I heard a noise behind me in the gravel," he said.
"I just turned and to find a very large boar about two to three metres away and he seemed to be just flying straight towards me.
"There was plenty of room for him to get past but he saw a turn slightly. And then he hit me. And I went in the air and over a bank down about a metre and landed on a lawn."
Easton was knocked out cold, the boar having hit him on the shoulder, dislocating it. Its tusk pierced his eye.
When he regained consciousness, Easton, who is in his 70s, staggered back to the house. His friend, who had presumed he had been locked in the car or otherwise mundanely preoccupied, said Easton had been away for at least 25 minutes.
"He was just shocked... I had blood out of my nose, out of my mouth, out of my eye," he said.
"It hit me in the eye, in the corner of my eye by my nose. The doctors seem to think there's quite a bit of damage. My eye was completely closed by that time."
Easton is still sore and recovering, but his attention is now on the safety of others.
"There's been a big block of wilding pine being cut down, about 175 hectares, very close to town. There's only five people living in St Bathans, but the few holiday people as well have cribs here," he said.
"We feel that they've come into town because they've been pushed out of the way where they live. And also at this time of the year, there's quite a bit of fruit in town with plum trees and pear trees and stuff like that.
"But they've become very out in the open. Our daughter was walking home the other night and there were three three pigs walking up the main street past the pub.
"The day that this happened to me a local came to me and she said 'we had 10 pigs in our backyard last night."
Weeks before, Easton and his wife had been disturbed from their sleep at 4am by four pigs out on their deck. A gate was then built at the front of their property to keep them out at night, but Easton hadn't closed it yet the evening of he was attacked.
Residents had a committee meeting and discussed the situation. The safety of others was a matter now in question, particular with children playing in bush around the scenic lake, he said.
"We have many, many kids come to the lake. It's fabulous. There's a bit of bush around the lake and we felt that people are walking or kids running around and hiding in the bushes by the beer garden and things like that and there could be a pig there and scare them."


---