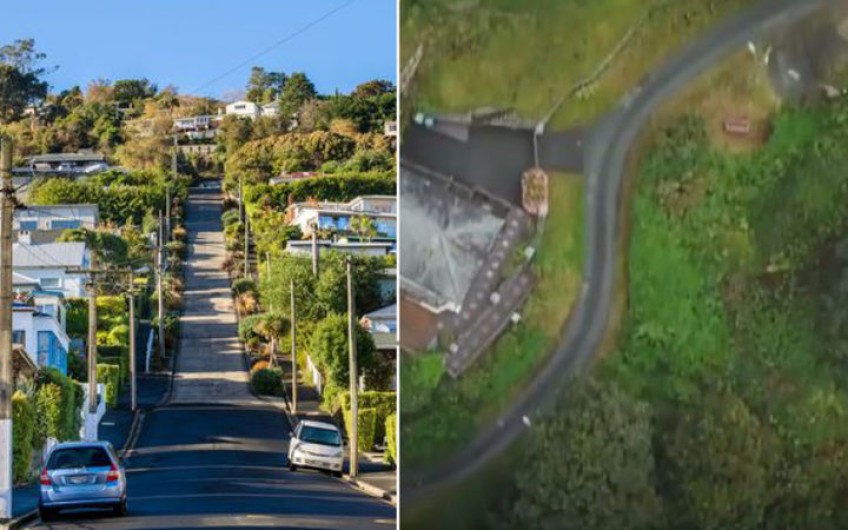 Battle of the steepest streets: Reality TV to be the judge
Oct 16, 2019
---
The battle for the world's steepest street is headed to court - kind of.
Ffordd Pen Llech in the Welsh resort of Harlech dethroned Dunedin's Baldwin Street as the world's steepest street in July.
But Dunedin surveyor Toby Stoff soon raised issues with the methodology, as the record setting bid was measured on the inside verge of a curve greatly exaggerating its steepness and disadvantaging Baldwin Street - which is straight.
The light-hearted back-and-forth between Dunedin and Harlech's most strident supporters is now headed to the UK reality television courtroom of Judge Rinder.
According to ITV, criminal barrister Robert Rinder has spent his career fighting for justice.
But now the 'judge' who was used to weighing in on minor arbitrations would have his say on just what makes a steep street.
Mr Stoff admitted he was yet to figure out his case.
"This is more just a bit of a laugh really. I mean they've got the world record - you can't argue with that, the people of Wales did absolutely nothing wrong, so I guess we're just going to have to come up with some sort of plausible thing to put to the judge.
"I don't know how we're going to do it. Maybe we can do them for emotional harm or making us feel sad, I don't know."
Mr Stoff would fly to the UK on 1 November and would spend a day in Manchester filming the show before also going to Harlech to conduct his own survey of Ffordd Pen Llech.
His issue remained with Guinness World Records and their criteria, not Harlech or the residents who put forth their record-breaking bid, he said.
While he had not got his court plans sorted out yet, he did have his smoking gun.
"The people of Harlech gave us their survey data which they used to win the world record and ... when you take it out on to the centreline we're steeper by about 4 percent."
Millimetre-accurate measurements of Baldwin Street were taken in August and Mr Stoff would use those to compare with his own survey of Harlech's contender.
The Welsh had been very helpful, assisting with traffic management and other aspects of his trip, he said.
Gwyn Headley, one of the residents behind Harlech's bid for world's steepest street, said he had no view on the centreline debate, but he was concerned about the dead-end nature of Baldwin Street.
"I would have thought to be recognised as a street, an actual living street rather than a cul-de-sac is quite important. It's not relevant to Guinness but I feel that a street should go somewhere."
It seemed the battle of semantics was far from over, after advocates for Baldwin Street earlier labelled Ffordd Pen Llech a "small country lane".
Mr Headley said he hoped to meet Mr Stoff while he was in Wales and he was also looking forward to watching Judge Rinder and assessing his view on which street was the steepest.
But before that there was one other battle between New Zealand and the Welsh which needed settled first - the Rugby World Cup.
"I think it'll be Wales-New Zealand in the final and we've not got a great history against New Zealand we last won in 1953 when I was 6-years-old. But I think, and I hope, and I really hope that we might surprise you."
Interestingly enough it was the outcome of the Cricket World Cup and the Blacks Caps loss to the 11 representatives of the England and Wales Cricket Board earlier this year, on a technicality, that got Mr Stoff going.
Mr Stoff said his methodology of measurement had the support of Otago University, the executive of Survey and Spatial and the University of Canterbury's college of engineering.
Guinness World Records are yet to respond to RNZ's questions about their criteria and whether it will be assessed for future bids for the world's steepest street.
"Guinness needs to be shown to be robust. You can't hide these things, they are out there for all and sundry to see. You can't hide Baldwin Street, you can't hide Ffordd Pen Llech. Anyone can go and survey themselves so I think if there's people out there saying, 'look, I don't think that's right' then it's up to Guinness to say 'I think you could have a point'," Mr Stoff said.
"They have to be robust and fair and basically the buck stops with them. They're handing out world records, these world records - everyone single one of them - needs to be legit and open to scrutiny."


---