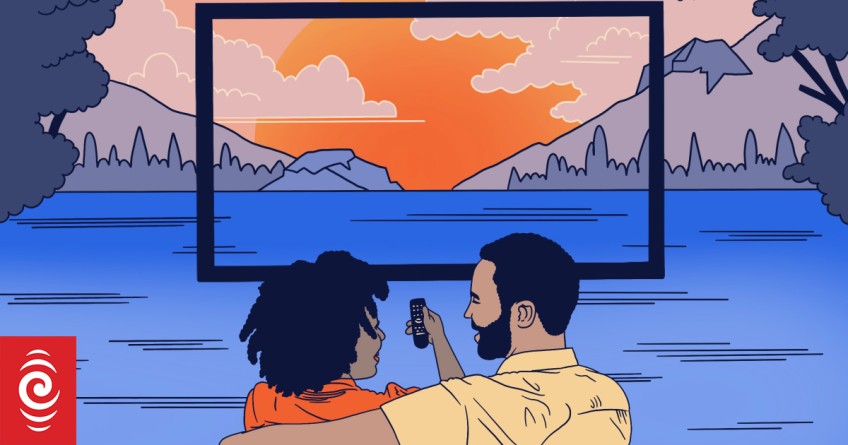 12 TV series you may have missed in the age of peak content
Dec 26, 2023
---
Look, there's literally too much of everything to watch right now, right?
There's no way one person could manage to watch all the shows offered on about 10,000 streaming and video services, unless perhaps you quit your job, abandoned your family and locked yourself up in a sealed panic room with plenty of Wi-Fi.
Various hobbits, superheroes and Jedi tend to take up a lot of the publicity, and there's also an awful lot of forgettable stuff on all the streaming platforms. But there's also good stuff that either passes very quickly through the churn of the cultural zeitgeist, or never gets much attention at all.
You've got your giants like Netflix and Disney, but don't overlook the lesser-known streamers - Sky's Neon gets a lot of quality overseas shows, while TVNZ has spruced up its on-demand service and vastly expanded its offerings this year - and unlike everything else, it's completely free.
Nobody can watch everything, but with that said, here's 12 shows from 2022 for all sorts of different tastes that might be worth catching up on over the summer holidays:
If you want a sweeping epic fantasy that doesn't have hobbits or dragons:
Sandman (available on Netflix): The long-awaited adaptation of Neil Gaiman's comic book series, recently renewed for a second season, is an operatic, gorgeously realised mix of realism and myth. Revolving around the proud and imperious lord of dreams, Morpheus, Sandman swoops in tone from sheer earthbound horror to lofty battles among gods, and every chapter is a bit different. The world of dreams is as infinite as the universe itself, giving Sandman a vast cosmos to play in. Episode 6, "The Sound of Her Wings," featuring Morpheus's sibling Death, is a haunting rumination on mortality and probably the best single episode of television I saw this year.
If you're feeling like an explorer:
Star Trek: Strange New Worlds (TVNZ+): Yeah, Star Trek has been around for decades, with piles of movies, sequels and prequels, some great, some not. The immensely confident spin-off Strange New Worlds combines the best of classic Trek with a modern eye. Starring a wonderful Anson Mount as Captain Pike captaining a pre-Kirk starship Enterprise, the first series proved a fine mix of daring space adventures and unforced optimism. Best of all, many of the episodes were self-contained adventures, rather than the endlessly drawn-out serial storytelling that's completely taken over too many genre shows.
If you want to celebrate Aotearoa's multicultural melting pot and have a laugh:
Raised by Refugees (Neon): Pax Assadi's Raised by Refugees is an absolute comedy gem that's 100 percent New Zealand. Based on his own life, it tells the story of a young boy who's the son of Iranian and Pakistani parents, settling in New Zealand - and to give it added oomph, it's set just after the 9/11 terrorist attacks. A very Kiwi sense of humour combines with great cultural insight - the gag where young Pax tries to pass himself off as Tongan is hilarious, while a Guy Fawkes Day episode which combines Pax's awkward coming of age with fireworks and fears of being called a "terrorist" is one of the funniest things I've seen all year.
If you're a voyeur but also kind of hate reality TV shows:
The Rehearsal (Neon): "Wait, what is this show?" Nathan Fielder asks at one point during his extremely meta comedy experiment. Fielder sets out to "rehearse" big life events from the small to large in a funhouse of a show that constantly keeps you guessing. The obsessive inventiveness of Fielder's "reconstructions" of life are stunning, sometimes funny, sometimes heartbreaking. Some may find Fielder's deadpan schtick annoying, but yet the strange questions The Rehearsal brings up about what's really real in our lives stick with you.
If you're in the mood for thrilling spy games with some great actors:
The Old Man (Disney+): Take career-best performances from Jeff Bridges and John Lithgow, toss them together in a high-stakes spy thriller and you've got a refreshingly adult action series. Bridges is a long-retired CIA agent with plenty of secrets who finds himself drawn back into the game, with Lithgow his former handler tasked with taking him down. The Old Man has plenty of action but also strives to be something a bit deeper and boasts terrific acting all around. Imagine John Wick as a haunted senior citizen and you'll get a feeling for Bridges's menacing, charismatic turn.
If you just want to watch violent men being violent:
Reacher (Amazon Prime): Millions of people have read Lee Childs's gritty Jack Reacher novels, but were left a bit underwhelmed by Tom Cruise in film adaptations. The strapping, charming Alan Ritchson more adequately fits the bill as Childs's hulking heroic man of mystery. It's straight-forward manly man heroics with a plot about Reacher stuck in a small town with endless corruption, but Ritchson slips a bit of winking, charismatic humour into his performance. There's plenty of source material, so Reacher may be stomping his way through screens for some time to come.
If you always wanted to be a pirate, arrrr:
Our Flag Means Death (Neon): What starts out as a rip-roaring pirate spoof turns into a most unexpected and touching love story, with Rhys Darby as a pretentious fop who one day decides to go to sea and become a "gentleman pirate." When he encounters the infamous Blackbeard - played by executive producer Taika Waititi - he learns how merciless the seas can really be. Some folks got a little burned out on the omnipresent Waititi in 2022, but his fierce and surprising acting here is a reminder of how deep his talent goes, and Darby gives the best performance of his career.
If you want to visit a part of America Kiwis rarely see:
Reservation Dogs (Disney+): Another show loosely under Taika's umbrella (he's a co-creator), the second season of this series about a group of young Native Americans living in nowhere, Oklahoma and hoping to get to California was even better than the first. Hilarious surreal comedy scenes and an underlying message about trying to cope with grief made this one of the best shows on television this year, and a welcome window into the reservation culture that even most Americans know little about.
If you want a family-friendly holiday without the cost:
Around The World In 80 Days (TVNZ+): Jules Verne wrote his travel epic 150 years ago, but this zippy BBC adaptation does a great job of modernising it around the edges while still keeping its Victorian setting. David Tennant brings his usual energy to the timid Phileas Fogg, who makes a wager he can circle the globe in record time, with his valet and a plucky female journalist along for the ride. It still keeps the propulsive momentum of Verne's tale while holding a mirror up to our own era, and is for the most part jolly good fun for all ages.
If you prefer to stay at home and be terrified:
Guillermo Del Toro's Cabinet of Curiosities (Netflix): Del Toro hosts a gruesome modern-day Twilight Zone. Creepy and inventive, it's perfect for dipping in and out of late at night when you just want a good done-in-one scare. Over eight episodes, a variety of directors and stars dive into everything from '50s horror comics-style terror to slow-burn cosmic nightmare fuel. Not for the squeamish, but for anyone who appreciates the therapeutic value of a freak-out.
If you kind of miss being stressed out at work:
This is Going to Hurt (TVNZ+): The underrated Ben Whishaw (the voice of Paddington and much more) plays a stressed-out, gay junior doctor working in a frantic London obstetrics and gynaecology ward who makes a critical mistake that threatens to upend his career. If you miss shows like ER but wish they were even more bloody and chaotic, this is a tense and often bleakly hilarious look at a job where the stakes are often life and death, anchored by Whishaw's lanky, witty performance. (Just maybe don't watch if you're about to have a baby.)
If you don't want to think about being stressed out at work:
Severance (Apple TV+): This year's best jigsaw puzzle imagines what would happen if you really could split your work and home lives completely in two. Office comedy mixed with David Lynch-style surrealism, with a dazzling and disorienting setting, it's one of the best-looking shows of the year. A frequently comic exploration into the very nature of self, it's a twisty show with plenty of surprises. It does run the risk of getting bogged down in its own mysteries but the first season is off to a cracking start.


---